International Internet Magazine. Baltic States news & analytics
Saturday, 10.06.2023, 11:43
Linkevicius: EU has to address together the economic and social disparities
Petras Vaida, BC, Vilnius, 20.11.2013.

Print version
Minister of Foreign Affairs of Lithuania Linas Linkevicius, leading the EU delegation in the European Economic Area (EEA) Council on November 19 in Brussels, has stressed the need to address together the economic and social disparities across the EEA and underlined the cooperation between the EU and Iceland, Lichtenstein and Norway on climate and energy policies, informed BC Lithuanian MFA.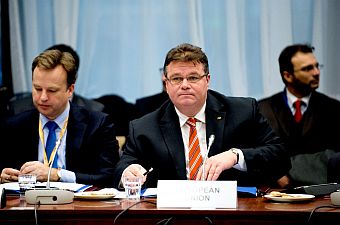 Photo: urm.lt
"There is still an important need to reduce disparities in the European Economic Area. The economic crisis has even increased them, especially if we look at youth unemployment. Financial Mechanisms of the EEA and Norway are very valuable in reducing disparities. We should start negotiations as soon as possible on their renewal as the current Financial Mechanisms expire on April 30, 2014," said Minister Linkevicius.

Minister Linkevicius also encouraged all sides to conclude negotiations on Croatia's accession to the EEA in the nearest future in order for Croatia to use the benefits of the EEA Agreement as well as of the Financial Mechanisms.

Minister welcomed news that Norway and Iceland will take further steps in adoption of the EU legislation on postal services and Norway will also move forward on legislation on pediatric products as well as reconsider customs duties on meat and cheese.

The EEA Council welcomed the constructive relationship between the EU and the EEA EFTA countries in the area of climate change and discussed the challenges and next steps for a 2030 Framework for Climate and Energy Policies.

"The role of the European Free Trade Association countries–members of the European Economic Area in shaping the energy future is very important, considering your energy resources, your high percentages of renewable energy use, and your industrial and research know-how in various energy matters. Your assets and capabilities are of interest not only to the EU, but also on a global level: and your policy choices should help shape the debate at the global level," said Minister Linkevicius.

Before the meeting of the EEA Council, the Ministers within the framework of the political dialogue had a debate on Eastern Partnership and the situation in Egypt and Syria.

The EEA Agreement came into force January 1, 1994. The EEA Council meets twice a year and provides political impetus for the development of the EEA Agreement. The Presidency of the EEA Council alternates each term between the EU and the EEA EFTA side. Iceland has the Presidency this term.