International Internet Magazine. Baltic States news & analytics
Wednesday, 23.05.2018, 02:08
Berzins discusses bilateral partnership with Queen Silvia of Sweden
BC, Riga, 21.03.2013.

Print version
Yesterday, Latvian President Andris Berzins met with visiting Queen Silvia of Sweden to discuss Latvian-Swedish bilateral partnership, the work of Riga and Umea as the European Capitals of Culture in 2014 and the importance of a mentoring program in which the queen is involved, LETA was informed by the Presidential Press Service.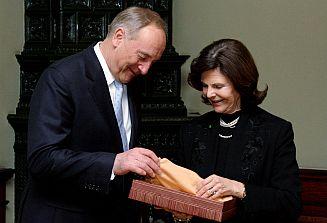 Andris Berzins and Queen Silvia of Sweden. Riga, 20.03.2013. Photo: president.lv
Berzins noted the success of Latvian-Swedish relations in terms of political dialogue and economic cooperation. The president accentuated the importance of Sweden as Latvia's leading foreign direct investor and emphasized the need for expanding Latvian-Swedish cooperation in culture and education. Berzins praised the importance of the Riga School of Economics and the Riga School of Law in this regard, thanking Sweden for its extensive support for the work of both educational institutions.
Berzins also thanked Queen Silvia for the support that Latvia has always received from Sweden in its efforts of introducing a democratic system of governance and seeking ways of ensuring economic development.
Queen Silvia agreed that there is still a considerable potential for cooperation in these areas and noted her support for the "Mentor Foundation" movement in Latvia and worldwide. The queen noted that it is important to talk to young people to demonstrate various opportunities and offer advice that can often be invaluable in the future development of young people. Queen Silvia explained that the organization is working to educate not only children, but also their parents, because young people learn the most from what their parents do. Berzins welcomed the queen's interest in this area and thanked her for her personal investment and support for the "Joy of Life" program.
Both officials agreed that cultural links between Latvia and Sweden are currently focused on the important status of the European Capital of Culture, assigned to Riga and Umea in 2014. The president called for active cooperation between the two cities and invited the Swedish royal family to visit Riga and Latvia during this period.
Amber will be one of the guidelines of Riga as the European Capital of Culture. Scientists have not yet answered all questions about the potential of amber in various areas of the exact sciences. Riga Technical University scientist Inga Lasenko has invented a unique amber thread. It was woven into a gift that Berzins presented to Queen Silvia at the end of their meeting – a shawl which is made of cashmere and a delicate amber thread which also helps improve the wearer's health. The design on the shawl is adapted from an ornament on the queen's crown.