International Internet Magazine. Baltic States news & analytics
Monday, 23.04.2018, 06:59
Finance Minister of Latvia to participate in ECOFIN meeting in Brussels
Gleb Vasiljev, BC,Riga, 10.07.2012.

Print version
Today, Finance Minister Andris Vilks (Unity) will take part in a European Union Economic and Financial Affairs Council (ECOFIN) meeting in Brussels. The Council will discuss two draft regulations on strengthened fiscal surveillance of the euro zone, following the adoption by the European Parliament of its negotiating position.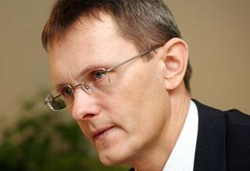 The proposals build on the "six pack" set of legislative measures for economic governance that entered into force last December. The new "two pack" of proposals establishes rules for the surveillance of member states experiencing or threatened with serious financial difficulties and provides for the monitoring and assessment of draft budgetary plans and the correction of excessive deficit of member states in the euro zone.

Within the "European Semester" framework for the annual monitoring of budgetary policies and structural reforms, the Council will adopt recommendations: to each member state on their 2012 national reform programs and stability or convergence programs; to the member states whose currency is the euro on the implementation of the broad guidelines for the economic policies.

The presidency will inform the Council on progress in negotiations with the European Parliament on proposals for amendment of the EU's rules on capital requirements for banks and investment firms. The proposals set out to amend and replace existing capital requirement directives and divide them into two new legislative instruments: a regulation establishing prudential requirements that institutions need to respect and a directive governing access to deposit-taking activities. They are aimed at transposing into EU law an international agreement approved by the G-20 in November 2010, the Basel 3 agreement.

The Commission will present a proposal for a directive establishing a framework for the recovery and resolution of credit institutions and investment firms. The proposal is aimed at providing supervisory authorities with common tools and powers to tackle bank crises preemptively and to resolve any financial institution in the event of insolvency in an orderly manner, whilst minimizing taxpayers' exposure to losses.

Finally, the Council will hold an exchange of views on the follow-up to the European Council meeting of 28-29 June and on a work program for economic and financial affairs to be presented by the Cyprus presidency, reported LETA.