International Internet Magazine. Baltic States news & analytics
Monday, 23.05.2022, 04:27
Reykjavik – start of the historical turn for Lithuania
Petras Vaida, BC, Vilnius, 28.08.2011.

Print version
Continuing the state visit to Iceland, President of the Republic of Lithuania Dalia Grybauskaitė attended a ceremony of commemoration of the twentieth anniversary of reestablishment of diplomatic relations between Lithuania and Iceland in the symbolic place, the Hofdi House. Here, exactly twenty years ago, on 26 August, agreements establishing diplomatic relations between the three Baltic States and Iceland were signed, informed BC presidential press service.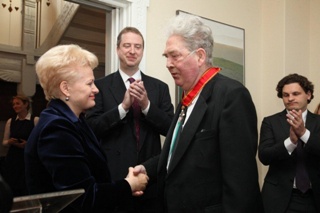 Dalia Grybauskaite in Reykjavik, 26.08.2011. Photo: president.lt
"I am delighted to be here, a place which saw the start of the process so much important for Lithuania. When we reestablished an independent state of Lithuania twenty years ago, we were still under the influence of the Soviet Union, suffering from the economic blockade, and with our territory still controlled by soviet armed forces. The world did not rush to extend support to us. I thank Iceland for demonstrating courage and breaking the silence and for being confident in its decision even when the most powerful regimes of the world were urging not to be hasty with the recognition," the President said at the ceremony.

In this symbolic place for Lithuania and Iceland, President Dalia Grybauskaitė decorated Professor Arnor Hannibalsson, a good friend of Lithuania and Lithuania's Honorary Consul, with a state award, the Grand Cross of Commander, as a token of gratitude and respect from the Lithuanian nation.

The ceremony was attended by Iceland's President, members of the Government, Mayor of Reykjavik, brother of Prof. Arnor Hannibalsson, Jonas Hannibalsson, former Minister of Foreign Affairs, other prominent public figures who supported actively the state of Lithuania twenty years ago, and members of the Lithuanian community of Iceland.

The Hofdi House where Lithuania and Iceland signed the diplomatic relations reestablishment agreement also saw a historical meeting of President Reagan and Soviet leader Gorbachev in 1986, during which agreements were concluded between the U.S. and the Soviet Union that led to the end of the Cold War, the reunification of Germany, the fall of the Soviet Union, and the liberation of freedom-seeking nations.

After the ceremony in the Hofdi House, President Dalia Grybauskaitė stopped by the art centre Harpa built on the ruins of a bank that went bankrupt at the outset of the economic crisis, as a symbol of Iceland's recovery from the crisis. After that, the President went to Iceland's Alting, the world's oldest parliament, to meet with Parliamentary Speaker Asta Johannesdottir to discuss Lithuanian-Icelandic bilateral relations, Nordic-Baltic cooperation, and efforts of the two countries to overcome the effects of the economic crisis.