International Internet Magazine. Baltic States news & analytics
Friday, 07.08.2020, 03:25
Latvia presents note to Austria in Lithuania on Golovatov's early release
Petras Vaida, BC, Vilnius, 19.07.2011.

Print version
Latvia Tuesday presented a note to Austria over the release of Mikhail Golovatov, suspect in the January 13 case, the new Latvian President Andris Berzins said on a visit to Lithuania.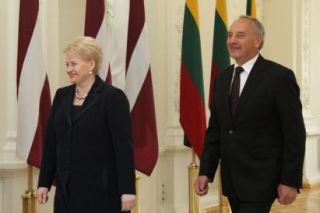 Dalia Grybauskaite and Andris Berzins. Vilnius, 19.07.2011. Photo: president.lt
"I think Latvia understands Lithuania best in this situation. I was in a very similar situation in January 1991 and I fully support your state's approach and position. Latvian Foreign Minister Girts Valdis Kristovskis today summoned the Austrian ambassador and handed in a note on that matter," Berzins said during a joint news conference with Lithuanian President Dalia Grybauskaite. The Lithuanian head of state thanked Latvia for understanding and solidarity.
"We are two nations with very similar experiences during those days in January and we perfectly understand the meaning of a crime against humanity and the decisions that were unfortunately taken in Austria," said Grybauskaite.
Golovatov was detained in Vienna on a European Arrest Warrant late last week. He was released 24 hours later and left for Russia. Such haste has caused indignation in Lithuania which sees it as a violation of international law. Austria, meanwhile, disagrees with the accusations, writes LETA/ELTA.
"It is sheer joy being in a brotherly neighbouring land. I had the feeling of brotherhood when serving in the Soviet army, there was a group of Latvians and Lithuanians and everyone saw us like brothers. I invited the president to make a state visit to Latvia and we agreed to discuss all the issues," said Berzins. "I want to express joy over common interests and understanding as to the matters of the energy sector, politics, NATO membership, security and that bilateral relations continue to be a priority of the two countries. I am happy that I can expect continuity in neighbourly-brotherly-sisterly relations with this country and its new president," said Grybauskaite.
During an official visit to Lithuania today, President Andris Berzins invited Lithuanian President Dalia Grybauskaite to come on a state visit to Latvia, according to an entry in Berzins' "Twitter" account.
As reported, during a visit to Estonia on July 12, Berzins also invited Estonian President Toomas Hendrik Ilves to pay a state visit to Latvia.
At the moment, Berzins is at a meeting with Seimas Speaker Irena Degutiene.