International Internet Magazine. Baltic States news & analytics
Sunday, 25.09.2022, 15:07
Culture minister of Lithuania: too early to speak about boycott of Eurovision
Petras Vaida, BC, Vilnius, 25.08.2008.

Print version
Culture Minister of Lithuania Jonas Jucas says that it is too early to speak about the opportunity to boycott the Eurovision Song Contest in Moscow with intention to express the protest over the Russian aggression against Georgia.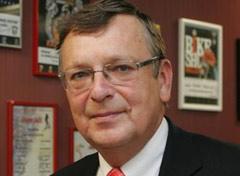 Jonas Jucas.
According to Jucas, now hasty decisions are unwelcome, writes ELTA.
The culture minister reminded that Lithuania has indicated its determined stand on the military actions in Georgia, the stand of the European Union (EU) is also explicit on this issue. "Spontaneous decisions might aggravate the efforts of diplomats to harmonize the conflict. It is not right time to speak about that," the culture minister noted.
The first to speak about the boycott for the Eurovision 2009 was the head for the Estonian national broadcaster EER. "We will initiate of public debate concerning whether Estonia should participate at the Eurovision Song Contest in Moscow or ignore it due to the Russian aggression against Georgia and the on-going occupation of it. In my personal opinion, it would be wiser not to participate at the contest," Margus Allikmaa stated to the foreign mass media.