International Internet Magazine. Baltic States news & analytics
Tuesday, 18.02.2020, 19:26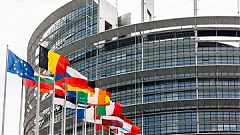 17.02.2020
The European Commission usually sends initially a letter of formal notice to a member state violating the EU legislation, which is followed by a reasoned opinion and finally bringing "the case" to the Court of Justice. This time it was, for example, Portugal for taxation issues and Italy concerning access to genetic resources from non-EU countries.
28.01.2020
The EU's target is to reach 20 per cent of its energy from renewable sources by 2020 and at least 32% by 2030. Among the EU-28 states, 12 countries have already reached a share equal to or above their national 2020 binding targets: Bulgaria, Czechia, Denmark, Estonia, Greece, Croatia, Italy, Latvia, Lithuania, Cyprus, Finland and Sweden.
27.01.2020
Modern revolution in national growth patterns, ignited by the digital agenda, affected almost all spheres of socio-economic development. Global and European actions in sustainability are playing an active role: e.g. SDGs in the UN and several EU steps including digital economy-society and sustainability strategies. These aspects of modern growth are going to define the member states' progressive development.
17.01.2020
The "green transition" imposes numerous constraints for the EU states. Among other things, there are the EU institutions and the member states' efforts to deliver on the European idea of the global first climate-neutral bloc by 2050. These efforts are facing numerous challenges, including complex financial issues. The EU multi-annual budget as well as the member states' involvement shall provide adequate assistance…
13.01.2020
The European commercial road transport employs over 10 million people, about 5% of total EU employment; it accounts for nearly half of all freight transport operations. EU passenger transport is expected to grow by 42% and freight transport by more than 60% up to 2050. Both two road transport sectors are hugely important for the EU's social and economic development: "mobility packages" ideas support the trend.
02.01.2020
European construction sector is the largest energy consumer in the EU; but about 75% of the EU's buildings are energy inefficient. A modernised and refurbished building sector will play a vital role in transition to a smarter, renewable-intensive and decarbonised energy system with a view to a climate neutral economy. These issues are of a paramount importance for the cities' environment in the Baltic States.
30.12.2019
The new rules proposed by the Commission in May 2018 were aimed at harmonizing minimum water quality requirements for the safe reuse of treated urban wastewaters in agricultural irrigation. Besides, European commitments of the Circular Economy Action Plan complement existing EU legal framework on water and foodstuffs and aimed at implementing the SDGs, in particular SDG-6 on water, sanitation, as well climate change mitigation.
28.12.2019
All EU companies doing business in the EU must meet European consumer law standards. Some leading companies in the e-trade market, e.g. Booking.com are already meeting their responsibilities and ensure that online accommodation reservation systems are free from manipulative techniques such as hiding sponsoring in ranking, unduly putting time pressure on users and/or misrepresenting rebates.
27.12.2019
For about 50 years, the EU legal system, which is predominantly of a civil law character, has been affected by a rather different legal structure, the British common law system. After the UK joined the EU in 1973 the two systems have been accommodating to each other, with some pros and cons. Now, after Brexit, the "dichotomy" will be over and the EU would have a unified continental civil law system for all its 27 member states.
19.12.2019
European Parliament and the Council reached a political agreement on the creation of the world's first-ever "green list", i.e. a classification system for sustainable economic activities, called "taxonomy'. It will "scale-up" private and public "financial transition" to a climate-neutral and green economy, redirect capital to sustainable economic activities and projects.
16.12.2019
It was known that EGD's implementation shall be costly; not all member states can really afford "green transition". In particular, Central and Eastern EU countries are going to face some financial difficulties. At the recent summit aimed to officially start EGD, only Poland voiced its objections, which meant that a unanimous approval shall be reached in mid-2020. Below are some points referring to most promising arguments for the Polish government to modify its position.