International Internet Magazine. Baltic States news & analytics
Saturday, 25.01.2020, 05:30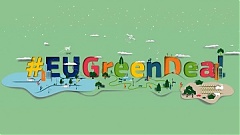 17.01.2020
The "green transition" imposes numerous constraints for the EU states. Among other things, there are the EU institutions and the member states' efforts to deliver on the European idea of the global first climate-neutral bloc by 2050. These efforts are facing numerous challenges, including complex financial issues. The EU multi-annual budget as well as the member states' involvement shall provide adequate assistance…
27.12.2019
For about 50 years, the EU legal system, which is predominantly of a civil law character, has been affected by a rather different legal structure, the British common law system. After the UK joined the EU in 1973 the two systems have been accommodating to each other, with some pros and cons. Now, after Brexit, the "dichotomy" will be over and the EU would have a unified continental civil law system for all its 27 member states.
19.12.2019
European Parliament and the Council reached a political agreement on the creation of the world's first-ever "green list", i.e. a classification system for sustainable economic activities, called "taxonomy'. It will "scale-up" private and public "financial transition" to a climate-neutral and green economy, redirect capital to sustainable economic activities and projects.
16.12.2019
It was known that EGD's implementation shall be costly; not all member states can really afford "green transition". In particular, Central and Eastern EU countries are going to face some financial difficulties. At the recent summit aimed to officially start EGD, only Poland voiced its objections, which meant that a unanimous approval shall be reached in mid-2020. Below are some points referring to most promising arguments for the Polish government to modify its position.
13.12.2019
These days will go in Europe's history: the College of Commissioners agreed on the European Green Deal, EGD. The "deal" is both a European vision for a climate-neutral development by 2050 and a clear roadmap with fifty actions to reach the goal. Therefore, the old growth-models based on fossil-fuels and pollution is out of member states' economic policies: they have to elaborate something new.
06.12.2019
The Commission's strategy for greener and cleaner EU (the so-called "European Green Deal") is, generally, aimed at making the member states' economies more resilient and competitive. A vital part of "green transition" is energy policy: according to Kadri Simson, the new energy Commissioner, the energy transition includes three priorities: the people, the national economies and the global partners.
03.12.2019
Constantly reducing agro-sector in Scandinavian countries, both in profit and in employment with new agro-methods and engineering, digital solutions, etc. makes the sector's influence in modern economies less politically attractive. However, peoples' health depends in great deal on quality food and on less negative effect on nature and climate. What can we learn from the Nordic European states?
20.11.2019
Ideas of a unified "business code" accepted by all the EU entrepreneurs have been discussed for decades. The ideas are becoming more urgent due to an active harmonization of the EU states' economic activities. The advantages of the "code" are quite apparent though the legal practitioners need a strong political will.
14.11.2019
The European Investment Bank (EIB) has signed a financing agreement with the Danish national promotional institution (NPI, in Danish –Vækstfonden) to provide support for local SMEs and Mid-Cap companies. The EU and Danish partners will "inject" €75 mln each into a co-investment platform that will target SMEs lacking adequate bank financing.
13.11.2019
Modern Baltic States challenges require constant national academies' attention to changing socio-economic and political environment in regard to science and research. Most timely response provided by the European academics' confederation (ALLEA) is a vivid example of additional attention to the actively developing services and manufacturing sector, where intellectual property rights are needed a resolute national support.