International Internet Magazine. Baltic States news & analytics
Tuesday, 16.07.2019, 17:37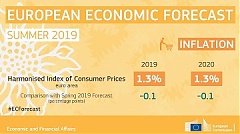 16.07.2019
European Commission publishes four economic forecasts each year; in winter and summer they cover only annual/quarterly GDP and inflation indices for all EU states and the euro area. This summer forecast reflects a set of technical assumptions concerning exchange rates, interest rates and commodity prices. Next economic forecast will cover autumn economic forecast in November 2019.
01.07.2019
New rules to revive the EU's securitisation market entered in 2019; they will lead to more investment opportunities and increased lending to households and businesses.
27.06.2019
European Commission announced first EU higher education institutions' selection to create "European Universities" alliance to enhance the quality and attractiveness of European higher education and boost cooperation between institutions, their students and staff.
26.06.2019
The EU provides states with both advice and support for high youth's quality and inclusive education. The idea is to give students needed knowledge and skills for adequate response to new opportunities and challenges opened by globalisation and technological change. These challenges are to be incorporated into the national education policies in order to tackle the needs of the perspective labour market's requirements.
25.06.2019
New European Innovation Council (EIC) will help researchers in the states to turn their most radical ideas into innovative and "revolutionary" technologies. The EIC has three spheres of support: coaching, networking and funding. About €3 billion is provided during 2018-20 to fund most talented innovators and help the SMEs to scale up and expand beyond European borders.
15.06.2019
The EU's "macro-regional" cooperation "units" regional authorities in quicker and efficient solution of local issues having "European dimension". The EU strategy for the states around the Baltic Sea area was the first one adopted a decade ago. The jubilee's Forum motto: "reduce, reuse and rethink" provided a platform for discussions on present and perspective regional authorities' planning on sustainable and circular economy issues.
11.06.2019
Several times during a year (at winter, spring and autumn), the Commission delivers assessments of the member states socio-economic development, which -being formally treated as "recommendations"- in fact are having quite serious impact on national planning. Below are some vital aspects from the Commission's spring forecast which shall be taken into account by the Baltic States' governments.
10.06.2019
Modern European challenges are becoming closer to sustainability: no wonder, the EU Baltic Sea regional forum's 10-year jubilee takes circular and sharing economy issues as its main agenda. They have already become an integral part in some EU states' governing aspects. Besides, ideas of "reduce, reuse and rethink" (the so-called "4T" issues) would be of interest too…
07.06.2019
There have been recently a couple of high-rank advises for the Latvian government for a progressive development: some voluntary, like that of OECD last month, some compulsory, like the present approved by the Council of the European Union. It's difficult to see which of these two are more important, but both can actually serve as a background for Latvian planning process for at least next two years.
03.06.2019
Recent OECD assessments for Latvia (presented at the end of May in Riga) have been quite unique: the "pack" was instigated by the modern global double-trends concerning growth and climate change. Hence the OECD's survey for 2019 consists of two reviews: on economic development and on the country's sustainability issues; both represent some matters of concern for the Latvian governing establishment…