International Internet Magazine. Baltic States news & analytics
Friday, 22.09.2017, 16:28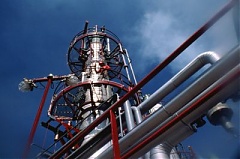 19.09.2017
It was underlined in the State of the Union address, that the EU industry should be "stronger and more competitive". Therefore the new European Industrial Policy Strategy (EIPS) is aimed at making the EU industries a world leader in innovation, digitisation and decarbonisation. The renewed EIPS brings together all EU's existing and new horizontal and sector-specific initiatives into a comprehensive industrial strategy.
07.09.2017
Rapid Alert System for Food and Feed (RASFF) established in 1979, enables all EU member states to take coordinated, coherent and simultaneous actions with the objective to ensure the highest possible level of consumer protection.
07.09.2017
The EU's Connecting Europe Facility program, among other things, is aimed at creating synergies between new technologies in such fields as connectivity, cooperative systems, and automation. The idea is to extend the existing Cooperative Intelligent Transport Systems (C-ITS) and building a new one to connect and automate driving. But preparatory work in the Baltic States could be huge…
06.09.2017
Each year in September Latvian capital Riga is hosting international food forum. It is both an opportunity for professionals in the food industry to show their latest achievements and to attract new customers. For visitors, it is a chance to see and taste various food, drinks and beverages, as well as make contacts with potential supplies. This year "Riga Food Forum" takes place from 6 to 9 September on Kipsala.
04.09.2017
It is known that both long-term mobility experiences and short-term stays abroad improve social, job-specific and language skills. Commission's new ErasmusPro initiative, will mobilise about 50,000 long-term mobility opportunities for vocational education and training, VET learners by 2020. The EU initiatives provide for greater opportunities in the Baltic States learners' training in another EU states.
25.08.2017
Baltic Development Forum (BDF) is a think-tank and network for high-level decision makers from business, politics, academia and media in the Baltic Sea Region. Recent seminar was devoted to finding "common answers" to urgent issues of the Baltic States' perspective development in globalised environment.
11.08.2017
Global financial crisis began 10 years ago and led to the Union's worst recession in its six-decade history. The crisis originated not in the EU but in the US; though the EU institutions and the EU states needed to act resolutely to counter its impact. Main efforts were devoted to addressing the shortcomings of the then Economic and Monetary Union's structures. Decisive actions have paid off concluded European Commission.
09.08.2017
EU's Standard and Flash Eurobarometer made this spring have shown that increasing majority of people in Europe are optimistic about the EU's future, regardless of Brexit. People's trust in the EU's institutions and policies is at its highest level since 2010; support for the euro is greater than it has been since 2004.
09.08.2017
Independent Cohesion Policy experts in the final report for a simplified EU funds framework after 2020 underlined that the present rules for EU funding need sufficient changes.
07.08.2017
Lately, Europe has been going through some "mood swings": a year ago, the end seemed to be near for European integration, In Brexit and in the rise of populist parties some experts felt doubts about EU's future. But in reality, the preachers of EU's bright future are probably as mistaken as the advocates of doom for the European project. Much depends presently on political economy decisions in the member states…
04.08.2017
The circular economy (CE) offers an opportunity to reinvent national economy, making it more sustainable and competitive. This will bring benefits for European business activity in general and provide new impetus to member states' economies, businesses, industries, and services.