International Internet Magazine. Baltic States news & analytics
Friday, 20.09.2019, 19:42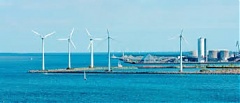 18.09.2019
Annual conference of Baltic Sea States sub-regional co-operation (BSSSC, 18-20 September in Klaipeda) is devoted to sustainable maritime economy. Representatives of all Baltic States will exchange knowledge and develop joint trans-regional initiatives in order to contribute to the goals of EU Strategy for Baltic Sea Region (EUSBSR).
05.09.2019
Food production, consumption, recycling and reuse are among most serious issues for national, regional, as well as global, governance. Food industry takes part in active implementation of the UN sustainable development goals (SDGs), concerning in particular, SDG-12, which required sustainable production and consumption. The Bite-19 in Copenhagen has showed most optimal ways…
20.08.2019
Sustainability concept includes circular and bio-economy, sustainable food systems, "greening" energy as well as new trends in structural economies: from horizontal policy tools to education and digitisation to finance and taxation. Modern societies are already on a sustainable transition path by integrating the SDGs into their economic governance.
19.08.2019
National education facilities in the states shall be geared towards teaching SDGs and training necessary specialists. Hence, the second article shows that existing education institutions and teaching methods shall be reassessed fundamentally alongside the teaching methods. Sustainable economic growth needs new types of general and professional skills for SDGs' practical implementation, the skills that have never been trained before.
16.08.2019
The global sustainable agenda requires the states to take all necessary measures ("what it takes") to implement UN sustainable development goals by 2030. Generally, these measures involve three spheres of national governance: social, environmental and economic; but none of them shall be effective without adequate reforms in existing national education and training policies.
08.08.2019
New EU rules will ensure quicker and more effective resolution of tax disputes among the states, making life easier and offering much more tax certainty for businesses and individuals experiencing double taxation issues.
01.08.2019
In mid-July the new EU Commission President announced new priorities for the whole EU with a consequence that all the states including those in the Baltics have to turn these priorities into the national political-economic order. The Union's strategic planning is clear and the EU member states' leaders agreed on the agenda, though some 3-4 – mostly eastern European states - did not see these priorities as "nationally acceptable". But then democracy won and the priorities were accepted!
29.07.2019
Higher education is a vital resource for knowledge and a sophisticated national policy in resolving numerous challenges. A decisive step towards active SDGs implementation through science, research and progressive teaching has been taken recently showing prospective steps in increasing the role of "teaching sustainability". The European Commission and the EU member states shall take more active part in the initiative.
23.07.2019
The European Investment Bank (EIB) and ProCredit Group are providing €800 million to innovative SMEs, under the European Fund for Strategic Investments (EFSI), the core element of the EU's "general" investment plan. Several financial instruments will facilitate innovative SMEs, in such spheres as technology transfer, innovative business angels and venture capital.
22.07.2019
Sustainability includes circular and bio-economy, sustainable food systems, "greening" energy as well as new trends in structural economies: from horizontal policy tools to education and digitisation to finance and taxation. Modern societies are already within a sustainable transition path by integrating the SDGs into their economic governance; the Baltic States shall be more active in taking the lead…