International Internet Magazine. Baltic States news & analytics
Monday, 27.03.2023, 16:10
Estonia wants to create common packaging deposit system with Latvia – Eco Baltia
BC, Riga, 14.08.2018.

Print version
Estonia wants to create a common packaging deposit system with Latvia because part of the bottles that are bought in Latvia end up in Estonian reverse vending machines, causing losses to the system's administrators, informs LETA referring to Maris Simanovics, a co-owner and CEO of Latvia's Eco Baltia waste management group.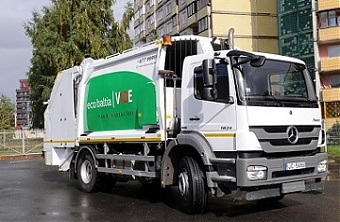 Photo: ecobaltia.lv
"Estonia's interest in creating a common packaging deposit system with Latvia is understandable because part of the bottles that are bought in Latvia end up in Estonia's reverse vending machines, which causes losses to the Estonian deposit system's administrators as the machines disburse money that has not been paid as a deposit. This, of course, means losses, considering the popularity of Latvian stores with Estonian shoppers, especially in border areas, and this apparently is worrying our northern neighbors," said Simanovics.
The ECO Baltia CEO added that municipalities in Latvia have invested sizable sums to provide waste sorting containers to their residents.
Aldis Skutans, CEO of Latvia's Venden spring water supplier, commented Estonian Environment Minister Siim Kiisler's proposal to create a common deposit system with Latvia by saying that before deciding on the idea Latvia should analyze its financial feasibility. The system was introduced in Estonia a long time ago and it is a beaten path to them. Our conversations with Estonian colleagues and partners suggest that they find the system to be fairly good. We therefore cannot say that this would not make sense. The question is - how to arrange it all and who will be the winner in the end," Skutans said.
As reported, Kiisler has proposed setting up a common packaging deposit system in Estonia and Latvia, which would enable returning beverage packaging bought in Latvia for a reimbursement in Estonia and vice versa. The Estonian minister intends to propose the idea to the Latvian-Estonian intergovernmental committee.
In the EU the system of deposit-subjected beverage packaging is being used in Estonia, Finland, Sweden, Denmark, the Netherlands, Germany, Lithuania and Croatia. Also, Iceland and Norway are using a deposit system. The same system is planned to be introduced in Latvia, Malta, the UK and France.