International Internet Magazine. Baltic States news & analytics
Sunday, 27.05.2018, 08:27
Young economists awarded by Bank of Lithuania
Danuta Pavilenene, BC, Vilnius, 29.06.2012.

Print version
The Bank of Lithuania announced winners of the student research papers competition "New Economic Ideas" and presented the awards to ten students of domestic higher educational establishments who presented their ideas for the first-ever competition of such kind, the national bank of Lithuania said in a statement.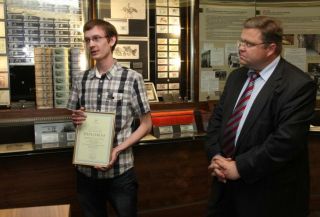 Nerijus Bitinas and Vitas Vasiliauskas.
"Competition results satisfied our expectations – we received absolutely interesting works suggesting that the young economists are really concerned with economic and financial aches. We expect and would like them not to loose enthusiasm and the economic ideas competition which will become traditional will embolden and encourage a search for answers to the most complicated economic issues," said Vitas Vasiliauskas, Chairman of the Board of the Bank of Lithuania, after presenting the competition winners with diplomas, writes LETA.
The Commission for the evaluation of the competition research papers, composed of the Bank of Lithuania officials, decided not to assign the first award this year. The second award was given to Nerijus Bitinas, Master of the Faculty of Economics of Vilnius University, for his work "Price and Wage Flexibility in Lithuania, Assessment of its Grounds", the third award was given to Rita Skridulyte, Master of the Faculty of Humanities in Kaunas, for her work "Management of the Loan Concentration Risk in the Banks of Lithuania".
Among topics analyzed by other participants of the competition, were such as "Foreign Direct Investment in Lithuania", "Corruption Impact on Foreign Direct Investment in Lithuania", "Quantitative Assessment of the Impact of Foreign Exchange Rate Fluctuations on the Economy of Lithuania", "Assessment of the Payment for Work Flexibility in Lithuania", "Usage of Confidence Indicators in Forecasting the Business Cycle in Lithuania", "Lithuania's Competitiveness Against the European Union Countries".
The Bank of Lithuania started to arrange the competition "New Economic Ideas" of research papers of higher school students this year aiming at strengthening the development of economic ideas and promoting financial literacy.
Aiming to encourage research in banking, finances, monetary and macroeconomic fields, the Bank of Lithuania has established the Vladas Jurgutis Award to perpetuate the merits of the Academician, Professor, the first Governor of the Bank of Lithuania for the Lithuanian banking. It is assigned together with the Lithuanian Academy of Sciences.
Moreover, the Bank of Lithuania awards the Vladas Jurgutis Schorlarships for one academic year to two full-time best students of banking and finances of Lithuania's universities.