International Internet Magazine. Baltic States news & analytics
Wednesday, 22.05.2019, 22:09
Eesti Energia lays Auvere power plant's cornerstone
Juhan Tere, BC, Tallinn, 07.05.2012.

Print version
On May 4, 2012, the cornerstone for a new Auvere power plant was laid, the Estonian national energy company Eesti Energia reports. According to the plans, the new power plant will be completed by the end of 2015. The generating capacity of the plant is rated at 300 MW.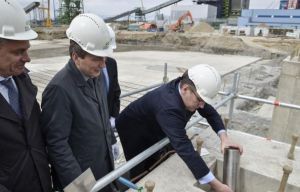 Juhan Parts lays Auvere power plant's cornerstone.
"Estonia has opted for energy independence and for covering its basic demand using domestic generating capacities. Auvere power plant is being established in the interests of guaranteeing reliability of the national power supply and it will have a key role in ensuring energy independence," said chairman of the Eesti Energia management board, Sandor Liive, at the cornerstone laying ceremony.
Compared to the existing oil shale-fired power plants, Auvere power plant will be more environmentally friendly, with lower emissions and greater efficiency, writes LETA.
Development of the power plant will provide work for 1,000 people and the completed plant will create 120 new jobs. At the moment, 120 construction workers are employed at the site.
Auvere power plant will use oil shale as its fuel and it can be up to replaced up to 50% with biofuel.
The use of a local fuel will hedge the fuel price risk. Auvere power plant will ensure sufficient flexibility for Estonian power generation, as it is capable of generating power at times when it is needed, Eesti Energia's representatives stated.
The Estonian government is continuing talks with the European Commission for financing the construction of Auvere power plant via free CO2 allowances. The European Union has acknowledged Estonia's need for new power generating capacities and EU legislation allows companies to be given free CO2 allowances, which are invested into new production capacities.
Eesti Energia announced the public procurement for a fluidized bed boiler technology based power plant in 2009. The best tender proved to be the one from the Alstom consortium. The contract for the construction of the power plant was signed in January 2011. The cost of the new power plant is close to 640 million euros.