International Internet Magazine. Baltic States news & analytics
Saturday, 19.09.2020, 14:45
Estonia ranks 1st in Europe in terms of readiness for digital lifelong learning
BC, Tallinn, 11.12.2019.

Print version
The Center for European Policy Studies (CEPS) presented in Tallinn on Wednesday its report on readiness for digital lifelong learning, according to which Estonia holds the leading position in this field, having achieved best results in the digitization of education, followed by the Netherlands and Finland.
The report compiled by CEPS in partnership with Grow with Google was introduced at the Information Technology Foundation for Education (HITSA) on Wednesday. The center's index of readiness for digital lifelong leaning gives an overview of the ways how residents in different European states improve their skills with digital technologies. The study measured learning outcomes, digital infrastructure and policies as well as people's attitudes towards digital learning in 27 member states of the EU.
Figure 1. Overall results of digital learning index in EU-27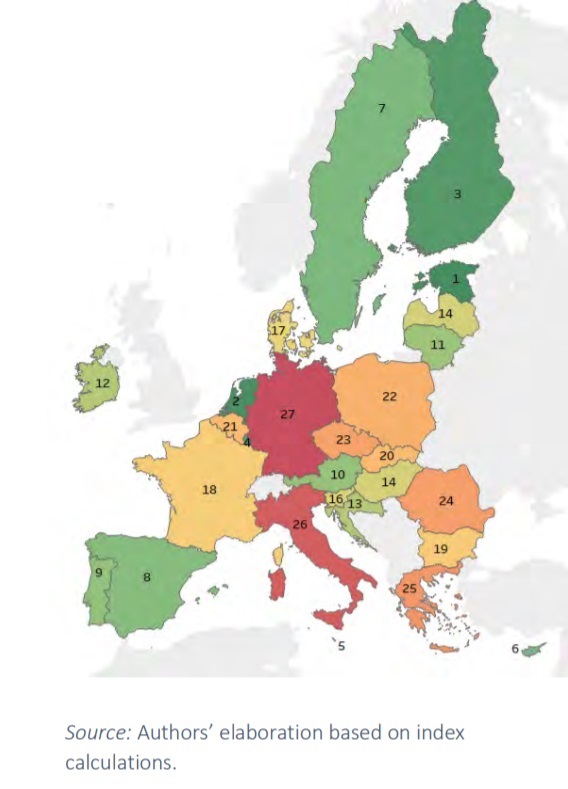 The top three positions in the list of 27 states are held by Estonia, the Netherlands and Finland, all of which boast a high level of computer literacy and a strong government policy encouraging digital learning and the use of digital solutions.
"Estonia in particular has launched a number of ambitious programs to ease administrative burdens, and make everything from tax registration to voting possible via digital means. Estonia's leadership shows that even a small country with a chequered history can lead Europe. While the small Baltic states has much to teach to Europe, however, even the European leader has room for improvement," a press release by CEPS reads.
Countries significantly underperforming the European average are Belgium in the 21st place, Poland, 22nd, the Czech Republic, 23rd, Romania, 24th, Greece, 25th, Italy, 26th, and Germany, 27th. According to the report, these results are indicative of the governments' limited policies in promoting digital literacy and the complexity of access to digital resources in these states. Germany has come under scrutiny for under-investment in digital infrastructure, low internet connection speeds, and a lack of broadband access throughout its territory.
"Digital education is our future. This index should be a wake-up call to the states that are lagging behind in this trend. What's similar about Italy and Germany? Both have strong manufacturing industries, and both are weak in terms of digital learning. Leaders of [these states] should learn from their faster and more future-oriented small partners in the EU," director of CEPS Daniel Gros said.
"We want for all Europeans to understand and benefit from technology. A comprehensive digital learning strategy is the pillar of this ambition. This report shows how different states can learn from each other and how businesses and governments can cooperate in building a digitally capable Europe," Katerina Havrlant, marketing director at Grow with Google, said.
Founded in Brussels in 1983, CEPS (Centre for European Policy Studies) is an independent leading think tank on EU affairs with an extensive network of partner institutions. As one of the few think tanks in Brussels covering most European policy areas, CEPS offers exchanges and provides insights on and potential solutions for EU policy-making.