International Internet Magazine. Baltic States news & analytics
Wednesday, 07.12.2022, 21:43
Latvian and Lithuanian foreign ministers to present the first Balts Award next week
BC, Riga, 28.09.2018.

Print version
During Lithuanian Foreign Minister Linas Linkevicius' visit to Latvia on October 3, the first Balts' Award will be presented, informs LETA.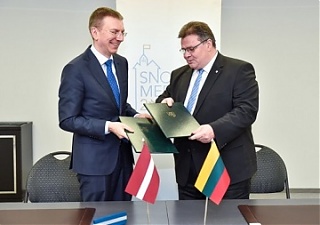 Edgars Rinkevics and Linas Linkevicius. Photo: urm.lt.
Linkevicius will have a meeting with Latvian Foreign Minister Edgars Rinkevics to discuss developments in bilateral and regional cooperation, and opinions will be shared on matters of current importance in the security policy of the region and on the European Union's agenda, with a special focus on the EU's next Multiannual Financial Framework and cooperation with the United Kingdom after its withdrawal from the EU.
The Lithuanian foreign minister will also present a book as a gift to the People's Bookshelf at the National Library of Latvia.
In an official ceremony, the two ministers will present the first Balts' Award from the Ministries of Foreign Affairs of Latvia and Lithuania for excellent achievements in research, fostering and strengthening of the Balts' heritage. It is symbolic that the first award is being presented in 2018, when Latvia and Lithuania celebrate their centenary anniversaries.
The aim of the Balts' Award is to recognize the excellence and achievements related to individual contribution and accomplishment in the promotion of Latvian-Lithuanian and Lithuanian-Latvian translations, teaching and enhancing the use of the Latvian and Lithuanian languages, research on the Latvian and Lithuanian tangible and intangible cultural and historic heritage, as well as investigative journalism on Latvian and Lithuanian history, culture and tourism. The monetary value of the award is EUR 3,000, contributed equally by the Ministries of Foreign Affairs of Latvia and Lithuania.
The idea of the Balts' Award was first put forward by the Latvian foreign minister and his Lithuanian counterpart on the Balts Unity Day on September 22, 2017.