International Internet Magazine. Baltic States news & analytics
Friday, 27.04.2018, 03:45
The Banker names Reizniece-Ozola Finance Minister of the Year in Europe
BC, Riga, 09.01.2017.

Print version
The Banker, a magazine of the British daily Financial Times, has named Latvian Finance Minister Dana Reizniece-Ozola the Finance Minister of the Year in Europe, reports LETA.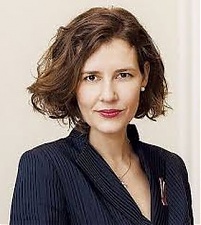 "With an eye on both fiscal consolidation and growth, Ms Reizniece-Ozola not only has a strict fiscal stance, but is also contributing to positive economic results for Latvia with an ambitious structural reform program," The Banker said.
The magazine underscored that with a debt-to-gross domestic product (GDP) ratio of only 36%, Latvia has one of the lowest debt levels in the EU and the budget is nearly balanced – forecasts are for a 1.1% deficit in 2017, 1% in 2018 and 0.7% in 2019.
"The strength of Latvia is that we have been able to keep our fiscal stance following strict austerity measures right after the crisis," says Reizniece-Ozola.
"Although she only took office as finance minister in February 2016, Ms Reizniece-Ozola had already made an impact in her previous role as minister of economics, a job she had done since November 2014," The Banker said. In 2015, the Latvian economy grew some 2.7%, with expectations of 1.9% in 2016, according to data by the European Commission, and the Latvian government forecasts 3.5% GDP growth in 2017, "mainly thanks to the influx of EU structural funds" and internal consumption, according to Reizniece-Ozola.
In 2016, Latvia joined the Organization for Economic Cooperation and Development (OECD), with whom, as well as the World Bank, the government is seeking to develop a new mid-term tax strategy by April 2017.
"We are trying to figure out what the best suited tax strategy is for Latvia, aiming at three goals: increasing the revenues, decreasing inequality – the income gap between the different layers of the society is still pretty high – and ensuring the competitiveness of businesses," says Reizniece-Ozola. She adds that the government will launch an active discussion within society, together with the trade unions and business organizations, "so that they also understand and believe in what we decide".
The reforms will contribute to Latvia's aim of raising tax revenue to one-third of GDP. For this, Ms Reizniece-Ozola is also focusing on reducing the shadow economy, fighting illicit flows of money and potential terrorism financing. There is "zero tolerance" for these dealings, she says, adding that the government is strengthening the enforcement of existing regulations and increasing the capacity of regulators to combat this, The Banker cited the minister.
The Finance Minister of the Year in Asia-Pacific is Ravi Karunanayake from Sri Lanka. The Finance Minister of the Year in the Middle East is Anas Al-Saleh from Kuwait. The Finance Minister of the Year in Africa is Pravin Gordhan from South Africa.