International Internet Magazine. Baltic States news & analytics
Saturday, 13.08.2022, 05:28
Ilmars Rimsevics: Latvia eyes 2014 euro adoption
Nina Kolyako, BC, Riga, 15.01.2010.

Print version
Latvia's Central Bank head Ilmars Rimsevics on Thursday hailed an expected government target of 2014 for adopting the euro in the recession-afflicted Baltic state. "I am proud and glad that the government agreed ... that 2014 finally, once and for all, will be declared as the euro entry year," Ilmars Rimsevics told reporters.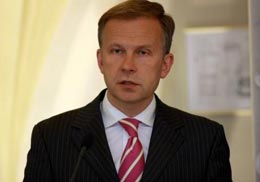 Ilmars Rimsevics.
Latvia's centre-right government has said it plans formally to fix a target next month, but it gave 2014 as the likely date in a report to lawmakers this week, writes AFP/LETA.
Rimsevics warned against failing to stick to that.
"It's important to note that missing the 2014 target date would push the perspective of joining the euro into an unknown future," he said.
"It's not as simple as boarding the Jurmala-Riga train, where if one leaves we just board the next one in 2015 or 2016," he said, referring to the frequent connection with Jurmala, a popular seaside resort near the capital, Riga.
Latvian authorities estimate that the economy may have shrunk by 18% in 2009 compared with 2008 and could contract 4.0% this year.
At the end of 2008, Latvia signed a 7.5-billion-euro (10.8-billion-dollar) bailout with lenders including the International Monetary Fund and the EU.
Under its terms, Latvia has slashed spending and raised taxes to gradually plug its public deficit – the shortfall between revenues and outlays – by 2012 in an austerity drive also meant to help it adopt the euro.
Under the Maastricht Treaty that created European economic and monetary union, countries must meet certain conditions before they can switch to the euro.
They mainly concern public finances, debt, inflation and exchange rate stability – Latvia's currency, the lat, is pegged to the euro.
"Unfortunately, our forecast shows that inflation will go up in 2013 and 2014 and it's possible that Latvia's external debt will rise and will be near a critical limit, which wouldn't allow Latvia to join euro in future years," said Rimsevics.
"That's why adopting the euro could be postponed until 2017, 2018 or later," he warned.
Sixteen EU nations now use the euro.