International Internet Magazine. Baltic States news & analytics
Wednesday, 16.10.2019, 03:47
Grybauskaite: it is inevitable to cut pensions in Lithuania
Danuta Pavilenene, BC, Vilnius/Rukla, 29.09.2009.

Print version
Lithuania's President Dalia Grybauskaite thinks that SoDra has to cover its deficit by reducing its spending or social benefits. The head of state refused to comment on the bail-out plan for SoDra presented by the Government last week and said that it was too early to evaluate the national agreement. It is planned to sign the national agreement when it is approved by all the parties to it. The president states that it is inevitable to cut pensions.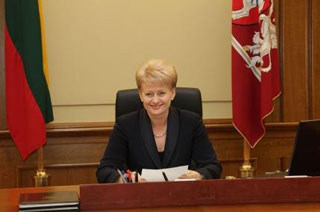 Dalia Grybauskaite.
"The budgetary situation of SoDra is very complicated; 2.5 billion litas (723.81 million euros) is a large deficit. At least half of it should be covered from the reserves of SoDra itself or by cutting some expenditure, including some social benefits. There is no other way-out," Grybauskaite said. On the other hand, the president noted that a large part of SoDra's problems could be transferred to the state budget, which meant all taxpayers in Lithuania. As reported, the Government announced its intentions of reducing pensions and other social benefits last Wednesday.
The plan intended to save the SoDra foresees cutting state pensions, annuities, and social benefits by 5-20%, revising state social insurance pensions, maternity benefits, and payments to working pensioners, reforming the system of children's benefits and raising the tariff of social security contributions by 2%. These austerity measures are yet to be approved by the Seimas.