International Internet Magazine. Baltic States news & analytics
Saturday, 21.05.2022, 05:08
Repse: rallies and strikes are good, but violent protests bad
Nina Kolyako, BC, Riga, 12.06.2009.

Print version
Finance Minister of Latvia Einars Repse (New Era) is not against possible strikes and rallies that are likely to take place in response to the state budget cuts, however, he opposes violent protests and civil unrest.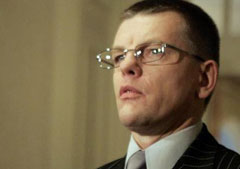 Einars Repse.
"Rallies and strikes are a good thing, but disturbances will not solve anything," Repse pointed out after a meeting with Latvian Free Trade Unions Association representatives today.
As the finance minister explains, he realizes that "people are really concerned and desperate", however, damaging government buildings will not contribute to improving the situation in any way as repairing the buildings would have to be paid for with state budget money anyway, informs LETA.
Repse admits that the country is currently paying a high price for the mistakes committed in previous years.
As reported, the Cabinet's emergency session, which took place with participation of President Valdis Zatlers last night, concluded with coming to the agreement to reduce all the state pensions by 10% and cut salaries for all persons working for the state administration institutions by 20%; it was also decided that no changes in the tax system would be introduced for now.
Working pensioners' pensions will be slashed 70%, all other pensioners will see their pensions shrink by 10%. Also maternity and child care benefits will be cut by 10%.
The tax-exempt minimum will be reduced from the current LVL 90 to LVL 35; the tax-exempt minimum for pensioners will remain at the current LVL 165 level.
In all the institutions, funded by the state budget, employee salaries will be curbed by 20%.
All ministries' budgets will be 30% lower, whilst state agencies will see their budget shrinking by 50%, except for the agencies responsible for appropriation of European Union funds.
The current agreement foresees that the value-added tax will not be raised to 23% from the current 21%, as the Finance Ministry suggested yesterday. Also the plans to introduce progressive income tax have been abandoned.
The government agreement was signed also by the social partners – Employers' Confederation of Latvia, Free Trade Union Confederation of Latvia, and the Latvia Pensioners Federation.