International Internet Magazine. Baltic States news & analytics
Monday, 06.07.2020, 12:11
Results of operation of the Bank and Rietumu Concern in the first half of 2018 have been summarised
BC, Riga, 29.08.2018.

Print version
As of 30 June 2018, assets of the bank form 1.6 bln euros, deposits of the customers are 1.1 bln euros and net profit during the first six months is 20.2 mln euros. The equity and reserves are stable at the level of 459 mln euros, return on assets (ROA) is 1.82% and return on equity (ROE) is 8.68%. The bank keeps a high liquidity coverage ratio (LCR) of 699.13% (the minimum standard being 100%), according to the bank's representative.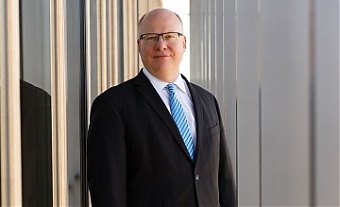 Rolf Fuls. Photo: Rietumu Bank.
At the end of the second quarter, Rietumu Bank submitted its business plan for three years, with the description of a new business model, to the regulator – the Financial and Capital Market Commission. In accordance with this business model, the bank will focus on servicing Latvian and European businesses.
Among the priority operations, there is lending and investments in client projects such as real estate development, transit and logistics, export-focused production, financial technologies, etc. Work will also be continued in other fields, which are traditional for Rietumu Bank – e-commerce servicing, brokerage, wealth management.
In the first half of the year, the bank has attracted over a thousand new clients, predominantly European companies and private individuals.
"For years Rietumu has been developing as a bank for servicing international businesses. Today we are ready to provide this experience to Latvian and European clients, to support their non-standard ideas and operations in foreign markets. I would like to note, that the number of local customers who value our service and opportunities in financing new projects, is growing" said Rolf Fuls, Chairman of the Board of Rietumu Bank.
Complete financial second quarter report is published on the bank's website.