International Internet Magazine. Baltic States news & analytics
Thursday, 02.07.2020, 15:24
Spain willing to join Lithuania's LNG terminal project
Petras Vaida, BC, Vilnius, 20.04.2011.

Print version
On Wednesday, Seimas Speaker Irena Degutiene received the new Spanish ambassador, Miguel Arias Estevez, and called for strengthening bilateral economic and energy ties, cooperation in the tourism sector.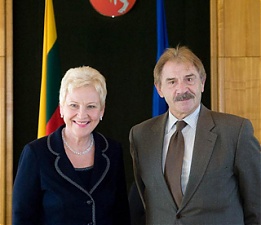 Irena Degutiene and Miguel Arias Estevez. Vilnius, 20.04.2011. Photo: seimas.lt
The Spanish ambassador assured the Seimas speaker that Spanish companies were interested in a liquefied natural gas (LNG) terminal project and maybe even in a joint venture. The Seimas speaker encouraged the Spanish people to take a rest from hot summers and go to a cooler Lithuania.
"Spain has a significant experience as to the energy sector which could be of use to Lithuania, especially in the LNG terminal project," said Degutiene. "Therefore, we encourage you to show more interest in Lithuania's projects aimed at energy independence and contribute to them."
The Spanish ambassador stressed that his country perfectly understood Lithuania since Spain had been dependent on a single energy supplier 15 years ago. The diplomat said that Spanish companies were interested in the possibilities of joining the LNG terminal project and perhaps even setting up a joint venture to implement it.
As reported by ELTA, Lithuania will build a floating terminal at the annual capacity of about 2 billion cubic metres of gas, because such an option would be quicker and cheaper. According to early estimates, the terminal would cost around 200-300 million euros. Usually, the construction of such terminals takes from 8 to 13 months. The Seimas speaker drew the ambassador's attention to poorly-developed economic cooperation between Lithuania and Spain.
"Economic indicators between Lithuania and Spain are not good. We must look for solutions to encourage our businesses to step up cooperation, trade and investment," said Degutiene.
The Spanish ambassador agreed to the Seimas speaker's position and said he planned a visit of a Spanish business delegation to Lithuania as soon as the coming autumn.
The Seimas speaker said she saw a lot of untapped potential in the tourism sector.
"Spain is famous for its warm climate and great resorts that are often preferred by the people of Lithuania for holiday. But, Lithuania's landscape and resorts are also unique, different from the ones in southern European countries. Therefore, I encourage the Spanish people, especially in hot summers when they are tired from heat, to pay attention to a cooler weather in Lithuania and come here on holiday," said Degutiene.