International Internet Magazine. Baltic States news & analytics
Tuesday, 21.05.2019, 04:22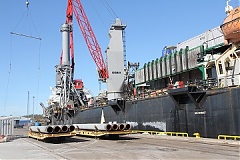 20.05.2019
Pipeline installation of the offshore part of Balticconnector, the Estonian-Finnish gas interconnection, will begin today. In 2018 all preparatory offshore works were completed, and the seabed is now ready for the pipeline to be installed, Elering informed BC.
17.05.2019
The latest data compiled by the Central Statistical Bureau (CSB) show that in 2018 the amount of electricity produced in combined heat and power (CHP)1 plants2 constituted 4170.0 gigawatt hours (GWh), which accounts for 62 % of the total amount of electricity generated in Latvia. Compared to 2017, the amount of electricity produced in CHP plants went up by 39%, which can be explained by the reduction in hydro power output caused by the dry and hot weather.
17.05.2019
Natural gas prices for Lithuanian households will remain unchanged in July, the market regulator has confirmed to LETA/BNS.
17.05.2019
As Lithuania, Latvia and Estonia prepare to synchronize their power grids with the Continental European network, three synchronous compensators are to be built in each of the three Baltic countries to ensure frequency stability, informed LETA/BNS.
17.05.2019
Some foreign experts believe that the use of the Klaipeda liquefied natural gas (LNG) terminal could be expanded, for example, to generate electricity and heat energy, thus reducing its costs for consumers, informed LETA/BNS.
16.05.2019
Polish-owned Lithuanian crude refiner Orlen Lietuva has returned two shipments of Russian oil contaminated with chlorine compounds, according to the Verslo Zinios reported LETA/BNS.
15.05.2019
Smart Energy Fund powered by Lietuvos Energija (Lithuanian Energy), and managed by Contrarian Ventures along with Honda, Japanese automobile manufacturer, and other partners invested in Moixa, UK-based company developing smart energy storage devices and virtual power plants technologies, informed representative of the Lietuvos energija.
13.05.2019
Latvia's Augstsprieguma Tikls power transmission operator on Thursday will start construction of the third Estonian-Latvian Interconnection project, the company's representative Aija Ikstena reported LETA.
10.05.2019
Russia's largest independent gas company Novatek's new LNG shipment from the Russian port of Vysotsk is approaching Lithuania's port of Klaipeda. The shipment is believed to be meant for the largest gas consumer in Lithuania, the Jonava-based fertilizer producer Achema, informed LETA/BNS.
10.05.2019
95% of gas that reached consumers in Lithuania in early May were imported via the Klaipeda-based LNG terminal, its operator Klaipedos Nafta said LETA/BNS.
09.05.2019
After the two previous months, the price of electricity increased slightly in all Nord Pool bidding areas in April, with the price in Estonia rising 5.19 % month over month to 42.18 euros per megawatt-hour, informed LETA/BNS.