International Internet Magazine. Baltic States news & analytics
Tuesday, 07.02.2023, 17:34
Adamkus: it's necessary to reassess threat to energy security
Petras Vaida, BC, Vilnius, 10.06.2008.

Print version
On Monday during lunch with ambassadors from the EU countries residing in Lithuania, President Valdas Adamkus stressed that Lithuania will keep to international commissions on the closure of the second unit of the Ignalina power plant, but it is necessary to reassess threat to state energy security.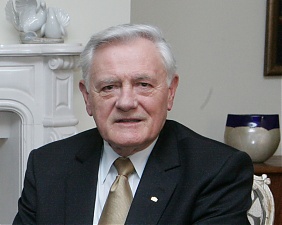 Valdas Adamkus.
During the meeting the energy security situation after 2009, after the decommissioning of the Ignalina power plant, was discussed, informs ELTA.
According to the head of Lithuania, Lithuania will become totally dependant on a single energy supplier, while energy prices sky-rocketed after Lithuania had pledged to close its nuclear power plant. The Lithuanian president emphasized that he expected understanding from EU member states and the European Commission.
The president informed ambassadors on the implementation of the Lithuanian-Polish power bridge project, noting that negotiations would be continued with energy companies from Poland and the Baltic States and also with partners in Europe. According to Adamkus, it is important for the Baltic States to build an electricity bridge to Sweden as soon as possible. During the meeting the recently established national investor that will participate in the construction of a new nuclear block in Ignalina was also discussed.
"Lithuania will develop contacts with and further support its partner states in the East – those that are currently taking the test of reforms and aspiring to come closer to the EU and NATO," words of Adamkus are cited in the President Press Service report.
During the meeting the relationship between the EU and Russia was also discussed. The president emphasized that Lithuania spoke out for good-neighborly relations with Russia and for constructive solutions to problems that existed. He reminded about the recent inclusion of issues important to Lithuania into EU"s mandate for negotiating with Russia. "I am glad that issues relevant to all EU member states and Lithuania will be discussed. It demonstrates our solidarity and willingness to seek, together with Russia, solutions to matters topical for the whole of the EU,"the head of the state said, noting that Lithuania had no intention of blocking EU-Russia negotiations.