International Internet Magazine. Baltic States news & analytics
Wednesday, 20.06.2018, 22:07
Chinese New Year 2012 celebrated in Riga
BC, Riga, 13.02.2012.

Print version
The Embassy of the People's Republic of China in the Republic of Latvia and the International Culture Center held in Riga at the FG Royal Hotel the evening of Chinese culture devoted to the Chinese New Year 2012. BC proposes the speech delivered by Ambassador Hu Yeshun on the event of Chinese culture on 11 February.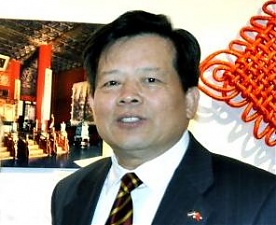 Hu Yeshun. Photo by Y. Zhitluhin.
Distinguished guests,
Ladies and Gentlemen,
Good evening.
It is my pleasure to be the co-organizer of this wonderful Chinese culture event on the occasion of the Chinese New Year. The Chinese New Year, also known as the Spring Festival, starts from the first day till the fifteenth day of the first lunar month of the year. However, the Chinese people spend the whole first lunar month in a jubilant festival atmosphere.
It has been more than 3000 years' history for the Chinese people to celebrate their most important and traditional festival – the Spring Festival. Although the way and form of celebrating the Spring Festival have been changing along with the passing of the times, the theme of the Spring Festival remains unchanged. That is the reunion of the whole family, share of the happiness and good expectations for the future.
The year of 2012 is the year of Dragon. In Chinese culture, Dragon is the symbol of power, dignity, success and good luck. The Chinese people usually name those with great ambition, extraordinary ability and considerable achievements as "dragons among the people". Moreover, the Chinese nation regards ourselves as descendants of the dragon. As the year of Dragon comes with such wonderful metaphor, I would like to wish all of you. (As energetic as a dragon and every success in your endeavor).
Ladies and Gentlemen,
In the year of 2011, the relationship between China and Latvia has been developed considerably. Both sides held a series of activities on the occasion of the 20th anniversary of the establishment of diplomatic relations between China and Latvia. Art and culture organizations from both sides exchanged visits and brought high level art performances to both peoples. As the Chinese people are willing to embrace the world, the Chinese culture and art are now moving towards the world stage and enriching people's culture life. The local and civil exchanges between China and Latvia are both frequent and fruitful. The idea of developing the relationship of mutual benefit and friendship between China and Latvia has been well received by both peoples. I would like to stress, the exchanges in the area of arts and humanities will constantly enrich the contents of China-Latvian relationship and promote its coordinated development.

In the end, I would like to express my heartfelt thanks to the organizer of this event—International Culture Center and friends from all sectors who dedicated to promoting China and Latvia friendly relationship. I wish you all success in the year of Dragon and happiness of your family!