International Internet Magazine. Baltic States news & analytics
Thursday, 04.06.2020, 14:49
Interaction between FDI and exports
Linda Vecgaile, economist, Latvijas Banka, 27.08.2018.

Print version
2017 and 2018 have been very favourable for Latvia's exports of goods and services so far. Income from exports of goods posted a steep rise, whereas exporters of services have demonstrated robust income growth for several years already, accounting for approximately one third of Latvia's total export value.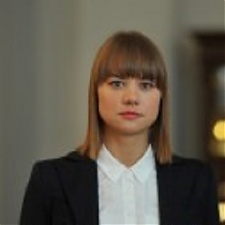 Strong overall global demand and high demand from Latvia's main trade partners were significant factors, while also driving up global prices. Thus, Latvia's export value increased not only due to an expansion of exported volume but also because of a rise in export prices. Meanwhile, after the low levels observed in 2016, last year FDI inflows in Latvia were again close to their historical average, reaching 2.4% of GDP, and accumulated levels of FDI inflows amounted to 53.5% of GDP. Moreover, good inflows have continued also this year. Could FDI growth be considered a factor supporting Latvia's exports?
Research suggests that, in the receiving country, FDI fosters conditions favourable to export growth. For instance, factors such as the introduction of new and improved technologies, knowledge transfer and more successful style of management, all facilitate efficiency and productivity, thereby boosting international trade.
When analysing the countries dominating in Latvia in terms of their accumulated FDI, it can be concluded that the allocation of FDI can be viewed as diversified. Among the countries with the largest volumes of accumulated FDI are Sweden, the Netherlands, Denmark, Russia and Lithuania. FDI is also spread across sectors, the largest of which are, e.g. the financial, retail trade, real estate, manufacturing and agricultural sectors.
When examining the relationship between each of Latvia's sectors and the accumulated FDI in these sectors, one third of the results suggest significant correlation, of which approximately 20% are close or very close (see Chart). When analysing in greater detail, it can be concluded that the list of the countries importing the largest shares of Latvia's exports of goods and services closely correlates with that of the countries accounting for the largest FDI inflows in Latvia.
Correlation coefficients obtained through the comparison of exports by sector and the accumulated FDI in the respective sectors; 2009–2017 (European Community statistical classification of economic activities; Revision 2)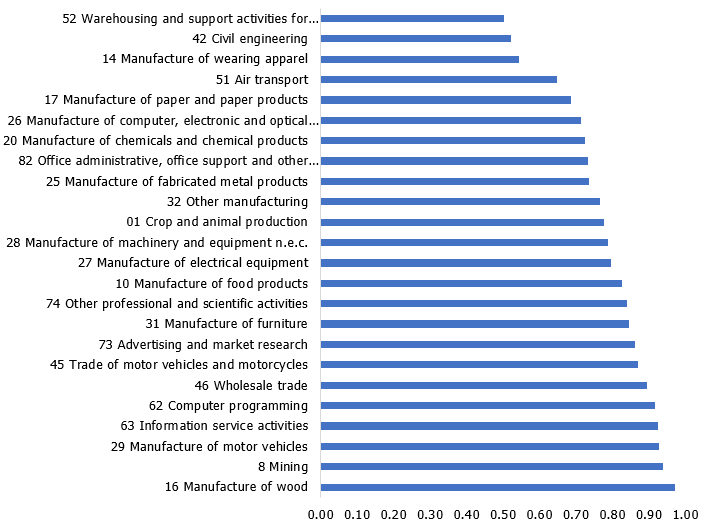 Latvia's small and open economy is very dependent on exports, and diversified FDI inflows are also highly valuable. If both of the above positively affect each other, Latvia is in an advantageous position. To ensure further development of exports and FDI, the process of strengthening the investment environment and penetrating new export markets should be ongoing and should include systematic work on aligning the taxation and legal systems, combating the informal economy and improving the educational system and demographic trends.