International Internet Magazine. Baltic States news & analytics
Tuesday, 25.09.2018, 03:06
Gafin: Rietumu succeeded in restoring the tradition of holding world-class concerts in Jurmala
BC, Riga, 28.08.2017.

Print version
Last weekend the performance of Joshua Bell in Dzintari Concert Hall in Jurmala enjoyed great success. The concert of this marvellous violinist, Grammy, Gramophone and Mercury awards winner, continued the programme of Baltic Musical Seasons, informed BC Eleonora Gailisha from Rietumu Bank's mass media and public relations.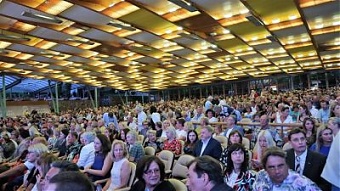 BC's photo.
The performance of Joshua Bell was accompanied by the festival orchestra directed by Bulgarian conductor Maxim Eshkenazi. That evening he played Dvorak – Symphony No. 9 "New World", Mendelssohn's overture "Midsummer Night's Dream" and Max Bruch's Violin Concerto No. 1.

Like at previous concerts of Baltic Musical Seasons, the legendary Jurmala hall was full. Not only Latvian classical music connoisseurs, but also numerous foreign guests, arrived to enjoy the performance of one of the best musicians of modern times; moreover, he played the Stradivari violin.

Baltic Musical Seasons is one of the biggest modern projects in the field of classical music and opera in the Nordic countries. The opening ceremony of the Seasons took place on 3 June in the presence of the incumbent President of Latvia Raimonds Vējonis and two ex-presidents – Guntis Ulmanis and Valdis Zatlers. Then the famous Italian conductor Riccardo Muti, with the Luigi Cherubini Youth Orchestra established by him, performed in Dzintari.

The programme of the 2017 Seasons was continued by concerts of stars of the world's opera stage Elīna Garanča, Hibla Gerzmava, Kristine Opolais, Lawrence Brownlee and Sarah Coburn.

Artistic Director of the projects is the recognised producer and director Andrejs Žagars. In 1996-2013, he was the Head of the Latvian National Opera, making it one of the most modern and interesting musical theatres of Eastern and Northern Europe.

The Baltic Musical Seasons project is supported by prominent Latvian and Russian patrons of arts.

"I am very glad that the idea of restoring the tradition of holding world-class concerts in Jurmala has been so broadly supported. This tradition's roots go back to the 1920s-1930s, and its peak was in the 1960s-1970s," says Alexander Gafin, Member of the Council of Latvian Rietumu Bank and Member of the Board of Trustees of Baltic Musical Seasons. "But nowadays, to implement such a project, tradition is not enough – large-scale funding and first-class professional management, links and reputation in the international musical world are required. And, as the first season of the project demonstrates, we seem to have succeeded in connecting all of these organically. We are primarily grateful to the shareholders of Rietumu Bank Leonid Esterkin and Arkady Suharenko, entrepreneurs Peter Aven, Mikhail Fridman and all members of the Foundation for their participation and contribution to the Seasons, which is not only measured by money."

The final concert of the 2017 Baltic Musical Seasons will be held on 3 September. On this evening the outstanding American jazz trumpeter, "king of lounge jazz" Chris Botti will be performing in Dzintari Concert Hall.