International Internet Magazine. Baltic States news & analytics
Thursday, 19.07.2018, 16:49
DONBASS: Humanitarian crisis in silence. Since 2014 until now.
Oksana Chelysheva, Member of the Union of Journalists of Finland, Oxfam Novib/PEN Awards for Freedom of Expression, 2014. Eleonora Fonseca award, Naples. 2016. , 20.06.2017.

Print version
Late autumn 2014 we met with Alexander Hug, principal deputy of the OSCE observation mission in Ukraine for the first time. It was Brussels, the European Parliament and the hearing on the future of Minsk Agreements held there. Now we are again together. This time in Helsinki talking about the future of Minsk Agreements.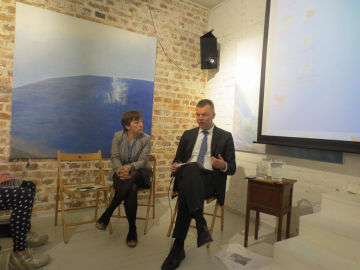 At a jointa press-confrence in Helsinki with Alexander Hug, principal deputy head of the OSCE Monitoring Mission in Ukraine. Photo by Mohamed Ibrahim and Hassan-kafi Halane.
Back then, in autumn 2014, I had just got back from Ukraine when I was invited to speak in Brussels.  One of the things I shared with the audiences of the euro parliamentarians and their assistants was my fresh recollection of Makeevka, the Helsinki-size town near Donetsk, where I realized the depth of the oncoming humanitarian catastrophe.
It has been three years since then. A lot of effort has been put by dozens of people both here, in Finland, and in many other countries to raise help for civilians trapped by the situation of the unseen and unrecognized war. The humanitarian crisis in Ukraine is conditioned not only by war as such but also by poor governing, corruption, discriminating policies towards internally displaced people. 
I personally have been involved into organizing humanitarian aid for civilians trapped in the conflict since late autumn 2014. A broad network of contacts in various regions of Ukraine has been developed as a result of this work. All the aid is being delivered to people who need help through these people who have proved their responsibility and honesty.
As for the rest, they automatically drop out. Some right after the first meeting like it happened to one humanitarian group in Kiev who started discussing the way to help by offering me "percentage" from all which they would get through me. Some other later: when, for instance, people start to ask 600 dollars for the paper I need which other volunteers make for me free of charge.  It was the invitation for a new visa which I needed.  It didn't matter for such volunteers that such money would be enough to help more than a hundred of people.
Civilian volunteers via whom we organize delivery of help to people in need are based in different cities of Ukraine, including Kharkov, Slavyansk, Svyatogorsk, Zaporozhye, Kherson, Odessa. They, in their turn, have their own network extended to the grey zone and various towns and villages on the other side of the conflict line. 
As for level of aid coming from individual people, only this year we have sent approximately 980 kg of shoes, clothes, toys. Another 680-kg delivery was organized via Tallinn to Luhansk region. Help has been organized by providing money to buy medicines and food, to pay firewood and coal and also to pay funerals. There have been two cases of such tragic final help, in Avdeevka and Zaporozhye region. Unfortunately, yesterday one more recipient of our help, a disabled woman born in 1930 died in Yasinovataya which would also require money to help to properly bury her.
According to information from my numerous contacts, recently almost all programs of international humanitarian agencies have been concentrated on the so-called grey zone.  They say that there is no program at the moment which would prioritize help for the internally displaced people, except Save the Children "Cash for Work" project which provides low-paid communal temporary jobs. However, the number of places available for IDPs in such programs is up 300. In such towns as Svyatogorsk and Slavyansk the number of IDPs has dropped approximately by 30%. However, it doesn't mean that the decrease in number signifies improvement of the situation. On the contrary, all my contacts share the view that the situation is going for worse and the fact that so many people have returned to their homes (the ones which still have roof) is explained by the fact that rent is unaffordable for quite many displaced people.  They point out sharp increase in the rent owners expect to get. In Slavyansk rent reaches 11000 hryvnas.  People explain it by the reality of the town turned now into some kind of hub for international organizations.
However, the main and the most acute reason for people's inability to rent out flats is in the fact that Kiev freezes social benefits for huge number of IDPs.  In Slavyansk, for instance, 12000 people, including pensioners have their benefits and pensions frozen. The decision to freeze benefits is often connected with SBU lists of "those who travel to enemies' territory too often and for too long". People stress that these lists contain big number of accidental victims. Besides, all these people are de-facto deprived of the right to vote.
According to civilian volunteers who answered my questions, the most victimised groups of IDPs are single mothers, able-bodied people at the age between 45-60, full families with fathers who are jobless.
One of volunteers who I talked to is an IDP herself.  She told me, "Every time when I have to reregister as an IDP I face absolutely new rules and regulations. The staff of the administration who deal with us are not interested at all to facilitate the process. On the contrary, they often create problems at their own whim. Their purpose is to do whatever possible not to pay money. I am certain that the government sees as a nothing else but a bone in their throat. I have to live with my three kids in 18-square-meter apartment which I struggle to pay for. The money I have is just enough to pay rent and buy food. I do want to get back home and raise my kids in peace. However, back home fight for life would be even more difficult because of constant shelling.  Still, if the government continues to pressure us, I will have to go back. Now, when I have to go to the office to get a new IDPs' paper, I compare myself with a person trapped in a concentration camp without any rights. The only difference is that we still don't have tattooed numbers on our arms.
People I interviewed also share the opinion that both in territories under Kiev control and self-proclaimed republics officials are trying to control the flow of humanitarian aid from individuals. Corruption remains problem No.1. One of Ukrainian volunteers told me, "There are more or less transparent humanitarian agencies and their local offices. But you should know that if local administration gets access to funds meant to rebuild destroyed houses, repair them or assist IDPs, you must be sure that you will fail to establish the truth how the money is spent". The side of the self-proclaimed republics is also known for such attempts. In one case, it took me two months of effort to ensure that 30 15-kg bags meant for disabled people in Lugansk and Krasnodon are handed over to the people who we knew. 
Fortunately, we succeeded to ensure that those bags were handed over to the people who waited for it and not some "reliable official who better knows who deserves help".
Since the beginning of 2016 authorities of self-proclaimed republics closed access to a number of Ukrainian humanitarian groups.  They also banned a number of local groups and international organizations from operating in their territories. It also resulted in enforced evictions of many local volunteers because they were not loyal to the republics. At the same time, they started to demand accreditation from Ukrainian groups to bring help to people. One of the Ukrainian volunteers told me that her group was asked to pay 50000 US $ to get the permission to enter territory outside Kiev control. At that, there were different examples. For instance, there was a case when we mediated with the administration of Gorlovka so that they facilitate the delivery of humanitarian aid from Finland for a hospice and many disabled people which was brought by our partner group in Kharkov. They kept all their assurances and did whatever needed to facilitate the work of our partners.
Few testimonies from my Ukrainian contacts...
...it is difficult to tell for certain how many people are helped via us. There are 50 families under constant attention. These are old people, people with many children, families of the disabled or families where either parents or children are sick, and also so-called "emergency situations" families whose houses are burnt or destroyed. The main problem is to decide how to move bags through the checkpoints.  I don't see any prospects for the improvement of the situation in the near future. If people had jobs and decent money, they would be less desperate. When I visit my home place and talk to people, I see that all enterprises and mines there are closed. The only way to get a job is in state institutions like schools, hospitals or kindergartens, illegal mines which are very dangerous or militant groups.  Those who don't have either opportunity or willingness to become part of it have to just survive. Or they leave for Russia to get a job there. The level of benefits is low while prices there are almost twice as expensive as in Slavyansk. Single mothers get 1000 rubles. Children younger than  3 get 1720 rubles. People with many children get 1000 per each child. The level of pensions varies from 2 to 3000 rubles. The neediest groups are single mothers and full families with jobless parents...
...I am responsible for 54 families in Yasinovataya, 30 families in Krasny Partisan, 60 families in Makeevka, including its remote areas which are under fire.  There are also 114 disabled children in the orphanage in Yenakievo and 135 children in an institution in Makeevka. As for Lugansk region, we delivered help to Rovenki , Alchevsk, Lugansk, Bryanka and Stakhanov but it was until recently. We had to freeze this direction due to sharp increase in the demands for money at checkpoints in this direction. We just can't afford it...
...I still can go to Yasinovataya but probability is 99% that I would have problems to leave it. It started in 2014 when my husband was detained. Then he was released but we were receiving warnings when we were delivering aid themselves in 2015. After we started to drive boxes with necessary things to the checkpoint where our friends were waiting for us to reload boxes into their cars and take them to Yasinovataya. Then we established contacts with drivers who agreed to deliver parcels. The most vulnerable people there are full families: parents have jobs but their salaries are being delayed. If there are "adult" children at the age from 10 to 14, they don't get any social benefits as their parents technically are not unemployed. The main problem is to raise money to pay transport expenses from the place where we are now to our people in Yasinovataya.  If until recently, the problems were mostly caused by personnel of Ukrainian checkpoints, now there have been cases when the republican checkpoint also demanded money. Besides, the administration is trying to get control of help we organize. They even contacted families we are helping persuading them to influence us so that we bring all collected aid to the city council to some "official in charge" who will then distribute. We all refused to submit. I get most help from Germany and Greece, you too. These are all common people who get together in Facebook groups and raise help. What people in Yasinovataya need are diapers, children's clothes, medicines and money to pay transport. What I do to minimize problems is that I pack individual parcels including copies of birth certificates or mothers' passports.  I also write letters on behalf of non-existent relatives who "send gifts to their family members". I never seal the envelopes as personnel of checkpoints often read them. Thus, I pretend to act not as a civilian volunteer but just as a courier who helps relatives to stay connected...