International Internet Magazine. Baltic States news & analytics
Wednesday, 07.12.2022, 22:12
Belarusian premier could visit Latvia in September
Nina Kolyako, BC, Riga, 24.08.2010.

Print version
A visit by Belarusian Prime Minister Sergei Sidorsky to Latvia is being planned for this autumn, Foreign Minister Aivis Ronis told reporters following a meeting yesterday with Belarusian Foreign Minister Sergei Martynov. The visit could take place in September, and would include the continuation of talks on deepening relations between the two countries.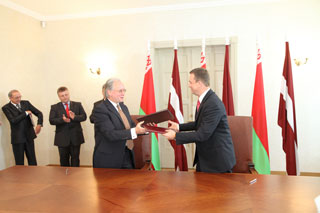 Sergei Martynov and Aivis Ronis. Riga, 23.08.2010.
Martynov also indicated that following a meeting between the Belarusian and Latvian prime ministers, it would be logical to begin speaking about a meeting at the presidential level, adding that the Belarusian side was in favor of this taking place.
The meeting today between the two countries' foreign ministers mainly focused on economic cooperation. The agenda for Martynov's visit includes energy transit to Belarus through Latvia, and statements made by the Belarusian official indicate that his country expects today's visit to be key in reaching agreement in this area.
Martynov recognized that the economic crisis had influenced the two countries' cooperation in this area; however, he stressed that the crisis will not go on forever. "We are looking to the future with great optimism and confidence," said the Belarusian foreign minister.
Ronis stressed that the two countries were connected by history, good neighborly relations and economic cooperation in various spheres, which could potentially also be strengthened by Belarus' membership in single customs area with Russia and Kazakhstan. At the same time, the Latvian foreign minister also stressed the necessity for Belarus to strengthen its relations with the European Union.
The visit by the Belarusian prime minister could be organized in parallel with the planned meeting of the three Baltic States presidents and the annual Belarus business forum, both of which are planned for September.