International Internet Magazine. Baltic States news & analytics
Friday, 23.08.2019, 23:06
Aboltina presents Cicero Award to Bildt
BC, Riga, 09.01.2014.

Print version
Presenting the 2013 Cicero Award to visiting Swedish Foreign Affairs Minister Carl Bildt today, Saeima Chairwoman Solvita Aboltina (Unity) emphasized his personal contribution to the restoration of the Baltic countries' independence, LETA learned from the Saeima Press Service.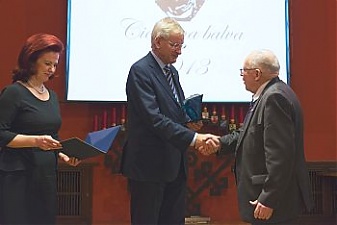 Photo: saeima.lv
"They say there can be no friends in politics. The history of Latvia proves the contrary. Sweden once was refuge to multiple Latvian families that had to leave their homeland during the times of turmoil. When the Reawakening movement began you, Mr. Bildt, were the one to offer strong support for the Baltic countries and be their voice in the world," Aboltina said while presenting the award during a ceremony in the Saeima building.
Bildt, one of the most influential thinkers in the world as ranked by "Foreign Policy" magazine, received the Cicero Award in the "International Politics" category for fostering the cooperation between Sweden and Latvia.
Emphasizing the support from the Swedish nation and Bildt's personal contribution to the restoration of the Baltic countries' freedom, Aboltina said: "Today, we are grateful for your support and friendship – both in January of 1991, when your presence in Riga provided strength to the Baltic nations, acknowledging to the world your support for our striving for freedom, as well as later when you took the very important role of intermediary, helping explain to the United States and European countries how important it is, to this region and the world, that the Baltic countries are independent and free from Russia's military influence."
"Such actions require political courage as well as clear vision and conviction of one's goals," said Aboltina. "You still tell Europe what it does not want to hear, seeing opportunities, rising to challenges, moving with and even ahead of the times," said Aboltina, adding that, during the age of digitalization, Bildt is known to the world as not only an outstanding statesman and diplomat, but also as one of the founders of e-diplomacy who actively uses Internet and modern technologies in communication.
"Bright personalities that embody new ideas and pursue them convincingly, setting an example for others with their integrity and moral stance, are always an invaluable source of inspiration for the people. Such persons can steer the fates of people, nations and countries. This award proves once again that every important historic event has specific persons behind it, whose bold decisions and activity were able to change the course of history," said Aboltina.
Aboltina said she was honored to have the opportunity to present the Cicero Award to one of the greatest visionaries in Europe, who has been able to make the vision of safe and united Europe a reality, earning international respect and recognition.
In conclusion, Aboltina wished all who work for the good of the people to keep faith and be strong in pursuing their goals, and always be able to listen, see, help and support.