International Internet Magazine. Baltic States news & analytics
Monday, 27.03.2023, 17:45
Grybauskaitė urges to develop dynamic economic cooperation between Lithuania and Ireland
Petras Vaida, BC, Vilnius, 11.05.2010.

Print version
While on an official visit to Ireland, President of the Republic of Lithuania Dalia Grybauskaitė met with her Irish counterpart, President Mary McAleese, informed BC presidential press service. The Irish and Lithuanian Presidents discussed bilateral relations and the political, cultural, historical and economic situation of the two states.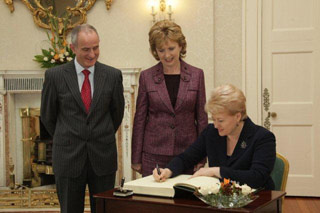 Mary McAleese and Dalia Grybauskaitė. Dublin, 10.05.2010.
"Six years ago, Lithuania joined the EU under the Irish Presidency. Ireland has always been a good example for us, both with its historic experience of survival as a nation and with its ability to stay mobilised in the face of such modern challenges as we face now, when we have to overcome the economic crisis and take difficult decisions. Ireland is also a good partner of Lithuania within the European Union, a partner that has consistently supported our membership and has been willingly sharing its experience," the President of Lithuania said in the meeting.

Later on, President Dalia Grybauskaitė had a meeting with Irish Prime Minister Brian Cowen. The President and the Prime Minister discussed Lithuanian-Irish economic relations, prospects of cooperation within the European Union, the EU 2020 Strategy, energy issues.

The President and the Prime Minister underlined that the two countries were united by good political relations but that despite that they both needed to explore new ways of developing their economic cooperation and promoting investment in both economies.

On the issue of energy security, President Grybauskaitė noted that the European Union would not emerge successfully from the crisis and would not see the recovery of the European economy unless a single Community energy market is created and the infrastructure necessary for economic growth is developed. According to the President, construction of electricity interconnection with the EU's energy systems is vital both for Lithuania and Ireland and calls for continuous focus and financing from the European Union.

They also talked about the Lithuanian community in Ireland. The President asked the Irish Prime Minister to investigate the possibility to grant legal recognition to marriages registered at consular offices of the Republic of Lithuania. The Prime Minister promised to examine the situation and look for possible solutions.

Monday evening, President Dalia Grybauskaitė left Ireland for Brussels, to attend the World Economic Forum on Tuesday and speak about the implementation of the EU 2020 Strategy and the possibilities to develop nuclear energy.