International Internet Magazine. Baltic States news & analytics
Tuesday, 21.03.2023, 03:41
ECB's Jürgen Stark expressed doubt over Estonia's preparedness to adopt the euro
Juhan Tere, BC, Tallinn, 16.04.2010.

Print version
The European Central Bank has doubts about Estonia's eligibility to join the euro area, LETA/Eesti Päevaleht writes. At the closed meeting of the Economic and Monetary Committee of the European Parliament that took place this week, Jürgen Stark, a member of the ECB's Governing Board from Germany estimated that Estonia is currently not able to adopt the single currency.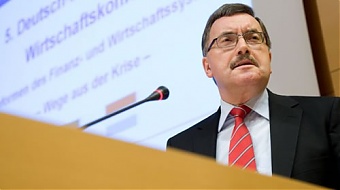 Jürgen Stark.
According to him, although Estonia fulfils the Maastricht criteria, although Estonia has a currency board system and many already use the euro, Estonia is not fit to adopt the euro, at least not now. He said that new extra criteria are needed to assess the preparedness to join the euro area – for example, to take into account the GDP per capita.
As the meeting was a closed one, ECB did not wish to comment on it and Stark also declined from comments on the matter.
One of the Europarliament members who attended the meeting but requested anonymity said that he has no doubts that Stark's message to Estonai is "no".
Estonia's representative in the committee Ivari Padar, who attended also the meeting, softens the blow. "We should become shocked from Stark's words," said Padar. "Jürgen Stark represents a conservative, sceptical doubting position, central banker style."
But Padar also admits that Estonia's acceptance isn't a done deal. "A serious debate is coming and Estonia's aim has to be to convince those who doubt and those who oppose."
The main issue is whether Estonia is sustainable in all the steps it has undertaken to fulfil the Maastricht criteria.