International Internet Magazine. Baltic States news & analytics
Saturday, 31.10.2020, 06:40
90 mln euros needed to prevent healthcare system from collapsing in Latvia – Keris
BC, Riga, 12.11.2018.

Print version
Latvian Trade Union of Health and Social Care Employees' head Valdis Keris has sent a letter to top state officials to demand that 90 mln euros be allotted to increase healthcare workers' salaries, noting that otherwise state healthcare system will "collapse", cities LETA.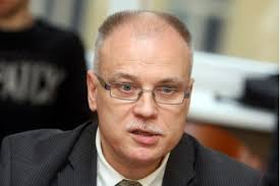 Valdis Keris. BC.
The letter that Keris, on behalf of the Union of Health and Social Care Employees, has sent to President Raimonds Vejonis and Saeima Chairwoman Inara Murniece (National Alliance), asks the officials to "take prompt action in order to prevent Latvian state healthcare system from collapsing."
Keris emphasizes that the state of emergency, caused by multiple Emergency Medical Service employees quitting their jobs, clearly proves that healthcare employees have little faith in the government. The crisis has been caused by the current government's refusal to include financing, necessary for increasing healthcare workers' salaries and overtime pay, in documents that will be used in structuring next year's state budget.
"In doing so, the government has shown that it ignores the Healthcare Financing Law and the Labor Law, recommendations issued by the European Commission and the World Health Organizations, the government's own promises to social partners, and the acute labor shortage in healthcare," Keris emphasizes.
He also points out that labor shortages in healthcare have already caused grave consequences. According to Eurostat data, each day Latvia loses 17 lives that medics would have been able to save in normal, European-level conditions. The European Commission and the World Bank have concluded that one of the main causes of the current problems is labor shortages in Latvia's healthcare that, in turn, have been caused by low wages. Physicians and nurses' wages in Latvia are the lowest in the Organization for Economic Cooperation and Development countries.
"It is therefore clear why the government's irresponsible decision not to plan for a fair increase in salaries in healthcare next year has led to multiple resignations, and the process may now snowball out of control. In order to avert this, prompt action is necessary: there have to be firm political guarantees that the additional funds necessary to increase healthcare workers' salaries and cover overtime pay (around 90 mln euros) will be earmarked in next year's budget," emphasizes Keris.
As reported, the Emergency Medical Service has decided to declare a state of medical emergency in its Riga region center due to a rapid outflow of medical staff.
The service's director Liene Cipule told journalists on Friday that the service was experiencing a "mass outflow of medics" who are dissatisfied with excessive workload and meager wages, as well as an uncertainty about their wages in 2019.
Earlier today, Health minister Anda Caksa (Greens/Farmers) said that the Health Ministry would urgently draft amendments in order to expand the range of medics who can work at the Emergency Medical Service.
While the overall level of healthcare workers' salaries has increased 30%, salaries at the Emergency Medical Center have increased only 20%, Caksa also said.