International Internet Magazine. Baltic States news & analytics
Monday, 11.12.2023, 23:56
Estonian couple to open pop-up sauna in Tallinn using a Soviet Army truck
BC, Tallinn, 29.01.2020.

Print version
Inspired by creative pop-up saunas around the world, an Estonian couple are driving their Soviet Army truck to Tallinn so they can open it up to visitors as a sauna.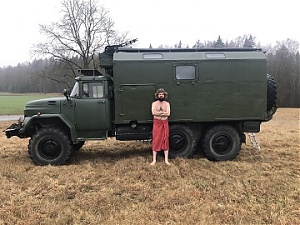 Anni Oviir and Adam Rang write a blog about Estonian saunas, which is how they discovered the ZiL-131 military vehicle in Lääne-Virumaa with a sauna inside. After trying it themselves in a video posted to YouTube, they decided to buy it and bring it back to Tallinn so it can serve as both a showroom for Estonian sauna design and a place for visitors and locals to enjoy Estonian sauna traditions.

"We have to keep finding creative new ways to introduce the world to Estonia," says Anni Oviir. "There's increased interest in sauna culture internationally so Estonia has the potential to benefit much more from both sauna exports and sauna tourism. This eye-catching sauna will help contribute to both those aims.

"Ironically, it can often be difficult for visitors to find interesting and authentic sauna experiences in Estonia precisely because our saunas are such a normal part of our home lives here. We've been inspired by creative and quirky pop-up saunas in cities around the world that bring together both locals and visitors to keep traditions alive in an unusual way. We've even been advised by an Estonian in New York who runs an Estonian sauna inside an old fire rescue truck."

ZiL was an automotive factory near Moscow that produced the Soviet Union's most iconic military, industrial, and luxury vehicles. The ZiL-131 was first produced in 1966 as a general purpose six-wheel drive military truck for the Soviet Army, some of which were used in Estonia during the occupation. When Estonia regained independence, some abandoned ZiL-131s were seized by the Estonian state and then remained in service with the Estonian Army until 2008 until they were auctioned off.

This ZiL-131 SAUN is still in good condition, although Oviir and Rang plan to renovate it with contemporary Estonian design, including replacing the stove with a HUUM stove made in Tartu. To support the opening of the sauna in Tallinn, they have now launched a crowdfunding campaign through the Estonian platform Hooandja.

"It's a great sauna, but we especially love the way that it subverts the original purpose of the vehicle" explains Rang. "The exterior has been well preserved as a brutal reminder of its era, but the interior provides a warm welcome for anyone who wishes to celebrate our freedom and cultural identity, ironically the very things that this truck was sent here to suppress."

Anni Oviir is a green building specialist, while Adam Rang previously worked as 'Chief Evangelist' for Estonia's e-Residency programme before the couple decided to focus on saunas as another way to introduce Estonia to the world.

Together, they now export Estonian-made HUUM stoves at EstonianSaunas.com and host sauna events around Estonia, including at their home in Tallinn (Rangisaun.com) where they explain the history and traditions of Estonian saunas to visitors. Their customers have even included an English Premier League football team, which is currently building its own sauna for players using an Estonian HUUM stove. They've also found creative ways to promote Estonia internationally through its sauna culture, including using their Estonian digital ID cards to demonstrate how to start a company and vote in elections while enjoying a sauna.

The ZiL-131 is still road legal, although it needs additional work to make it more environmentally-friendly and fuel efficient, including a new engine. It currently consumes about 40 litres for every 100km (less than 6 miles per gallon). Once that is improved though, Oviir and Rang also plan to use the vehicle in future for pop-up sauna events around Estonia and beyond. The UK is their top destination because that is where they are most focused on exporting Estonian sauna design and technology by promoting Estonian sauna traditions.

The ZiL-131 SAUN's first stop will be the European Sauna Marathon in Otepää on 15 February where it will host 600 sauna enthusiasts during the competition. Oviir and Rang are sponsors of the competition in order to raise the profile of Estonian saunas around the world.