International Internet Magazine. Baltic States news & analytics
Saturday, 09.12.2023, 02:43
On the verge of its 25th anniversary, The Baltic Course leaves business media market
Olga Pavuk, Editor in Chief of Baltic-course.com, Riga, 21.12.2020.

Print version
What an irony of the destiny that in the year of its 25th anniversary an international magazine The Baltic Course is leaving the market of mass media. A website about business and analytical news of Baltic States shall remain in the World Wide Web, but starting from 1 January 2021 it will no longer add new articles. This is a final decision. This is not a bankruptcy, our small firm doesn't have a single debt, not even to the state.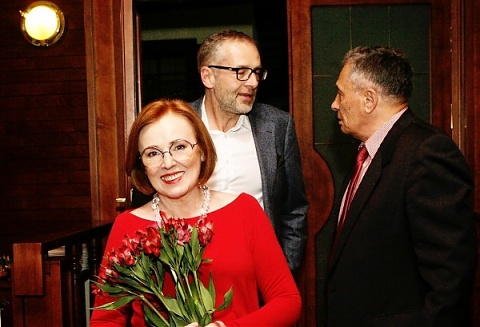 Olga Pavuk, Janis Domburs and Eugene Eteris celebrating 20th anniversary of the magazine. Riga, April 2016
This is another page of my long professional life I am turning here. The first one was my work as a tester of semiconductor devices at a production plan, where I spent my first five years after graduating school. The second page, which was also the longest one, is those 50 years I was labour economist and political economist, which I continue to be to this very day as an Associated Professor at the Baltic International Academy. And the third page – journalism – lasted for almost 30 years up till now, 23 of which were related to magazine The Baltic Course.
Let's take a moment to look back
The Baltic Course magazine, which was initially issued in Russian, was invented in 1996 by a young but already popular Latvian journalist Janis Domburs. The unique project was designed to reach external readers who are interested in the region of Baltic States. In 1998, Janis invited me to join the team of the magazine as an assistant editor. In 2000, in addition to the Russian issue, we launched The Baltic Course in English. A year later we sold our issue to a publishing house "Preses nams" (later known as "Mediju nams"), while I was offered to become editor in chief for both of these magazine versions. This was a chance for me to work in a big multi-profile publishing house, but three years later I had a chance to go freelance. In 2003, having found an investor/creditor and being already 55 years of age, which is quite serious age for starting something like that, we started our own company, bought out the magazine from Mediju nams, and after covering the loan, this firm became all mine. Along with The Baltic Course, Cordex Media, LLC, was issuing some other media products, magazines "Latvijas auto", "Trucker", a list of special issues about economics, ordered by foreign embassies, Russian edition of "Hansabanka" magazine and others. There were times when the annual turnover of the company was reaching LVL 100,000.
Going online
Given the profile of our international audience, in 2007 we made a decision to stop issuing our magazine on paper and switch to running it in the Internet. In January 2008, a website of business information and analytics about the Baltic States was launched in English and Russian. Patent agency registered trademark www.baltic-course.com
As we went online, we saw an overwhelming growth of audience. We are having from 70,000 to 100,000 unique readers a month. Our readers come from all 191 countries of the UN, and the audience of our magazine is spread across 213 countries of the world. Nowadays up to 40% of visitors on our website are from the U.S., about 30% come from Latvia, 8% – from Russia, and 4% from Estonia and Lithuania each.
We launched our website when the world was hit by the global economic crisis of 2008/2009. But we made it through those hard times with the help of our advertising clients and our small, but very dedicated team of professionals. I believe that people is our core asset. Dmitry was in charge of creating the website and maintaining it in proper technical condition. For all the 23 years of our existence, we had our international editor Eugene, who lives in Denmark, but is regular visitor of Latvia. Professional news editors Nina and Galina, who are proficient in at least three or four languages, were also taking care of the translation side of the job. Our beloved accounting angel Zinaida. We had our regular authors, who were supplying us with their analytical articles. I think it is safe to say that our team was succeeding by skills rather than by number of staff.
In 2020, our firm was registered as a micro-enterprise, which made administration of our business much easier for the upcoming ten years. But the government was pressuring small business as much as it could, constantly changing the rules of the game, which was quite stressful and eventually added to the reasons for shutting down the website. We are done playing this game blindfolded.
Last year was the hardest
So now we are coming to the end of this story, which is a rather long one, I believe: a quarter of a century is something. In 2019, I decided it is time to wrap up my career in journalism. I looked for options to sell my micro-enterprise, and by the end of the same year, the selling deal was started, but eventually the buyer, who was ready to undertake and develop this business in the spirit of new times, failed to receive financing and the deal fell through. Then there were other options, but I wasn't happy about them; it was important for me to place my business in trustworthy hands, to retain the archive of content for the history.
Everyone in mass media field knows that even before the pandemic started, at the end of 2019, the advertisement market shrunk. Starting from 2020, the Russian edition of business website db.lv and magazine "Kapitāls" in Latvian were shut down. Leaving the market in those circumstances was a point of honour. We risked to stay. Obviously, no one saw such a disaster like pandemic coming. The necessary minimum for staying afloat was made from the annual advertising contracts, but this income was only covering the basic expenses. To cover our tax payments, we were scraping the bottom of the barrel – finding some random clients through the year. We tried to get support from the state and in international contests, but, unfortunately, we did not fit the selection parameters. It turns out the number of employees we had was too small to pass, while in March and April of 2020 we were publishing about a thousand news articles about Covid-19 alone.
We would like to thank our partners – news supplier and internet service provider, who had no problem to negotiate a discount with us this spring. The SRS granted us tax holidays, and we were properly sticking to the schedule of paying our taxes. So, having tightened our belts, we stood through this year, while managing to increase the website traffic by a third.
But eventually all good things come to an end. The decision is made. I am out of my physical and emotional resources to develop a website the way the new century demands it, I lack new knowledge in this field, and I'm not getting any younger, too. And in this field of media business constant development is the only way.
We will not delete website www.baltic-course.com from the internet like other mass media practice doing; we will mothball it. We are sure that this 25-year archive of business and economy information will be found useful by someone. And I am open to negotiations if anyone is interested in continuing this business.
I sincerely thank you all, our partners, colleagues, and, of course, our readers, for the long-term cooperation and friendship we had!