International Internet Magazine. Baltic States news & analytics
Monday, 11.12.2023, 03:56
Estonia signs new cooperation agreement with WHO
BC, Tallinn, 15.10.2020.

Print version
Estonian Minister of Social Affairs Tanel Kiik and World Health Organization's (WHO) Regional Director for Europe Hans Henri P. Kluge on October 14th signed a cooperation agreement between Estonia and WHO for the years 2020-2021, informs LETA/BNS.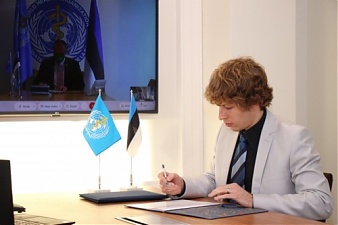 Photo: sm.ee
Strengthening the health system, preventing disease, promoting mental health and improving access to medicines are priority areas for cooperation in the short term, spokespeople for the Ministry of Social Affairs said.
According to Kiik, WHO's expertise has been a major support in developing evidence-based health policies. "In the cooperation agreement concluded for the next two years, the most important topics are the implementation of the activities of the Green Book of Mental Health and the Green Book of Nutrition and Physical Activity, which will be completed by the end of the year. We also want to continue cooperating with the World Health Organization in analyzing the options for the sustainability of Estonian healthcare financing and in formulating pharmaceutical policy," Kiik said. "Building on the lessons learned from the COVID-19 pandemic, we need to critically review and modernize healthcare-related emergency preparedness systems and focus on improving child vaccination coverage."
Cooperation between the WHO and Estonia in the field of e-health and innovation has also been launched to facilitate the cross-border exchange of digital health data.
Kluge said that current effective cooperation between the WHO and Estonia will continue. "Healthcare systems have had to respond extremely quickly to changing circumstances and the needs of the population in the COVID-19 crisis. The importance of a strong healthcare system should now undoubtedly be clear to everyone," Kluge said. "We promise to continue to contribute to the strengthening of the Estonian healthcare system and the solution of healthcare problems through substantive expert assistance and cooperation projects as well as the exchange of experience and evidence-based information from other countries."
The cooperation agreement between the Ministry of Social Affairs and the WHO is concluded regularly for two years. The priority areas for cooperation in the agreement signed on Wednesday are strengthening the healthcare system, enhancing the prevention of communicable diseases, preventing non-communicable diseases, including the promotion of mental health and healthy lifestyles, supporting evidence-based decisions, improving access to healthcare services and medicines, and strengthening primary healthcare.
Additionally, Prime Minister Juri Ratas and World Health Organization Director Tedros Adhanom Ghebreyesus at a video ceremony on Oct. 5 signed a memorandum of understanding that allows Estonian entrepreneurs and researchers to start working on digital immunization certificate, interoperability, and other projects.