International Internet Magazine. Baltic States news & analytics
Saturday, 09.12.2023, 17:04
Let's All Celebrate. Biden Won, Trump Lost
by Elena Romanov, Chair, 17.11.2020.

Print version
What an amazing victory! Joe Biden and Kamala Harris won more votes than any elected ticket in American history. They already crossed the necessary threshold of 270 electoral votes, and are in their way to match Trump's 2016 total of 306 electoral votes majority.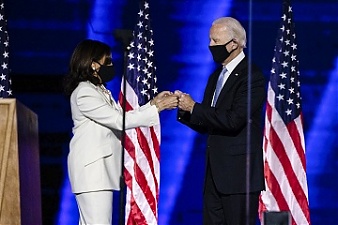 Photo /twitter.com/JoeBiden
Americans chose hope, unity, opportunity, and dignity for all. We rejected hate, division, incompetence, and indifference. Biden and Harris will heal America's wounds, and repair its standing in the world. They will rebuild the economy and put Americans back to work. They will be the President and Vice-President for all Americans.
Democrats' win is also good news for Europe. Before the verdict, many feared a second Trump term would cause a permanent damage to the transatlantic relationship. Not anymore. In Biden, European leaders will find a staunch transatlanticist, and someone eager to repair the alliance, and redefine it for the decades to come.
I am proud of voting for Biden, and for contributing to the excellent work accomplished by Democratsabroad.org -already, we know that overseas vote set new records in this election. I like Biden. I find him a compassionate leader, which I think is something the country yearn for in this era of divisions, pandemic, and economic crisis.
I am especially thrilled by our new Vice-president Kamala Harris for being the first woman and first person of color to be elected to this position in the United States; what an inspiration for the young girls in our country!
To my friends who voted for Trump, I say I understand if you are disappointed by the outcome. Biden will be your president, just as Trump has become my president in 2016. Let's all give Biden a chance to unite America.