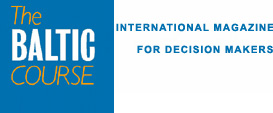 ---
A matter of economic reasoning
By Olga Pavuk
This past October Russia's oil giant LUKoil marked ten years of operations in Latvia, and the company's president, Yury Storozhev, came to Riga for the occasion. The anniversary reception was hosted by LUKoil's subsidiary, LUKoil Baltija R, in posh surroundings Old Riga at the Blackheads House, a recently completed duplicate of a medieval building that used to stand opposite the old town hall (also being rebuilt) until it was destroyed in World War II. In an interview to the BC Mr. Storozhev assured the magazine of LUKoil's intention to increase its presence in the Baltics
Mr. Storozhev, what does LUKoil have in store for Estonia, Latvia, and Lithuania? 
Well, You know that we are a vertically integrated company. Our motto is to extract oil, refine it and then sell the oil products, and we develop our business accordingly. You can see that LUKoil is growing in all directions - both in Russia and abroad. To date we are drilling 77.7 million tons of oil and 5 billion cubic meters of natural gas a year. Our company incorporates three large oil refineries with a refining capacity of 22 million tons. In addition, we have also placed a bid in the Norsi Oil [government] tender and expect to win it. A number of our facilities in Russia refine some 45 million tons of oil. Eight years ago we also started operating in the Baltics. By tradition, we are interested in this region as a potential market for our oil products. We are building and buying service stations in the Baltics. At present we have 33 service stations in Estonia and 21 stations in Latvia with plans to increase this number to 30. In Lithuania we have 82 stations, including 55 stations for LPG car gas. Of course, our position is currently the strongest in Lithuania, where we actually hold 37 percent îf the local market.
What is LUKoil's position concerning participation in Lithuania's Mazeikiu Nafta oil refinery?
The situation with Mazeikiu Nafta is clear. Out company finds the privatization terms offered by the Americans and the Lithuanian government unacceptable. We previously said we were willing to invest out capital provided that we run the plant. We believe that what is currently going on at Mazeikiu Nafta is inefficient.
What can you say about participation in Latvia's Ventspils Nafta oil terminal?
LUKoil leads among Russian companies by the amount of oil reloaded at this terminal in the western Latvian port of Ventspils - amounting to some 2.8 million tons of crude oil annually. As for an acquisition of shares in Ventspils Nafta, this is a matter more complicated than it may seem. The expected sale of shares is declared, but in fact nobody is willing to give up any claim to the stakes. I don't understand why, I mean in the sense of attracting investments and for really keeping the terminal busy.
What do you think about hauling Kazakh oil to the Baltic Sea through Russian pipelines?
Yes, there is such an issue. But not because Russia objects, though. Kazakhstan is using the Russian pipeline, while export capacities of Russian oil companies are currently limited since we have increased oil drilling amounts. Of course, there have been arrangements between Kazakhstan and Russia providing for the transit of 13-15 million tons îf oil annually and we stick to this. The Kazakhs, however, take their oil to where the terms are better. For one thing, to transport it all the way through Russia to the Baltic Sea. One would think the route to China is shorter. What's more, there's still Russia's Novorossiysk port which is much closer than the Baltics. This is a matter of economic reasoning. I'm telling you it is just as difficult with the Kazakhs as it is with our Bashkirs and Tatars. They agree to one thing then do another.
Everybody's waiting for the opening of the new oil terminal in Primorsk on Russia's Baltic coast scheduled for December 2001. How will the commissioning of the Primorsk terminal affect reloading at other Baltic terminals?
I think it will be a regular competitive environment. If the Baltic Pipeline System (BPS) sets rates competitive to those charged by Ventspils, oil will flow to Primorsk. We, the producers, are very pleased at having a choice. Let's take for example the Butinge oil terminal in Lithuania, which keeps its rates lower. But the direction is approximately the same. This year Butinge has already increased its handling potential. Primorsk is going to be another rival - I can promise you this.
Do Russian companies listen to politics seeking to keep the Baltic states on a leash?
I am not aware of any such instructions from upper circles - do this, don't do that. Politicians - are they the ones who sit on the Russian State Duma? I take all these declarations about ethnic minorities being oppressed in the Baltics as a coax. In fact I believe that economic reasoning should prevail, for it can be found anywhere. The state will benefit from more efficient operations regardless of the direction, get its share of taxes and consequently the opportunity to help ethnic minorities [Russians] in other countries. Let us take the United States, the greatest superpower there is: the US government can make all the statements it wants but American business can even be found in Iran, a top enemy, for example.
---