News & Views
Latvia's new minority government
.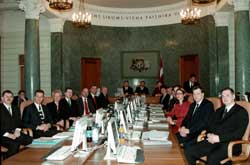 Photo: A.Jansons, A.F.I
The Latvian parliament on March 9 confirmed in the office a new minority government. Seven ministers from the previous Cabinet headed by Einars Repse (New Era party) will keep their portfolios also in the new government led by Prime Minister Indulis Emsis, a representative of the Greens and Farmer's Union (GFU). Apart from GFU, the coalition government includes also the People's Party and Latvia's First Party. Despite having just 46 deputies out of 100-member parliament, the new government managed to get 56 MPs voting for it with 33 against. The winning majority was secured with support of the left-wing National Harmony Party faction and MP Andrejs Radzevics, who has by now been expelled from New Era party for accepting the portfolio of the minister for regional development and municipal affairs in the new government. When addressing the national legislature, Mr. I. Emsis said that Latvia had been in a complicated as well unambiguous situation, i.e. "the door to Europe is open but we are still stamping in front of it". The new premier acknowledged that "the country is not making full use of the various EU funds, everyday life is becoming more costly, and the previous government failed to ensure mutual tolerance in Latvian society."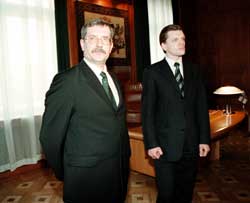 Photo: A.Jansons, A.F.I.

The government declaration does not show any visible deviations from the program drawn by its predecessors, e.g. Latvia's membership in the EU and NATO is still the highest priority. Mr. I. Emsis promised to resume the dialogue with Russia with special attention to "the two countries' economic co-operation which in due time would help to promote a political dialogue as well".

Nothing was changed in the new government's program on national unity issues, i.e. the government underlined the need to ensure continuous and stable development of Latvia as a single-nation state, with the necessary support for Latvian language and intensifying its role as the only state language, as well as strengthening co-operation towards quicker pace of naturalization.

Former ruling party New Era has placed itself now in opposition but its leader, former Prime Minister Einars Repse, in his last days in the office managed to sign a confidential deal with Scandinavian telecommunications company TeliaSonera, ending lengthy and costly arbitration proceedings in a manner which was regarded by experts as contradictory to Latvia's interests. Some MPs said that this "settlement deal" looked like "a state robbery", describing E. Repse's actions as "outright unprofessional or dictated by personal gain motives".
Lithuanian president removed through impeachment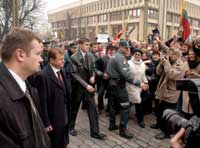 Photo: S. Venckus / ELTA
On April 6 the Lithuanian parliament completed the impeachment procedure against President Rolandas Paksas and removed him over gross violations of the Constitution. Most of the charges against the president were supported by 86 MPs or barely above the required minimum of 85 votes.
The ousted president will most probably seek to run in the early presidential elections to be organised in Lithuania, said MP Rolandas Pavilionis, one of the most vehement supporters of Paksas.
The Lithuanian parliament appointed speaker Arturas Paulauskas as an acting head of state until the early presidential elections to be organised no later than in two months, presumably on June 13, the date of Europarliament elections in Lithuania.
Baltic shadows of EU commissioners
Latvia's future EU commissioner, country's former foreign minister Sandra Kalniete will be a "shadow commissioner" for the EU Agriculture, Rural Development and Fisheries Commissioner Franz Fischler during her initial six-month term in the new office. Estonia's future EU commissioner Siim Kallas will become "the shadow person" for the EU Economic and Monetary Affairs Commissioner Pedro Solbes Mira, and Lithuania's future EU commissioner Dalia Grybauskaite will be working with the EU Education and Culture Commissioner Viviane Reding.
Commissioners from ten new EU members will take offices on May 1, the official EU accession date. But they will not have specific portfolios for the first six months until the new European Commission is organised on Nov. 1. In the meantime the newcomers will each be working together with some existing commissioner to learn the skills of the trade.
Latvia legalises electronic signature
The Latvian parliament has passed a law concerning electronic documents with "electronic signatures" which entered into effect as of January 1 this year. The public and municipal authorities will be obliged to accept electronic documents from individuals and legal entities. Similar laws have already become effective in Estonia and Lithuania.
Lithuanian mint gets ISO certificate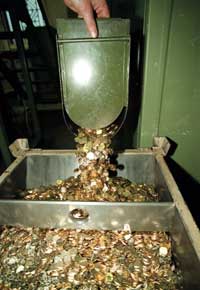 Photo; P.Lileikis,Lr
The Mint of Lithuania, as the only Baltic facility of its kind, has already received the quality control system required specifically for issuing euro coins. The system will be very soon put into operation, said the Bank of Lithuania Cash Department's director and the mint's council chairman Arunas Dulkys. The mint is also making other preparations for issuing euro coins which will bear a unique Lithuanian landscape on one of the coin's sides. The Mint of Lithuania must start making euros about a year and a half before the country's transition to the common European currency. The Bank of Lithuania board chairman Reinoldijus Sarkinas has several times repeated that the country would most likely switch from the national currency litas to euro in early 2007 or at a later time. Similar laws have already become effective in Estonia and Lithuania.
Baltic millers' association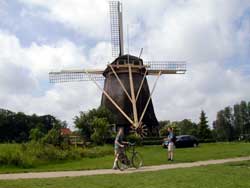 Photo: The BC archives
The largest Baltic cereal-grinder companies have made their own Baltic Millers' Association (BMA). Lithuania's Malsena general director Mindaugas Gedvilas was elected the first association's president. The other BMA members include largest Baltic grain-processing and milling companies, e.g. Malsena and Kauno grudai from Lithuania, Rigas Dzirnavnieks and Dobeles Dzirnavnieks from Latvia and Tartu Veski from Estonia.
"The association was created for better representation of Baltic millers in the EU bodies. The BMA intends to join the EU flour milling association – GAM in the nearest future. We'd like to join GAM ecological food programs and are quite interested in seeing such programs and appropriate control measures applied in Lithuania, Latvia and Estonia", said M. Gedvilas. Through GAM's help, the Baltic association will work towards integration into the GAM Euroflour (the European association of flour exporters), which can influence distribution of subsidies for flour exports outside the EU borders.
Lithuania appoints commercial attache to St. Petersburg
Lithuanian commercial attache in St. Petersburg, Mr. Rimantas Segzda, opened his office on Feb. 9 this year. Previously Mr. Segzda worked as Commercial Department director in the Lithuanian Economic Ministry. So far Lithuania's economic interests in Russia have been handled by the country's commercial attache Kastytis Kazukauskas, working in Moscow since early 2002.
According to the Lithuanian Statistics Department, during eleven months in 2003 Lithuanian export to Russia accounted for 10.2 percent of the country's overall export (20.295 billion litas). Lithuania now has six commercial attaches representing its interests abroad. They work in the United Kingdom, Poland, France, Sweden, Russia and Ukraine.
Gazprom buys one-third of Lietuvos Dujos
The world's largest gas company Russia's Gazprom late this March bought a 34 percent stake in Lithuanian gas utility Lietuvos Dujos. The Russian gas giant paid 100 million litas for the acquisition. It took about three years for the parties to close the deal. They also signed a long-term natural gas supply agreement until 2015 under which Gazprom would supply at least 90 percent of Lithuania's natural gas consumption over that period.
After the deal the Lithuanian government retained 24.36 percent stake in Lietuvos Dujos, and Germany's Ruhrgas holds 35.7 percent. Lietuvos Dujos unaudited profit for first nine months of 2003 has reached 68.967 million litas. Last year Gazprom supplied Lithuania with 3.012 billion m3 of natural gas, and the gas deliveries this year are expected to rise to 3.16 billion m3.
Butinge oil terminal boosts its capacity
Photo:A.Cepulinskaite,Lr
Renovation measures at Butinge oil terminal run by Mazeikiu Nafta have been completed. Two new oil storage tanks with 52,000 cubic meters capacity each have been built. This will increase the terminal's capacity and prevent queues of oil tankers. The construction with the total amount of 64 million litas took six months to conclude.
Lithuanian oil production falls down
Lithuania's total oil production of 469,400 cubic meters in 2003 was 12% lower than in 2002 with 533,500 cubic meters. According to Lithuania's Geological Service information published by PR company Publicum, Geonafta was the only of the four Lithuanian oil producers to keep the production unchanged as compared to 2002. According to preliminary figures, Geonafta produced 102,600 cubic meters of oil in 2003.
Lithuania's largest oil producer Minijos Nafta suffered a 16% reduction to 274,000 cubic meters in 2003 from 328,300 cubic meters in 2002.
Lithuanian Geological Service director Juozas Mockevicius said the decline had started to show up in 2002 and was due to gradual exhaustion of existing oil deposits and delays in exploitation of new fields. Amount of water pumped up with oil has risen to 75%, which also bears evidence of the Lithuanian oil resources' depletion.
Nuclear waste left in Ignalina
The Lithuanian government has approved the project of underground facility construction for processing and long-term storage of solid nuclear waste on the territory of Ignalina nuclear power plant. The Cabinet of Ministers' decree points out that without construction of such a "sarcophagus", expected to become operational already in 2007, "it will be impossible to start any further steps towards decommissioning of the nuclear power plant".
The construction of the underground facility will be funded by the EU International Support Fund for Decommissioning of the Ignalina Nuclear Power Plant which will grant nearly 80 million euros for the project. An international tender will be announced for designing and construction of the "sarcophagus" in Lithuania.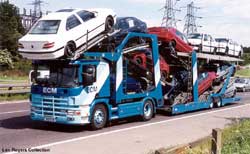 Photo: The BC archives

Estonia is a big car transit state

New cars well worth billions of kroons pass each year through Estonian territory. The Aripaev daily reported that last year Estonia had exported 12,000 new cars and imported 30,000.

Neighbouring Latvia and Lithuania present the largest export markets because many dealers sell cars to these countries through Estonia.

Last year about 6,000 cars have been exported to or imported from Russia. The newspaper suggests that the scheme uses the difference between domestic and export prices, thus, for example, only 387 Russian-made VAZ cars were sold in Estonia last year.
Lithuania's Jews ask for support
Disappointed by inactivity of the Lithuanian journalist ethics watchdog, Lithuania's Jewish community has turned to the International Federation of Journalists for support. "The reason for the appeal is a well co-ordinated anti-Semitic campaign carried out by two large Lithuanian dailies Respublika and Vakaro Zinios, which has already been raging for several weeks.
The initiators of the campaign shamelessly employ "arguments" of the Nazi propaganda, publishing most vulgar caricatures and making fun of the disaster that befell Lithuanian Jews during the World War II, and denying the very idea of co-existence between Lithuanians and Jews," the Lithuanian Jewish community said in its statement released in English and Lithuanian languages.
The statement criticises the Lithuanian Commission of Journalist and Publisher Ethics for being extremely slow in responding to a series of anti-Semitic publications 'Who Rules the World?' by Respublika's Editor-in-Chief Vitas Tomkus. Israel has officially stated its discontent over the Lithuanian authorities' failure to respond to the anti-Semitic publications.
Over 200,000 Jews were killed in Lithuania during World War Two by Nazis and their local supporters.
Irish paper mill in Estonia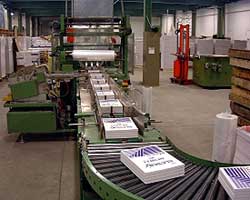 Photo: Victor Stationery
Britain's largest pulp-paper manufacturer Victor Stationery has announced its plan to lay off 150 people working at its Northern Ireland's subsidiary and move production to Estonia.
According to the Estonian daily Aripaev, only the firm's head office will remain in Ireland.
The new production facilities will be set up near Tallinn, creating around 100 new jobs. Founded in 1882, Victor Stationery is one of the largest producers of notebooks in Europe, making about 90 million notebooks a year.
VP Market expands retail chain
The largest Baltic retail network, Lithuania's VP Market, which is currently very active in Lithuania and Latvia, started to expand its business in Estonia. "We plan to open some 15 stores in Estonia this year," said VP Market's general director Ignas Staskevicius.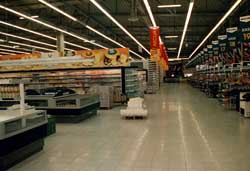 Photo: A.Jansons, A.F.I.

In the beginning of this year VP Market signed a 35 million euros long-term loan agreement with the European Bank for Reconstruction and Development (EBRD) which the Lithuanian retailer will be using to finance its investments.

Earlier VP Market revealed its intentions to open its first ever store in Poland in 2004 and to conquer some 7% of Polish retail market by 2007, opening about 1,000 stores in the neighbouring country. VP Market total sales reached 1.04 billion euros in 2003. The company has a total of 266 stores in the three Baltic states, including 185 in Lithuania, 81 in Latvia, and one in Estonia. This year 18 new T-Market stores and two Maxima supermarkets are to be opened in Latvia.
Lithuania passes new VAT law
On the one hand, some positive news, i.e. fresh and non-frozen fish will be soon cheaper in Lithuania, the bad news, on the other hand, are such that prices for leasing and imported medicines will go up. This will be the result of the new law on value-added tax (VAT) under which leasing companies will be required to pay VAT into the national budget right upon rendering such services. Starting from the 1st of February, buying goods on leasing terms one will have to pay 18% VAT right upon making the initial payment. Previously VAT was paid gradually together with instalments to leasing companies.
Under the new law, taking effect from May 1 this year, a 5% VAT will be levied on certain import medicines currently VAT-exempt in Lithuania.
Starting from February 1, the lower 5% VAT will also apply to any fowl, fresh and chilled meat as well as live, fresh and chilled fish. The VAT rate for frozen meat and frozen fish will remain at 18%.
Creator of Tartu "pyramid" goes to jail
Alexander Petrushenkov, 49, a founder of the largest financial pyramid in the Estonian city of Tartu, will spend some years behind the bars; the court refused to accept for hearing his procedural appeal against the ruling convicting him to five years in jail.
In June 2003 the Tartu city court found Alexander Petrushenkov and his wife Eha guilty of fraudulent activity. The couple, which managed to cheat some 800 people for the total amount of 44 million kroons in 1996-1998, were sentenced to various terms, i.e. he was sentenced to five years and his wife to four years in jail, but she decided not to file any appeals. The criminals will also have to satisfy civil claims for tens of millions of kroons.
Latvia's first lady-general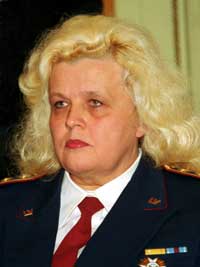 Photo: B.Kolesnikov, A.F.I

.

Latvian Police Academy's rector Arija Meikalisa has become the country's first ever female general. The Latvian government approved her promotion to the rank of Police General at the recommendation from the Interior Ministry.

Mrs. A. Meikalisa, born in 1952, has graduated from Latvian University Faculty of Law. She started her career in the interior authorities in 1975. Her latest promotion was in 1996 when she was made the Police Colonel.
Polish authorities help Lithuanian schools
There are 11 Lithuanian schools in Punks and Sejny districts of the Podlasie province in Poland with classes held in Lithuanian language. These two districts near the border with Lithuania will receive this year additional funding from the general reserve fund of the Polish national budget. But next year the situation may change to the worse, said the officials from the Polish Ministry of National Education and Sports at a conference in Punks this March dedicated to Lithuanian education development strategy in Poland.
"Like last year, it is very likely that Lithuanian schools will be granted additional funding this year", said the Ministry's representative Grazyna Ploszanski.