Riga gallery scene
by Maris Biezaitis
The streets of Latvia's capital Riga are often considered a living gallery on their own, with dainty Medieval houses in the Old Town and the up-class and renovated Art Noveau architecture of the 1920's across the centre. Despite newly built constructions often being criticised for their aesthetic qualities, the scene of modern art in Riga is of the highest standards, though sometimes lagging in breadth due to a lack of state support. Art museums in Latvia lack the funds to be stocking up on works of art made in recent days, and the best place to soak up some of the bustling developments of the country's art scene would probably be the art galleries of Riga.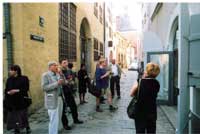 Photo: Maris Biezaitis
People gathered outside the Daugava gallery in Old Riga during the openning of an exhibition.
Art exhibitions are frequent in Riga, not only in museums and exhibition halls, but even more often in the many small art galleries of the city. Wandering the cobblestone streets of the Old Town you can come across a whole string of such galleries, all of which change their exhibits regularly in competition for those art lovers seeking to invest in their weakness for art.
Just about any form of art can be found in the galleries of Riga – from paintings and prints to ceramics, sculpture and even jewellery. Competition is also high amongst the artists themselves, as there are definitely many more very able and professional artists in Latvia than can be exhibited in all the galleries.
Hand-made jewellery is a good buy, if you are looking for a souvenir from Latvia – anything from traditional amber to succulent silver rings, necklaces, and earrings. The price range for jewellery can differ very much, but most people visiting the country from other regions of the world will be surprised to see the attractive prices. Obviously, bringing home a hand-painted porcelain vase or tea set could be a little more trouble for the average traveller, but unique sets can be found for a bargain.
"They are absolutely beautiful," said a Western tourist I met in a small gallery, while buying a piece of jewellery for just about every relative back home.
In the up-class art galleries exhibiting fine art collections the scene is a little different: "Can you imagine that us Latvians would go to some city in Europe and buy a piece of their art?" said Anna Treija, head of the gallery Daugava. Treija, probably one of the most experienced gallery owners of Riga, said that one of the best things about the galleries of Riga is that they are all reachable on foot within the city centre and mostly in the Old Town, which is not something you could say about the galleries of other cities in Europe.
Nevertheless, Treija admitted that tourists usually come in to have a look, but the main clients are locals who understand Latvian art much better. "It's a cultural thing," she said, though "our top artists are really of a much higher standard."
Bankers, oil products managers and even politicians are amongst the main buyers for fine art from the galleries of Riga, though the odd foreigner has been known to expand their collections with something found here.
Anyone can put up a reproduction of some famous work on their office wall, said Treija, but big companies in Latvia understand the value of having their own art collection, and there is definitely no lack of very professional masterpieces in Latvia.
Masterpieces they are indeed, and prices for fine art in the galleries of Latvia are generally not cheap. Though simple prints and small sculptural figures can be bought even for symbolic prices, once you get into the real stuff, the artists, and their galleries, know what they are worth. With prices from a few hundred to a few thousand euros per work, if you're looking for something exclusive and most definitely a good investment for your money – you should definitely check out the galleries of Riga.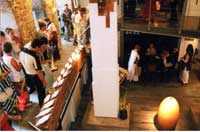 Photo: Maris Biezaitis

A current exhibition in Riga by artist Andris Varpa.

And as for the business side of the galleries, EU accession is still an event that seems to be spoofed up to such an extent that most people have no clue what exactly this will change and the same goes for most art galleries. A number of gallery owners in Riga said they expect more tourists to come to the city and this may also increase revenues, but in fact they have no clear view of what it will be like.

Despite the uncertainty, after having rented premises for years in various locations of Old Riga, only a year or so ago the Daugava gallery moved into its current location after buying it with a banking loan. The two-storey gallery in a Medieval building was renovated to combine the new and old and is probably also the nicest gallery in the city, located in a rather shanty, yet somehow romantic part of the Old Town. Judging by such investments, there is at least some hope that business will be up, and this will most definitely follow the expected rise in the welfare level as the country's economy continues to grow while sweating it out on the EU market.