The art to see the future!
by Olga Pavuk
In March Latvian businessmen in cooperation with the Latvian Investment and Development Agency visited Pskov, where they were received by the Pskov regional governor Mr. Yevgeny Mikhailov. In the interview with the BC the governor shared his views about trans-border cooperation and development with the EU.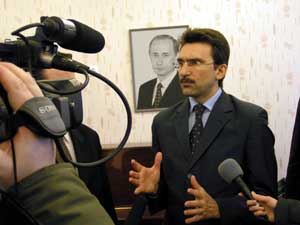 Photo: Press-foto
Yevgeny Mikhailov, Pskov region governor
On November 10th, 1996, Yevgeny Mikhailov became the youngest Russian governor in one of the most difficult Russian regions. Russian mass media call him one of the three most successful governors in the country. Mikhailov himself regards his achievements critically, stressing the problems which are to be solved.
BC: Mr. Mikhailov, how do you assess the economic conditions of the region that you have inherited?
Economical situation in the region can be treated as stable and positive. On the whole dynamics is positive: there are sectors in which some progress is achieved, and there are spheres in which indicators are not satisfactory. On the whole we observe certain economic growth and improvement of population's psychological condition in the region.
Although there are many unsolved problems ahead of us. The major one is the demography issue. Birth rate decrease strongly influences all spheres of our life. Our demographic situation is the worst in Russia. Negative population growth started in 1964, when the death rate exceeded the birth rate. Young people migrated to the nearest biggest cities. Therefore, let's say, in Novgorod this process has started in 1985, although that region is very close to ours. Partly, the situation is softened by the positive migration balance during the last 10-15 years. Thus, in 2002 about 600 people settled down in the region, in 2003 – already 1,000 people. Up to the mid-1990s some 5-6 thousand people arrived in the region per year due to migration flows from the former Soviet republics. Now the flow has diminished and we lose per year approximately 10-11 thousand people. It is much for us.
The second problem is financial as money is an overall equivalent to all development. We feel lack of money in our economy as well as in regional budget. In 2003 our budget reached more than 7 billion rubles with about 2 billion rubles deficit; this year our budget will be 6.5-6.7 billion rubles and the deficit will be about 3-3.2 billion rubles. For us it is currently a very hard problem.
BC: Starting from the 1st of May the region will become the "frontier territory" with the EU. What changes are expected in the administration's economic policy in this regard?
It is hard to give a detailed analysis of the expected changes. But based on analogy with Karelia and other Russian regions bordering Finland, we can say that business activity in the neighbouring Estonia and Latvia would increase. In our turn we expect some economic activity around the border regions and emerging of further possibilities due to development programs with the EU participation. The amount of European subsidies is apparently going to increase sharply. It is in the European interests to maintain good relations with neighbours, and it is favourable for us.
BC: How important for the region are foreign investments?
Foreign investments in the region are not at all big. They are within about 10 million US dollars a year. Of course, for Europe's North-West it is not much. But there are regions in Russia where they don't have any foreign investments at all. Our specific is such that we have small investment projects but they are numerous. The investors are mainly from Baltic states, as strange as it may be.
BC: Can you, please, give me some examples of big investment projects financed by international financial institutions, which are planned for implementation in the next couple of years?
We hope that the EBRD financial support for the project in Velikiye Luki will go on. A group of entrepreneurs with Italian investments work in the trade equipment market, using unique technologies for which there are no analogues in Russia. It is quite a successful project from the business` point of view.
Presently we have at the stage of signing a contract on the joint project with the Swedish businessmen and Russia's Sberbank (Savings Bank) for a 3 million US dollars investment into the Pskov milk factory.
There are several trans-border co-operation projects, which are being discussed now. The administration is interested in more active participation in realisation of the programs implemented within the framework of European Union, i.e. TACIS, the Northern Dimension, etc.
BC: What is the correlation of private and state property in the region?
Private property is prevailing among enterprises. As you know, a major share of our enterprises are small and medium-sized businesses. But at the same time the region is in the first place in Russia concerning the number of small townships and villages, there are approximately 8,000 thousand of them, and 5,000 of these villages have a population of no more than 10 people. In such a situation to provide the villages with the necessary foodstuff is not possible even for small businesses. The situation is saved by the consumers' co-operation, and the Pskov regional consumers' union for the sixth year in a row was named as the best of that kind in Russia. There are 1,564 enterprises working in this system, including 1,369 shops (about 1,147 of them are situated in the rural territories), 117 auto shops, 240 enterprises of public canteens and consumer services. In 2003 alone new working places were created for 488 people and 872 people got temporary jobs. Trade turnover last year reached 2.68 billion rubles, which is a 120.1% growth from the year 2002.
BC: How many enterprises with foreign capital are registered in the region and how many from Estonia and Latvia are really functioning?
The geography of foreign investments clearly shows explicit Baltic direction. Out of 422 enterprises with foreign capital in our region there are 179 registered enterprises with Latvian capital and 98 enterprises with Estonian capital. Latvian businessmen registered 118 companies in the region, Estonian 64, Lithuanian 13. More than half of joint enterprises are really working; it is quite difficult to evaluate their real contribution more precisely.
The administration of the region tries to make the region more attractive to investors of the neighbouring countries, including the Baltic states. Within the framework of inter-regional co-operation the Pskov region maintains friendly relationships both with Swedish and Finnish local communities.
BC: What industries are more attractive to foreign investors?
First of all, machine manufacturing which is gradually regaining its quantity volumes lost after the collapse of the USSR. One of the most serious problems is training of the new type qualified staff. The food industry and light industry is developing, too. Pskov milk factory became the only enterprise of food industry in the city which obtained in March this year the international quality management certificate ISO 9001. This certificate acquired also the sewing factory Slavianka and factory of mechanical driving motors. Construction and wood-processing sectors of industry need investments.
Already back in 19th century the wealth of Pskov province was provided by flax. The demand for flax fabric and its products, constant at all times, was greatly due to its higher quality as compared to cotton. Pskov's potential in this field is really great. Special flax development program has been elaborated, providing the remarkable increase of areas of its sowing and enlargement of industry in all directions, including raw material preparation and processing. Main production capacities of flax processing in Pskov and Velikiye Luki today have not been employed completely. In this industry especially important are issues of foreign capital, of elaborating of joint programs and establishing co-operative factories, the solution of which promises the remarkable profit to the participants.
BC: What is done in order to attract foreign capital into regional economy?
Pskov regional legislation fixed lower income and industrial property taxation for all industries which are regarded as priority development sectors in our region, e.g. light industry, food industry, woodworking industry and turf industry. Some individual categories of producers can acquire additional tax allowances, e.g. on property taxation and road taxes. Besides, with the aim of attracting investors to the region, in 1998 the Investment Law of Pskov region was adopted, which provides the establishment of benevolent investment climate in the region.
BC: What steps are taken in customs sphere for facilitating foreign freight traffic through the borders with Latvia and Estonia, as well as in development of frontier infrastructure?
It is a question more related to the Russian Federation field of competence. But there is something we have already managed to do on our own. We have reached a decision to start exploring new water traffic line Pskov-Tartu. We plan to open a new border control post through the Latvian border, but meanwhile the resources are not enough for its equipment. We are asking Moscow to ease customs proceedings, but it's a hard work to do.
BC: What are major stumbling blocks to closer co-operation with Europe?
First of all, it's mostly a technical problem as all innovations need adjustments and time for implementation. Then, there are various Russian internal problems. Russia's borders on its South and Far East are quite transparent; the border in the West, on the contrary, is even too strongly fixed. And Latvians and Estonians have done almost everything themselves.
The second problem is a political one. First of all, it is the situation with the Russian-speaking people in Latvia. For us it is a very important issue which I touch upon in every negotiation. Here our viewpoint corresponds to that of the Russian government. Both politically and morally we cannot let ourselves to watch calmly how Latvia, a would-be EU member, violates interests of its non-citizens on ethnic grounds. If legal and political issues are going to be solved, then economic ones would not suffer, too. For example, Latvia's Ventspils oil terminal exploration has been reduced; the result for our region was quite negative: reduced working places and less taxes coming to our budget. Our economy suffers from redirection of freight stream towards Russian ports. So, my idea is to stop living in the past, and let's think about the future!
According to the Russian quarterly magazine Expert (No. 43 (396), November 17-23, 2003), the Pskov region by investments in 2003 outpaced the neighbouring Novgorod region, the acknowledged investment leader in Russia. Besides, according to investment risks indicators, Pskov region in 2003 occupied the 18th place among 89 subjects of Russian Federation (8 years ago it was in the 44th place). The rating agency Expert RA has rated the Pskov region among 10 most dynamic regions concerning diminishing investment risk in 2002.
Modern Pskov region occupies the territory on the North-West in the Russian Federation covering total area of 55.3 thousand sq.km. The region stretches 380 kilometres from North to South and 260 kilometres from West to East. The main peculiarity of territory is that it has common borders with Estonia (270 km), Latvia (214 km) and Belarus (305 km). Inside Russia, the Pskov region borders with regions of Novgorod, Tver and Smolensk. The distance from Pskov to Moscow is 689 km and to St.Petersburg 280 km.
Administratively the region is divided into 24 districts and has 14 cities, two of which are big economical centres: Pskov (population 206,000) and Velikiye Luki (117,200). The region has a population of 827,100 (0.5% of the total Russian population). Working-age population is 55.1%, and average age 38.8 years.
Foreign investment dynamics in Pskov region
1998

1999

2000

2001

2002

Overall foreign investments

(in thou USD)

3,669

2,835

1,079

5,170.2

3,936.8

Foreign investments

(in % to 1997)

274

211

81

387

294

Including direct foreign investments

(in thou USD)

1,870

1,544

506

4,855

2,096

Direct foreign investments

(in % to 1997)

185

153

50

480

207

Share of direct foreign investments in total amount of regional investments (in %)

51

54.4

46.9

94

53.2
Source: Administration of Pskov region statistics.