Exemptions vs. rules
by Eugene Eteris
The new member states are usually joining the Union on various reservations' grounds. It has been a common ground since the first waves of enlargement in 1980s. The present enlargement is not exceptional at all.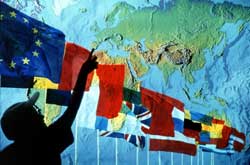 Photo: europa.eu
Thus, Malta has asked for itself 70 exemptions from various Union's laws when it negotiated its entry to the EU. The next most demanding negotiator, Poland, came away with 43 exemptions, followed by Latvia with 32.
Such "transitional arrangements" are meant to give new members time to adjust to EU rules that are too expensive or too unpopular to implement immediately. That concerns such things as, e.g. more time to raise taxes on cigarettes to EU level, phasing out subsidies to heavy industries, or improvement of veterinary standards, etc.
Restrictions on free movement of labour are from another "basket", i.e. transitional arrangements have been forced on new member states by existing EU members. Thus almost all the old EU states have opted for some restrictions on "free workers" movement. Another type concerns Central European farmers that would get lower subsidies from CAP.
Most of the transitional arrangements are of special privileges. Malta has won the right to bar foreign labour for up to seven years and also the right to block non-residents indefinitely from buying second homes on the island – the only permanent derogation granted to any accession country.