Shemi Tzur: "I found real friendship and real independence in the Baltic states"
by Inna Rogatchi, from Finland and Estonia
Shemi Tzur, the new Ambassador of the State of Israel to Finland and Estonia, is a very busy man. For the first time in history of the diplomatic relations between Israel and the Baltic states, Estonia now has got its "own" Israeli ambassador (previously all three Baltic states were under jurisdiction of one Israeli ambassador residing in Riga). From now on, the Israeli ambassador in Finland will also be serving as the Ambassador to Estonia. There can hardly be a better choice for the position requiring double time, double effort, double thinking and double action.
And there cannot be a more polar change in the career of one of the best modern Israeli diplomats in geopolitical, cultural, mental and linguistic senses.
A good product "to sell"
Shemi Tzur is known in the diplomatic circles as the man who has changed completely Israel's relations with its very complicated neighbour Cyprus in the middle of the 1990s. The relations that have been pivotal for Israel in many senses but were almost non-existent when Shemi Tzur was appointed there as the first Israeli Ambassador in 1994. During his term there, the trade between the two countries has increased from humble 38 million US dollars a year to the quite impressive 250 million US dollars. "I have always said that an ambassador's role is the one of a salesman. You are trying your very best "to sell" a lot of different things made in your own country, metaphorically, of course, but sometimes even literally. But in my case, I always add to it: my job as a salesman is really easy as I have a very good "product" to "sell" ", says Mr. Ambassador, smiling. No wonder that Shemi Tzur has been awarded a rare, very prestigious and much telling to those who can read in the books of the Israeli politics, Award for Excellent Performance for his services to the country while in Cyprus.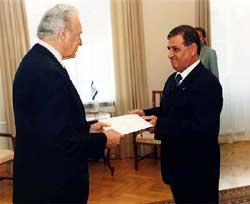 Handing of credentials to Estonian President Arnold Ruitel.
During his time in Cyprus – and the posting was an unusually long one (1994- 2000) – never experienced before bilateral meetings and exchanges between academicians, musicians, businessmen, media, with special emphasis on the youth and young generation, brought to the Cyprus-Israeli agenda by Shemi Tzur, has been an enormously important contribution to the two countries' start of a normal dialogue – which is half of the success in the Middle East region. "Developed and normal relations with Cyprus has provided us with extremely valuable possibilities to build more understanding, confidence and ways of communications with such key players in the region as Turkey, Lebanon, and Egypt. From the position of these our important partners for dialogue in the region we were able also to influence the Palestinian leaders. What can be more valuable or important for the country that has been forced to fight for the very right of its existence during all years of its existence? You know, there is one thing to which I just cannot get used to: it is reading the information which we are getting every morning from home, stating the death-toll of the Israelis killed during the last wave of terrorist activities that is rolling on and on for the fourth year now. The one detail there strikes me every morning during all those four years – it says, "the number of the Israelis who fell victims to terror is 941 – attention: the information is valid for March 16th..." Imagine: every morning we are stating the figures knowing or expecting that the next morning the figure might be different; it may rise. And this has been going on day after day for several years. Do you know any other nation in the world who is living through this?... No, there is none", Ambassador Tzur makes his point very seriously.
Fight for peace
Shemi Tzur knows what he is talking about with regard to the realities and prospects of the peace process: he was a member of a very small group of Israeli officials, who were preparing peace talks with the Palestinians in the crucial period at the beginning of the 1990s. His story about it is very interesting: "It all started with the beginning of the Madrid Process in 1991. We were quite a small group of people who flew to Madrid and started to prepare ground for an unprecedented event – the Middle East Peace Talks with participation of Egypt, Jordan, USA, Russia additionally to the main parties, us and Palestinians. In the beginning, we barely greeted each other; there was not much of even the usual small talk, or normal human communications at all. And, naturally, we all were very excited on how it would be possible to start to discuss so huge and important issues. Than, gradually, the ice started to melt – we started greeting each other, exchanging a couple of words, sometimes complaining about the weather, sometimes noticing something funny. Then, coming to a canteen in Madrid and looking for a free seat to have a cup of coffee, we noticed somebody waving to us, inviting to his table – it were our counterparts! A revolution from the stage where we all were just a couple of weeks ago. Then, another morning a member of the Palestinian group just dropped in very casually asking for a fax paper because he had run out of it – another revolution, he did not go to Jordanians or Egyptians for the paper, he rather casually came to us. Those big small things that make things moving slightly by slightly…Then we started to talk about our families, our things back at home, until one day I found myself realising that the eyes of the people in front of me – my Egyptian, Jordanian, Palestinian counterparts – are looking at me straight, looking normally, and that they are not just listening to what I am saying, but they are hearing it and trying to understand. I saw it with my own eyes. We had quite many meetings after Madrid, for a couple of years our small group met regularly in Washington, Moscow, and other places. So, my personal experience in the midst of the peace talks gave me the confidence that there is the light in the end of the tunnel. We are not naive, and I am not just a wishful dreamer. I saw it happening. To make it happen, the strategic decision taken by the Palestinian leadership is needed. And as we can see from the every day events after the peace process has stopped, there is an obvious need of another, new, constructive Palestinian leadership", says Israeli Ambassador.
"I saw real independence in Estonia"
There is no coincidence in the new posting of the top Israeli diplomat to just an opposite to his previous postings side of the globe – to Finland and Estonia – and it was not by a chance that the state of Israel decided to increase attention to the Baltic region. "We feel that it is a right moment to upgrade relations between Israel and the three Baltic states. We want to be more involved in the processes going on there, especially considering the high importance of the Baltic membership in the EU and NATO. One can see how history is being made right now and right here, and this is always a very exciting and quite demanding time for diplomats, both professionally and in a human way", the Ambassador is very enthusiastic about his new posting. If previously Israeli ambassadors, who were responsible for all three Baltic states, were able to make not more than 5-6 visits to Estonia during the two-year period, Shemi Tzur has overcome this number during his six months in the new position. He is visiting Estonia monthly, going there for several days each time. "I really think it was a very wise decision of our government to devote more attention to each of the Baltic states. I have to tell you that people are wondering how I can manage to conduct so many meetings, to see so many different people, – my colleagues, politicians, businessmen, students, – during my monthly trips to Estonia. But I do have a real pleasure to be there. Each time I am coming over, I really find a truly friendly place; I really do find a friendship there. Among others, support of the Estonian clergy is fantastic. I had recently a great meeting in Tallinn with 50-60 representatives of the Estonian clergy, and I must say that I was overwhelmed by their support. This is not just politeness what I am experiencing in Estonia at many different levels, but much of understanding. The understanding of our fight against terrorism – because the Estonians are perceiving it absolutely right, it is not just Israel's problem – unfortunately, we are seeing daily that it has become the vicious global threat".
Ambassador Tzur is analysing that the Estonian understanding and positive attitude towards Israel are consequences of the Estonia's own history: "In fact, we are finding the common ground with Estonians quite easily and quickly because there are a lots of parallels between our two countries: they both are small by territory but big in history; they both know very well what the word "oppression" means; they both did fight for its independence fiercely for many years and are very proud to have and to maintain one. I like very much the atmosphere in nowadays' Estonia – when people are able and willing to express their views without looking behind their shoulders. And those views are far more independent and stronger that in some other countries that did not experience such history – when a nation chooses to fight for its dignity. And be very proud of their independence. When somebody achieves one's independence through long and complicated process, one values it really high. When one values its own independence so highly, one does respect and understand others with the same destiny. Nothing can be a better ground for a long and mutually fruitful relations between two countries than this kind of "cement", and I am really grateful that I am here in the beginning to start the building work on such ground", concludes Shemi Tzur, Israeli Ambassador to Estonia.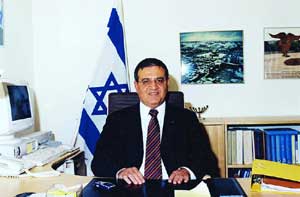 Photo: Israeli Embassy in Finland
Shemi Tzur
Born: January 21, 1945
Spouse: Mrs. Orit Shem Tov, 3 children
Career:
1964-1967 Israeli Defence Forces, Signal Corps.
1973 Joined the Ministry of Foreign Affairs
1974-1979 Second Secretary, Embassy of Israel, Pretoria
1981-1982 Vice Consul, Israeli Consulate, Istanbul, Turkey
1985-1989 Consul, Israeli Consulate, Sydney, Australia
1988 Acting Ambassador, Suva, Fiji
1989 Political Counsellor, Information Dept., Foreign Ministry
1991 Attended the Middle East Peace Talks in Madrid, Moscow.
1993 Washington as a member of the Advisory Staff
1992 Charge d'Affaires ad interim of Israel, Uzbekistan
1994-2000 Ambassador of Israel to the Republic of Cyprus, Nicosia
1995 Received Award for Excellent Performance, Foreign Ministry
2000-2003 Director of Human Resources Dept., Foreign Ministry
2003 Ambassador of Israel to the Republic of Finland, Helsinki
Ambassador of Israel to the Republic of Estonia, Tallinn
Education:
1973-1974 Cadet Course, Ministry of Foreign Affairs
1968-1971 Studied Jewish history, Hebrew University, Jerusalem
© Inna Rogatchi, Rogatchi Productions & Communications Ltd., 2004