Baltic IT market – what gives?
Investment bank Prime Investment offers its analysis of the Baltic IT market situation.
Over the first half of 2003 the Baltic IT market continued to increase its focus on high value-added and knowledge-intensive services. In the review period IT services represented around 46% of total sales by Lithuanian, Latvian and Estonian IT service-oriented companies. The Baltic IT services market grew by an average of 3% against a drop of 1% in total sales in the first half of 2003 as compared to the first half of 2002.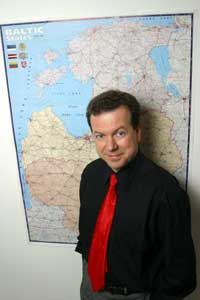 Photo: IT Group
MicroLink Group, DATI Group, Exigen Latvia and Alna Group have retained the top four positions among the Baltic IT service providers while Informacines Technologijos and IT Alise have been competing for the fifth place.
The largest Baltic IT companies have been restructuring to craft an effective service across the region and to expand their international markets. MicroLink, the largest Baltic IT group, honed its business focus on complex IT solutions and services after selling its PC assembling business in Latvia and Estonia. Varos Group, a pan-Baltic provider of IT and engineering solutions in trade and industry, finalised its structural transformation and launched a unified brand system across the region.
Alna and Informacines Technologijos, Lithuania's largest programming companies, signed co-operation agreements on new software development with international industry leaders.
In October 2003 Alna, the Lithuanian IT leader, teamed up with Telecom BSS Software Products unit of Schlumberger, a leader in pre- and post-paid billing systems.
Meanwhile Informacines Technologijos, operating in Lithuania and Latvia, together with TIA Systems, a British IT company, won some 0.4 million euros worth contract with Ceska Pojistovna, the biggest Czech insurance company.
In our list IT service revenues include software development, programming, system integration, maintenance, software and system implementation, training, consulting services and sales of software products developed in-house. These revenues do not include any sales of hardware, re-sold software, office equipment or other products. The table does not include results of foreign companies, subsidiaries and affiliates.
Kestutis Uzpalis, managing director of Informacines Technologijos group, about the tendencies in Baltic IT market:
"No doubt that the IT market is growing and will grow even more rapidly in the future – the international market research company IDC and Gartner has produced the same forecasts. The reason is also obvious: an increasing number of companies are focusing on their core activities/functions which generate direct revenues. The majority of non-core functions which are necessary for a company's activities are more and more frequently entrusted to external companies which provide IT and other services, i.e. this shows the development of outsourcing. EU integration will also have a major impact on the growth of the IT market in the Baltic countries in the period from 2003 to 2005.
I am not convinced that the overall IT sector of the Baltic region has shrunk. The analysis of Prime Investment does not take into account performance results of the branches of major foreign companies (IBM, Hewlett-Packard, Siemens, etc.) in Lithuania, Latvia and Estonia. However, the number of such branches is growing every year, local companies are facing constantly increasing competition from them and this might affect the overall result.
If, nevertheless, the other part of the IT market (hardware, sales of system software licenses) has been shrinking this year, the reason is most probably a temporary saturation of the Baltic IT market. The majority of public administration authorities and large private (as well as recently privatised) companies have already upgraded their computer hardware and related system software, therefore this year main investments, if somewhat smaller, were directed towards the development of applications and implementing of enterprise resource planning (ERP) systems.
• Pro-active governments as well as business initiatives regarding information society push and the focus on the education system have been significantly expanding Internet usage levels in the Baltics.
• According to the research conducted by TNS Emor, Internet penetration reached 23% in Lithuania, 24% in Latvia and 45% in Estonia of the population that were on-line at least once during the first half of 2003.
• To compare, the average Internet usage rate in EU stood at around 45% in September 2003, according to Internet World Stats.
• According to World DSL Statistics, the subscriber base of DSL service increased by 23.7% in Lithuania, 8.3% in Estonia and 1.0% in Latvia over the first quarter of 2003 to reach 12.4 thousand, 34.7 thousand and 10.0 thousand subscribers respectively.
Baltic IT service sector leaders in H1 2003, thou EUR
IT service sales

Growth of IT service sales

03/02

Services,

% of total sales,

H1 2003

Total sales

Grown of total sales, 03/02

2003

H1

2002

H1

H1 2003

H1 2003

MicroLink Group (Estonia)*

9,100

9,300

-2%

35%

26,000

30,000

-13%

DATI Group (Latvia)

5,699

6,442

-12%

100%

5,699

6,442

-12%

Exigen Latvia (Latvia)

4,417

3,839

15%

100%

4,435

3,870

15%

Alna Group (Lithuania)**

3,252

3,327

-2%

43%

7,493

9,471

-21%

Informacines Technologijos (Lithuania)

2,658

2,532

5%

82%

3,230

3,763

-14%

IT Alise (Latvia)

2,647

2,751

-4%

89%

2,988

3,393

-12%

Baltic Computer Systems (Estonia)

1,412

851

66%

45%

3,154

3,397

-7%

Blue Bridge (Lithuania)***

1,182

971

22%

20%

6,059

6,575

-8%

Varos Group (Lithuania)

1,110

801

39%

17%

6,569

4,584

43%

Tilde (Latvia)

936

706

33%

21%

4,357

3,940

11%

Baltic Amadeus (Lithuania)

666

379

76%

16%

4,084

4,741

-14%

Sintagma Group (Lithuania)

659

782

-16%

21%

3,148

2,636

19%

HNIT-Baltic Geoinforservisas (Lithuania)

260

391

-34%

39%

669

509

31%

Elva-1 (Latvia)

216

146

48%

13%

1,615

894

81%

Sonex Group (Lithuania)

n/a

n/a

n/a

n/a

17,956

13,902

29%

Compservis (Lithuania)

n/a

410

n/a

n/a

n/a

3,411

n/a

Algoritmu Sistemos (Lithuania)

n/a

520

n/a

n/a

n/a

521

n/a

DataPro Group (Latvia)

n/a

700

n/a

n/a

n/a

765

n/a

Average

-

-

3%

46%

-

-

-1%
First step in Russian market
Lithuania's Informacines Technologijos group, the owner of the Latvian company Mebius IT (Riga), started the year 2004 with its first step in Russia, where it will be engaged for one year in implementing a Western-type insurance business management system. European-level services for attractive price helped the group, which develops and implements broad-scale software systems in Latvia and Lithuania, to open the window into the East.
At the Moscow-based insurance company Strakhovaniye Kapitala, the team from Informacines Technologijos is implementing the insurance business information system TIA together with the IBM Office for Eastern Europe and Asia. This insurance company belongs to the large Russian financial group IFD Kapital (www.ifdk.ru). The project will employ 12 out of 160 staff members in the Informacines Technologijos group from Latvia and Lithuania.
In the opinion of Mr. Kestutis Uzpalis, head of Informacines Technologijos group, receiving a first big order valued at about 0.8 million lats in Russia for one year became possible due to system implementation projects executed and managed according to European standards as well as more attractive prices, compared to those of European IT companies.
Mr. Uzpalis is happy with the successful start of 2004 and says the experience in Russia and awareness of its customer needs will make it likely that in the future the window into this huge market will open even wider for implementing joint projects with EU companies. Furthermore, the service export geography encompassing both sides – the East and the West – will allow reducing competition and business risk, which will tend to grow after accession to the EU.
"A few months ago we also received quite an extensive order for export of IT services to the Czech Republic. I believe the growing sales of IT services abroad is due to several factors. The first is establishing daughter companies on the neighbouring markets and becoming a group of companies. One year ago we founded a company in Latvia Mebius IT, which achieved about 0.6 million lats annual turnover. This year we are planning to establish one more company in Estonia. We will decide on our company in Russia at the end of this year, taking account of the results of the first project there and changes in the investment climate in Russia.
The second factor is competitiveness of IT services from both quality and price aspects. Quality is ensured by the fact that we became the first partners of the Danish company TIA Technologies in Eastern Europe and with their help learned how to implement TIA products. Our services are cheaper compared to those of other European companies, but the quality is just as good (good command of Russian and English, modern project management).
The third condition for breaking out of the local market is motivated employees. They are encouraged to develop their skills and to be loyal to the Informacines Technologijos group both with economic (salaries, share options) and psychological incentives (opportunity to become co-owners and get their hands on latest software products)," said Mr. Uzpalis.