Guess, how much: Confidential Russian oil export
by Olga Pavuk
That was a great puzzle for most of the participants at the international conference "New Opportunities and Markets for Russian Oil Exports from Russia and the Caspian Region" held in Moscow early this March; true figures were not very easy to find.
Everybody knows, recently Russian oil industry has demonstrated impressive growth: oil production has increased in the years 2000-2003 by nearly 100 million tons – from 323 million tons to 421 million tons.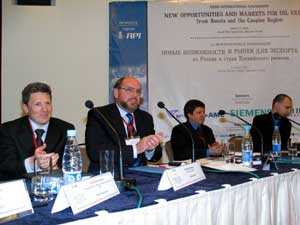 Photo: RPI,Inc
As a result, Russia has become the world leader as to daily oil production in 2003, moving ahead of Saudi Arabia. According to the International Energy Agency, in the third quarter of 2003 Saudis produced 8.29 million barrels a day but Russians 8.68 million barrels. As a result, Russian share of world oil production increased to 10.97% (9.9% in 2002). On the other hand, Russian leadership is rather insecure: Russian production has reached today its maximum while Saudi Arabia is holding back – if necessary, it can boost production any time and take the lead again.
Russia ranks second in the world after Saudi Arabia in oil exports. RPI, Inc. estimates Russian oil exports in 2003 around 200 million tons or 4 million barrels a day (a ton is equal to some 7.3 barrels) and oil export is growing (see Table 1).
Projects
After the Soviet Union's disintegration Russia lost in the Baltic region about 90 percent of oil terminal capacities in the Baltic ports, and almost all its crude oil port facilities, as the port in St. Petersburg does not handle crude oil, only light oil products. The loss in the southern direction was some 30% (actually only Odessa was lost, because Feodosia and other ports on the Black Sea were not used as oil terminals at the time). So, the worst was the Russian situation with oil terminals, as it lost almost all of them on the Western side (except St. Petersburg). The key project in the western direction – the Baltic Pipeline System (BPS) with a terminal in the Primorsk port – is making good progress but so far there is no final solution as regards oil products export.
The Murmansk project is the most problematic and also the biggest among oil transportation terminals' projects in the country's north-west (see Table 2). The project's estimated cost is about 7-8 billion US dollars, and it is now being discussed by Russian government. All other new pipeline projects listed in the Table, except Primorsk, are far from final stage too, either for political reasons or lack of investments. Odessa-Brody and Baku-Jeikhan are not, actually, Russian projects. Moreover, Russia tried hard to stop these projects' development and in the case of the former has not given up efforts to change the direction of oil deliveries – not from Odessa to Brody but from Brody to Odessa, the pipe carrying Russian oil, of course.
Real picture
RPI Inc. official, Mrs. Inna Gaiduk, finds that the official statistics is far from being complete. The statistics leaves out oil which Russian refineries export by rail and inland waterways transport as well as re-export from Ukraine and Belarus. According to RPI Inc., 38 million tons were exported by rail and rivers in 2003. Re-exports from Ukrainian refineries made up at least 3.5 million tons, and another 4.5 million tons were exported under other arrangements. All in all, last year Russian companies exported additionally some 46 million tons of oil, by-passing both the Transneft system and Russian Energy Ministry's records (see Table 3).
Russian private companies have organized their own tanker fleets and went on increasing the number of oil railway tanks. For example, LUKOIL with its 6,000 own tank cars (although practically only 5 thousand are used) plans to increase their number to 9,000 in the nearest future. The number of existing/planned railway tanks in other Russian oil companies is the following: YUKOS – 6,000/15,000; Rosneft – 700/3,000 and Tatneft – 1,000/45,000. This situation will hold on as long as favorable oil price conjuncture prevails.
The Oil Market (NefteRynok) magazine's Editor-in-Chief Dmitry Mosienko said that shortage of pipeline capacities was the most serious obstacle to export growth in the 1990s. The deficit of oil pipelines' export capacities reached its peak in 2002-2003. Last year 42.3 million tons of oil products were transported by railway. Of all cargo by-passing the state Transneft system, 53% were carried by railway, among them: 75 million tons in the southern direction, 62 million tons by the Druzhba pipeline, 58 million tons to the north-west, 6 million tons to China, etc.
Almost half of Russian oil is exported by railway. Russian ports take 45% of oil exports by rail, Baltic ports 41% and Ukrainian ports 14%. According to Mr. D. Mosienko the shortage of pipeline capacities is over now. Expansion of the BPS pipeline (Graph 2) will bring down total railway oil delivery; last year 48% percent of oil was sent to Baltic Sea terminals. Railway shipment directions will most probably change towards, e.g. Tallinn and Ventspils.
The conference participants have been almost unanimous that the shortage of tank cars would remain the biggest obstacle in the next several years; the worst thing is that Russian rail car factories have already been booked to full capacity for the next 3-4 years. Mr. Mosienko suggested placing orders abroad as a way out. There might be some work to do at the old rail car plant in Riga and the new facility under construction in Kohtla-Jarve, Estonia.
To the question of railways' limits in oil transportation, Mr. Mosienko said that railways would be used for this purpose until pipeline capacities were expanded. Interests of private oil companies also have to be taken into account campaigning for quality of light oil products. Finally, the railway capacities and the number of available oil tank cars are, of course, interrelated.
Some conclusions
Russian "Oil and Gas Business Centre" general-director Yevgeny Khartukov believes that Russia has already made up its decisions concerning all oil exports' directions, except that of Murmansk. Russian oil exports' future development depends on the project in this city. It has to be taken into consideration as well the effects of increased Russian oil exports in the world market on oil prices which might well go down if exports increase. Does Russia need this when most of its GDP heavily depends on oil and gas?
The conference chairman Edward Morse still thinks that Russia as the world's largest hydrocarbons exporter is more attractive on many reasons than, for example, Iran. And Russia's task is to maximize capacities available at its ports.
About strategic priorities in development of oil loading at ports
Mr. Vyacheslav Ruksha, the head of Russian State Naval Service:
"When talking about ultimate strategy, we understand that the Russian oil industry needs new routes. We know pretty well all debates going on about Murmansk route and the eastern pipeline. The main questions here are about the completion time of these projects. Assuming that the debates still go on, we in the ministry have decided to support in the present situation all small but reliable projects for transporting some 3-5 million tons of oil or oil products a year. Therefore we definitely support the project on which LUKOIL is working in Vysotsk. We also support building a number of terminals in Ust-Luga port where the channel was deepened to 14 meters. As to St.Petersburg, we do believe that the terminal has reached its maximum with 10-12 million tons a year and cannot increase its capacity any further.
Considering the shortage of oil product reloading capacities, especially for seasoned fuel oil, we have developed a program for harbor oil reloading delivered by railway onto large sea-oil vessels. Today, in addition to such 10 million tons a year seasonal reloading in the Gulf of Finland, we also use harbor reloading facilities in the Black Sea port of Taman that processed 5 million tons of oil products already in 2002. Some other new directions are emerging as well; in particular, the reloading from the oil reservoirs in Vitino and Arkhangelsk ports with the subsequent increase of shiploads facilities in the Gulf of Kola. The reloading in the Gulf of Kola could reach 4.5-5 million tons, considering its capacities in 2003.
Rosneft and several smaller companies have interesting plans as well, e.g. to reload 650-700 thousand tons a month at Vitino port and 350-400 thousand tons at Arkhangelsk. Crude oil deliveries by railway, especially at the amount of 5-10 million tons a year, have been underestimated in Russia. I'm sure that with the right management the arrangement could be just as effective as the use of oil pipelines. This is what we see from the example of northern oil routes. Whoever begins investments in coastal terminals first will come out as a winner in 2007-2010, no doubt about it".
The NefteRynok magazine, No. 7, 2004.