Dialogue aimed at mutual benefits
by Mikhail Tuzhikov, Transport Rossii
During this year's first two months two major events occured, i.e. international conference on January 30th in Moscow: "Russia and the Baltic in Enlarged Europe. Economic Dialogue: Today and Tomorrow", and the 37th meeting of the CIS's Railway Transport Council, the Baltic States and Bulgaria in Riga on February 10-12. Participants of these meetings have shared with the BC their views about integration processes in transportation on the eve of the Baltic States' accession to EU.
.
Economy comes first
Speaking at the international conference in Moscow, Russian Railways vice-president Anna Belova said: "Economic integration matters are vital both for the Russian Federation and would-be EU member states. The global trends of building mutually profitable economic relations must come first. It is not a coincidence that back in the Soviet times strong economic ties between Russia and Germany concerning natural gas exchange helped to strengthen the political foundation for mutually acceptable solutions. This will also be true in the contemporary world – on the eve of Baltic's EU membership. If the economy, business and legislative acts offer interesting conditions for co-operation, it may help very much in solving other complicated political issues which are still unsolved between countries and will remain such for some time".
Mrs. A. Belova thinks that railways can play a decisive role in integration processes. In 2002 the EU adopted a program for transportation – "Strategy for Development of European Transport Systems till 2010" which set a number of priorities. Special attention was paid to development of railway as ecologically clean kind of transport able to help to relieve overloaded motor road network. In the EU it is a big problem that can be solved by mixed railway and water (sea and river) transportation allowing re-arranging cargo flows in Europe".
In this context, Russia's geopolitical position as a country with unique transit potential in foreign economic relations (both for the Baltic states, the EU and other global regions) can serve as a corridor through which huge amounts of cargo would be carried from South East Asia and Japan to Europe along the Trans-Siberian Railway. At present cargo routes transcend in the East-to-West direction mostly by sea. It takes 45 days to sail from Japan to Hamburg. Cargo transportation with access to the Baltic ports is a matter of interest not only for Russia but also for the Baltic states therefore long-term prospects would be mutually fruitful, interesting and vital.
"Naturally, every nation that has own economic policy is interested to bring greater activity to its territory and taking certain protectionist measures", Russian Railways vice-president told the BC. "That's why Russian railways had two different price lists until recently – one for domestic shipments and the other for export and import. Rates and fees for service in this price lists differ greatly. A new price list took effect on August 28, 2003, introducing uniform rates for a number of services and we will keep working in this direction in future too. We understand that the integration processes and expanding trade horizons is a matter of serious interest to us therefore we have set in motion all legislative mechanisms to create equal economic conditions for all".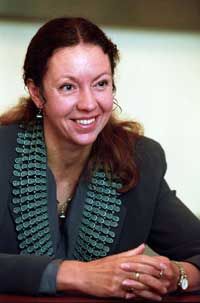 Photo: Russian Railways

Anna Belova

Mrs. A. Belova gave a very vivid example, although not concerning Russian-Baltic relations directly. The new price list, distinguishing between the engine and railcar components, brought in 300 million US dollars from private operators for acquisition of more rolling stock because a clear regulation has been set up to allow for calculation of benefits resulting from re-organization and splitting the transportation process into two components, i.e. infrastructure services and the actual transportation system.

As to the key objectives under the concept for future economic integration in Europe and the EU enlargement on May 1, 2004, Mrs. A. Belova thinks that a number of questions need to be solved. In particular, there are questions related to difference of the rail gauge in Russia and Europe. Baltic railways have the same gauge as Russia. "We already have experience using adjustable passenger transportation rolling stock to switch between European and Russian rail tracks without replacing wheel pairs on the engine and railcars. The unit has been tested on the regular passenger line between Kaliningrad and Berlin via Poland that was launched at the beginning of this year," she said. "One must not forget that effective transit potential has to be created for uninterrupted flow of cargo between Russia and the Baltic states as well as between Europe and the Baltic states. We have to come up with joint logistics solutions for making use of the Baltic and Russian ports' potential in handling the growing amount of cargo. Today it is one of the main priorities.

Access to Russian railway lines from the Baltic ports will help cargo shipment across Europe but also along the international North-South routes to Iran and other countries down the road.

From this perspective I urge everybody to begin active dialogue and think about present initiatives of the Russian Industrial and Business Union and the Baltic Forum. Russian Railways is extremely interested in this dialogue, and as a new market-oriented structure has combined the tasks of both public regulation and improvement of economic efficiency".
Technological unity
Today's railway industry leaders have put economic advantages before political ambitions. This fact was underlined by the Railway Transport Council chairman and Russian Railways president Gennady Fadeyev in his opening speech at the Council's 37th meeting in Riga: "The Council and the Executive Committee have been founded 12 years ago. Our common efforts which were later on joined by Latvia, Lithuania, Estonia and Bulgaria have had great economic as well as social importance. Due to the Council's work, technological unity of the railway transport and common information, tariff, research and technical background has been preserved. Regardless of our countries' economic difficulties, we managed to provide uninterrupted service both along the national railways and within the entire railways' network".
"A total of 1.874 billion tons of cargo have been transported on railway lines in the CIS states, Latvia, Lithuania and Estonia last year! This represents 8 percent growth with regard to 2002. Cargo turnover growth rate has increased 2.4 times from 2002. Average daily transportation of containers has risen above 2,000 units, beating the 2002 figures by more than 4%", said Russian Railways president.
The efficiency of railway improvements and cargo turnover growth of the CIS and Baltic states in 2003 is seen in the Table.
For the first time the railway transport forum was joined by a delegation from Finland, the only EU member state which has the same rail gauge as railways in Russia and other CIS states. This gives the Finns an advantage over European railways not only in terms of saving time (as there is no need to reload cargo on the borders before they can be delivered to any destination in Russia and the CIS) but also in improving cargo safety. It was for this reason that the Finnish government back in 1996 signed a bilateral agreement with Russia about the direct Russian-Finnish railway connections. Now it has become vital for Finland to directly participate in the work by the Council because on May 1 the EU will be joined by the Baltic States sharing the same rail gauge (1,524 mm) with Russia and Finland. Mr. Gennady Fadeyev presented to the railway forum the director general of Finnish Railways, Mr. Henri Kuitunen. Finland participated in the work of the 37th Railway Transport Council session as a country with the observer's status.
Working together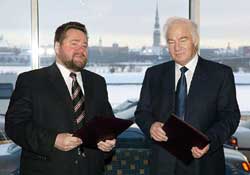 Photo: Russian Railways
Andris Zorgevics and Gennady Fadeyev (to the right).
On February 11, the second day of the Railway Transport Council meeting, Russian Railways president Gennady Fadeyev and Latvian Railways director general Andris Zorgevics signed an agreement on common railway representation offices. These non-commercial bodies would assist in bringing more passengers and cargo to Russian and Latvian railways, and facilitate development of international railway connections with other countries.
On this occasion the director general of the state-owned Latvian Railways shared with the BC his views about the railway forum and transportation prospects in line with the EU accession. "The situation is changing, e.g. after Latvia's accession to the EU and reforms on Russian railways we would face opportunities to increase transportation loads from 48 million tons last year to, let's say, 60 million tons. Therefore we need a representation office in Russia which will be planning the work by specialists from all sides – not only from Russia, but also Kazakhstan, Kyrgyzstan and other countries in the Middle Asia. Speaking about Kazakhstan, we cannot leave out Russia because a train destined for Kazakhstan will have to travel 2,500 kilometers through Russian territory. If the economic situation in Russia is bad, any decisions taken without Russian involvement will be useless. There is only one conclusion – we must work together".
On the BC's question about effects of political decisions on economic benefits, Mr. Zorgevics said: "Regardless of political difficulties, we still present sufficient and businesslike cooperation. A railway's owner will decide himself about the right way to use resources and would avoid politically stupid decisions. If the state-owned railway's share is big there is a danger that civil servants could manipulate with it taking arguable decisions and exerting influence. If the state ownership share is small, it is rather difficult and also unnecessary to regulate the owner's rights. The political elite in small countries like ours ought to be lobbying for owners' interests and help people to earn money. As Margaret Thatcher once said, the state must be like a night watchman".
The BC inquired: What about co-operation with ports? "Now, for example, there is a tough competition going on between the two ports, Klaipeda and Riga, and it's normal," said Zorgevics. "The thing is that Lithuania and Estonia has one port each but Latvia has three ports. The Liepaja port is going uphill. It used to be a naval base, and the railroad leading to the port had timber ties, all rotten. During the overhaul of the main-line track we quietly, without much ado replaced them with ferroconcrete ties, and managed to achieve cargo turnover growth of 2 million tons. Even though the figure is small – some 15 times less than that of Ventspils port – this works very well in general and good operation facilities are under way not only in Latvian ports but in Tallinn too".
"We, working in this business, have to think of how to use our capacities in the best way and sell our product at highest price with profit. The ports have found themselves in a difficult situation that did not occur just today or yesterday. Huge amounts of money from Russian producers had been invested in construction of terminals in the Baltic ports. It is not very wise to think that Ventspils port has been created only for Latvians, is it? Russian producers already paid once for construction of Latvian terminals, and now they are paying for the second time, building new terminals around St. Petersburg. This money should have been invested in production, improving living standards, development of specific territories. I think that market economy will put all things into right places".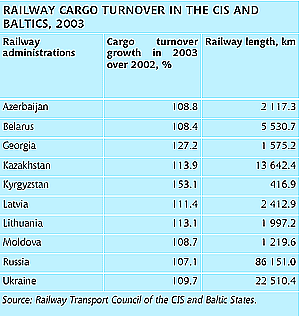 In response to the BC question about the Baltic Product project, Mr. Zorgevics proudly stated: "The Baltic Product is a philosophy we have developed. The competition environment is all around us in Lithuania, Estonia and in the Kaliningrad region. Transport corridors are also competing with each other. The EU's IX international transport corridor (linking Finland, Lithuania, Russia, Belarus, Ukraine, Moldova, Romania, Bulgaria and Greece – M.T.) needs to be taken up north further on through Latvia. We are thinking how to do it. We have already launched a train route together with Estonians and expect Lithuanians to join us so that the container train, like a shuttle, will be running daily. This project needs to be developed towards Kazakhstan direction and further on to Middle Asia. Then Russia will become greatly interested in getting "easy" money from the transit on her territory. It won't need any additional work or efforts; the only thing we'll be using is the existing Russian railway transport structure. We have already arranged a meeting with Kazakh railway representatives to discuss the routes to Afghanistan and Iran. There's also the Trans-Siberian Railway and other transport routes competing with each other. And business opportunities we have looked for are various. So we are looking for better ones. This is the economic essence of the Baltic Product. To put it shortly, today we are working on those directions which will bring success tomorrow".