Baltic states' energy issues: problems and perspectives
by Mikhail Tuzhikov, Transport Rossii
All sorts of electricity switch-offs have become an unpleasant but quite real part of our daily life. Americans, Italians, some parts of Sweden and Finland have already experienced in 2003 how life without light, heating and water looks like. Will the consolidation of Eastern and Western European power grids help to avoid further threats?
Power grids of all nations, unite!
World Energy Council's general-secretary Gerald Doucet believes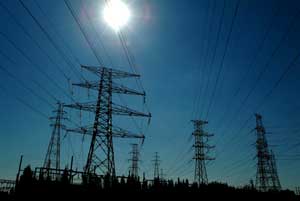 Photo: europa.eu

that the last year's US and Canada accidents are grounded in market failures or, more specifically, in insufficient investments in power generation. He said: "The reforms need to be rationally tied up with the technical part of the national economy's energy sector. It means that sufficiently stricter state regulations are necessary in order to convince investors to make the required investments in infrastructure development".

Right after the power default in the United States, Russian energy company RAO UES (Unified Energy Systems) chairman Anatoly Chubais said that similar breakdown could hardly happen in the Russian power system. He added: "There isn't a single power system in the United States which would co-ordinate electric power transmission from one region to another. They do not have a general distribution centre controlling the whole system's operation. The American national power grid consists of regional sub-systems, each protected in their own way, but there is no steady link among them".

Recent episodes in the UK and the United States unexpectedly made Russia one of the world leaders in unified power system's safety, which is actually operating under state control. As a matter of fact, the Soviet power system has been initially conceived as a single unity.

With the Soviet Union's disintegration, when the Union split into a number of independent countries, the unified power system lost its inherent stability. The Russian power system has become dependent on power grids' operational modes in certain states with the lack of a system of elaborate legislative framework governing relations between partners. As a result, some energy integration processes got underway in the region; Russia has been pushing hard in this direction during last two-three years.

Due to its central position on the Euro-Asian territory, Russian electric energy system perfectly fits into its leading role as an integrating link in this regional Euro-Asian power system. Countries in the Baltic region do not sit idle in anticipation of the possible "electric shock".

The idea to form the Baltic Power Ring as a part of much bigger project for creating regional common electric power market has evolved from an interesting long-term initiative from the Council of the Baltic Sea States (CBSS). The Baltic Power Ring project has been included into the Trans-European Synchronously Interconnected System (TESIS) being developed by the European Union.

All the issues connected to the Ring's implementation are handled by Baltrel – the International Committee for Co-operation between Baltic Sea States' Electricity Companies, founded in 1998. Today Baltrel consists of 18 biggest energy utilities in 11 countries, e.g. from Scandinavia, the Baltic States, Russia, Belarus, Poland and Germany. They are working to create a powerful multi-station DC transmitter linking these countries' power systems, as well as to organise regional power and electricity market.
Who cares about Russian electricity?
Russian energy companies' intentions to "make business" outside the CIS is mostly based on the following factors: the growing demand for electricity, its steeply increasing consumption compared to other energy sources, growing electricity markets liberalization in the EU member states and the planned cuts in power generation at European nuclear power plants.
In addition, RAO UES strives to enter Scandinavian market both as an electricity supplier and a full member of the Scandinavian power exchange NORDPOOL. So far Russian authorities have not succeeded in arranging mutually profitable co-operation with the countries of the region, partly because Europeans regard their power grids as part of TESIS, partly wanting to leave Russia out, because most of power systems in Eastern Europe have already been linked to NORDEL and the unified Western and Central European system power system (UCPTE/CENTREL).
The CIS countries' national companies have to attain a certain level of competitiveness of their power system within the Commonwealth before getting a free, non-discriminatory access to foreign energy markets. So far inefficiency of the CIS national power grids only brings losses of about 1.5 billion USD to their own economies.
Not a single joint project has emerged so far in the CIS to re-animate 11 main power transmission lines that linked former Soviet republics and the Eastern European countries. Russian RAO UES leaders did not venture to develop a mechanism concerning electricity exports and imports or even give a chance to independent, and very often more successful energy companies.
In recent years Russia has become a major buyer of cheap Lithuanian and western Kazakhstan electricity for further re-export because selling imported power to Finland or Latvia yields larger profits than energy operations on the domestic market. As a result, more than 10% of all Russian electricity exports in 2003 originated in Kazakhstan.
Generally speaking, Russia does not care much about electricity export. Foreign trade in electric power occupies quite insignificant place in Russian economy; and electricity export accounts for less than 2% (about 17.9 billion kWh) of the total power generation in the country.
Oil shale energy in Estonia
Hardly anyone but experts is really aware that Estonians have more per capita electric energy than the United States. In addition, Estonia exports electricity to Latvia and Russia. How did they manage to do it?
Electric power is generated in Estonia by Baltic and Estonia power plants united into the stock company AS Narva Elektrijaamad (Narva Power Plants) and running on oil shale. Alongside with Estonian oil shale, the Baltic Power Plant uses in its boilers Russian oil shale in exchange for a proportionate part of electricity sent to the Russian power grids. But the Estonian oil shale power plants will have to cut production because the country introduces national restrictions on hazardous air emissions following the EU requirements.
As a rule, major power grids' components have to be renovated every 30-40 years. Most of the Estonian grids have been in operation for 30-33 years. In the 1990s about 1% of the components were renovated which is 2.5 times less than required. Eesti Energia was not able to begin more serious investments until 1999. In order to make up for the gap which emerged during these years, an investment of about one billion kroons is needed annually.
At least 80% of low-voltage (220/380 V) air-transmission electricity lines with total length of 32,800 kilometers are 15 years and older, they have been built according to design standards of that time. Previously households' voltage fluctuations were not a problem but since consumers started to use a great number of new powerful electric appliances the things got worse. Just one example, about 3,000 switch-offs occur in Estonian power grids each year; in 2003 there were over 4,000 cases.
Experts are unanimous that it's necessary to build 4,855 new power transmission stations, 3,188 kilometers of medium-voltage lines and 912 kilometers of low-voltage lines in order to guarantee permanent voltage. It costs 150-200 thousand kroons to build a kilometer of new electric transmission line, and the whole program therefore would cost about 1.3 billion kroons. Distribution equipment replacement at 35 power feeding stations would require another 8-12 million kroons. In order to keep up the pace and prevent massive power cuts caused by ageing equipment, at least 10 transmission units have to be renovated annually, which will cost 100 million kroons to national budget. In addition, hundreds of millions kroons must be invested in operational safety of another 6-20 kV grids and general electric system's development. Suffice it to say that it costs about 200 million kroons to put into operation power supply lines in woodcutting firms and agricultural cooperatives around the country.
It will take at least 15 years and 46 billion kroons of investment to renovate the power grids, according to Estonian Technical University Professor Olev Liik. Therefore, there is only one solution, i.e. to increase electricity rates in the country, which is expected to occur in November-December 2004.
But there is another opinion too. Tallinn Consumer Protection Consultancy's head Mr. Aado Luik believes that "a lot of consumers' money is spent on salaries to Eesti Energia administration and gas for their cars; if we make a thorough calculation it might come up that the required annual investment will be just some 700 million instead of 3 billion kroons a year".
Despite urgent and necessary renovations of its own power grids, the Estonian officials have announced much more impressive intention, i.e. to take part in privatization of the Lithuanian power grid. Estonia offered a bid for 71.4 percent stake in the Lithuanian power grid which is going to cost the budget over 2.5 billion kroons.
Moreover, the state-owned electricity utility Eesti Energia announced its intention to participate in a number of international energy projects. The idea of linking Estonia with Finland by building an underwater cable across the Baltic Sea seems to have the biggest prospects. To put it shortly, there are plenty of plans, the only thing is left – how to find some 46 billion kroons of investments.
Latvia as a poor cousin
Despite the fact that Estonian, Latvian and Lithuanian power grids have become integral part of the Joint Baltic Energy Power System with a dispatch-control office in Riga, Latvia is the only Baltic state unable to meet the domestic electricity demand. It has to import energy from Lithuania, Estonia and Russia. Only occasionally surplus electricity is exported back to Estonia, Lithuania and Russia, mostly during few months of spring floods.
After renovations at TEC-1 and TEC-2 thermal power plants, electricity production will increase 5-6 times, and Latvia will be able to provide for 80-100% of its electricity demand. The issue of building additional power plant in western Latvia has become very acute, and there are projects for power plant construction in Ventspils, Liepaja and Valmiera. But these are so far only projects. If these plans indeed can become a reality, Latvia will be fully independent in energy supply by 2012, said Latvenergo deputy board chairman Aigars Melko.
Lithuania still using nuclear energy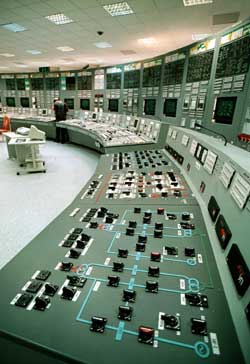 Photo: E. Rudzitis, A.F.I.

Ignalina nuclear power plant.

Lithuanian energy industry is based mostly on import fuel. The Ignalina nuclear power plant (two units, 300 MW each, running on Russian nuclear fuel) produces 77% of total country's electricity output. The rest is generated by the Lithuanian Power Plant, and thermal power plants using gas, fuel oil, etc. in Vilnius, Elektrenai, Mazeikiai, and Klaipeda. Lithuania has only one hydro power station in Kaunas, about 50 small hydroelectric generators and one hydro power storage station in Kruonis. Total output of 35 small hydro power plants is 30 million kWh a year, equal to just about one-tenth of the output at the large Kaunas hydro power plant, or 0.02% of the entire national power production.

In 2003 Lithuania produced 17.5 billion kWh of electric power, including 14.14 billion kWh generated by the Ignalina nuclear power plant; 6.8 billion kWh were exported. The domestic consumption, excluding the needs of the energy industry itself, is 6-7.5 mln kWh. The power produced at Ignalina has the cheapest energy costs: in recent years the nuclear power plant has been selling electricity to consumers for 7 cents per kWh while the Kruonis hydro storage power plant sell its energy at the price of 9-11 cents. Electric power produced at the Lithuanian Power Plant costs about 20 cents per kWh.

Lithuanian Economics Ministry state secretary for energy Arturas Dainius' opinion: "The EU regards as dangerous even a 40-percent dependency on a single supplier, but we completely depend on Russian supplies. On top of that, if Ignalina nuclear power plant is closed down by 2009, as is required by the EU, the whole Lithuanian energy industry will become dependent on Russian oil or gas deliveries which presently cover 100% of the Lithuanian demand."

Lithuanian Society of Energy Science and Industry's president Algirdas Stumbras has proved that the capacity of non-nuclear power plants will very soon become unable to meet even domestic needs. He compared consumption growth rates in other countries and concluded that in seven years Lithuanian domestic demand will reach about 14 billion kWh a year and by 2020 the figure will grow to 15.3 billion kWh, which is much above the existing capacities. Moreover, Lithuania has one of the lowest electricity consumption rates in Europe. For example, in Norway the consumption rate per capita is 25,000 kWh a year, in other Scandinavian countries – about 15,000 kWh, but in Lithuania it is not more than 2,500 kWh. What would happen if the electricity consumption grows further on, where would the additional energy capacity come from?

According to the Lithuanian government, the decommissioning of the Ignalina nuclear power plant and the country's transition to other energy sources will require about 2.4 billion euros by 2020. Almost all the electric power in the country will have to be soon produced at the outdated power plants. So far grants from Brussels can guarantee Lithuania only 105 million euros in 2004 and 70 million euros in both 2005 and 2006.

The lack of direct links with electric power systems in Central and Western Europe is a serious disadvantage, the EU has acknowledged. This fact has also been recognised by Finnish Prime Minister Paavo Lipponen, who said at a summit of eight heads of government in Riga in August 2002 that "the common goal of the Baltic states and North Europe is to create a common electric power market by the end of the decade".

Estonia: There is about 53,496 km of distribution electricity network lines including 4,209 km of suspension cables. Total cable lines length is 7,422 km. There are 17,871 transmission sub-stations all over the country.

Latvia: Total electric power consumption is 5.046 billion kWh while domestic power sources generate only 2.698 billion kWh. The domestic power market shortage of 2.348 million kWh is covered by imports. The biggest electric power producers are the hydro power plants' cascade on the Daugava River, i.e. Plavinas, Kegums and Riga power plants which generate 2.433 billion kWh but the output depends on the water level in the river. Thermal power plant units TEC-1 and TEC-2 produce 1.237 billion kWh. They depend on Russia's gas supply, but they can run on fuel oil too, if necessary. Independent producers (135 small hydro power plants, 14 wind power plants and 17 co-generation plants) can make about 299 million kWh of electric power.

Lithuania: The country supplies electric power to Latvia, Poland, Belarus and Russia. Last year Lithuania exported 7.5 billion kWh of electricity and received 75 million litas of net income (95 million litas in 2002). In 2004 Lietuvos energiją will sell 5.5 billion kWh to Russia and about 1 billion kWh to Latvia and Estonia. Belarus gets from Lithuania 8 million kWh of electric power daily.
Results of Baltic energy companies in 2003, mln EUR
Net turnover Unaudited profit
| | | | | |
| --- | --- | --- | --- | --- |
| | 2003 | 2002 | 2003 | 2002 |
| Latvenergo | 298.37 | 8.90% | 15.58 | -15% |
| Lietuvos energija* | 268.19 | -14% | 26.36 | -4.5% |
| Eesti Energia** | 365.70 | n/a | 37.58 | n/a |
* Forecast by the Lithuanian Economics Ministry.
** As of March 31, 2003, the end of the fiscal year.
Source: BNS.