Light at the end of the corridor
By Mikhail Tuzhikov, Transport Rossii
At the international conference Transport and Logistics 2002 in Riga this April we were most impressed by speaches delivered by the Eurasian Transport Union's vice-president, Yuri Shcherbanin, and the Ventspils Trade Port company council chairman, also chairman of the Kalija Parks mineral fertilizer terminal, Oleg Stepanov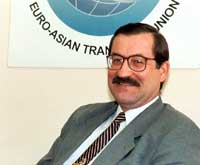 Yuri Shcherbanin: "Russia defends its own interests regardless of criticism from opponents."

Yuri Shcherbanin presented a report on certain problems of international cooperation in transportation in the Eastern Baltics, clearly defining the balance of powers and money in the competitive fight for transit flows in the Baltic region. Mr. Shcherbanin kindly agreed to give an exclusive interview to the BC.
Mr. Shcherbanin, the Moscow conference TransRossiya 2002 saw a heated debate over prospects of the Baltic ports in view of new Russian ports opening in the Gulf of Finland. Emotions ran even higher when the competition problem was discussed in Riga. What is your evaluation of the situation on the Baltic market of transit services? Is the devil as black as they paint him?
FOR YOUR INFORMATION
Construction of new Russian ports in the Baltics began in conditions when privatization in Russia was underway and the country simply started running out of money for economic reforms.
Russia's annual revenues from transit now account for less than one billion US dollars while in the 1980s Iranian transit alone brought to the Soviet Union budget over 5 billion US dollars in revenues.
Transit costs of Russian foreign trade shipments through foreign ports are estimated at 1.2 billion US dollars a year.
Today Russia loses up to 1.5 billion US dollars a year from transportation of cargo via ports in Ventspils, Riga and Odessa.
Foreign currency losses by Russia upon transit through the Gibraltar, the Danish straits of Skagerrak, Kattegatt, Oresund, Turkish straits of Bosphorus and the Dardanelles, the Suez Canal and the Panama Canal make up about one billion US dollars annually.
This was the reason for the government decision to turn cargo flows to Russian ports and overland transport corridors of North-South and Transsib.
International transport cooperation in the Baltics or, to be more precise, between former Soviet republics during the last decade had developed against what I see as excessive political background due to a number of circumstances. But it would be wrong to think that political climate has no influence whatsoever.
The end of last year was rich in events giving a somewhat new perspective to Russia's role in the Baltics. First economic results, figures and indicators are due at the end of this year. Then it will be possible to see how much in fact Russia's role in the Baltics had changed and what are the new reference points for further cooperation, provided that they do appear.
Doesn't the political element prevail in the tough tariff policy pursued by Russia?
Indeed, Russian tariff policy has been criticized sharply by the Baltic states. But which goods are subject to this policy? It is oil, coal, ferrous metals, etc., or, in other words, what is being extracted from the earth. As for electric household appliances, for example, and other products, freight charges have not changed much according to competent experts. Tariff changes is a quite regular protectionist policy, especially since Russia is not a WTO member! If we take the situation in the first half of the 1990s when Russia began the reforms and it was possible to take out through Russian port whatever one cared to at easy tariffs, no one had any claims against Russia. When Russia started putting things in due order at home, they immediately raised a noise: "Russia bad, this isn't right and that is wrong!" As soon as Russia loosens the reins, it becomes good at once. In fact, every country must protect domestic producers in some way. See for yourselves! The United States introduced 30 percent duty on steel imports and that's it! No problems! Is that protectionism or not? Everybody in the world does it and not always gets scolded: "Shame on you! Why are you doing this? You are a WTO member!" No one says this, because everybody knows perfectly well that in this case the US is protecting its own national interests. Then why shouldn't Russia protect its interests? And Russia does it, criticism by opponents notwithstanding, for example, in its port policy in the Baltics.
By the way, the critics were no small-time bunch either - the European Union (EU), other international transport organizations, the transport representatives. Why should the EU welcome construction of the Ust-Luga, Primorsk and Batareinaya ports? It is obvious that with time, with admission of the three Baltic states to the EU, Brussels will develop its own "port headache" - the need to enforce the principle of fair competition among business entities of the member states. There will be several of them in the eastern Baltics: Estonia, Latvia, Lithuania, Poland and Finland. And here's Russia with its own ports. Remember, the newcomers to the EU will have a transition period to boost their economic growth and God forbid should their port capacities suddenly "be taken illcapacitated." The position of the largest international credit organizations is also understandable - they lent money for the development of Baltic ports, expecting to get it back within a more or less acceptable period, but Russia puts up new ports in a blitz, which results in increasing competition.
How do Russian carriers take admission of the Baltic states to the EU?
It's no secret that admission of Russia's neighbors to the EU will make Russian transportation companies ask a lot of questions that could be summarized as follows.
At present decisions are being made by the Baltic states themselves as independent subjects of international operations. Once admitted to the EU, these countries will automatically be required to adjust their policies strictly as Brussels would wish it and without European Commission approval they will hardly be able to make any independent decisions, let's say on tariff policies or port duties, etc. This will seriously impair flexibility in mutually advantageous contacts with Russia. It's like this - for example, now the earnings from transportation of containers from Vostochny port along the Transsib route 10,000 kilometers within Russian territory are "eaten up" by tariffs to carry the containers 700-800 kilometers in Poland or Germany. Apparently, the same will happen when the Baltic states join the EU. Naturally, this causes concern among Russian consigners already worn out in the battles with the EU members about dumping and anti-dumping.
Is overland transportation really cheaper than shipments by sea?
BY THE WAY
Transportation of containers by railway along Transsib from Nakhodka port in Far East to Europe allows to cut the delivery period by 15 days in comparison with delivery by sea. An experimental high-speed container train equipped with new rolling stock (able to travel at speed up to 120 km/h) made it from Nakhodka to Brest in less than 9 days at the average daily run of 1,150 kilometers.
For information: considering the scale of the entire Russian economy, reducing delivery period by 24 hours would mean an economy of more than 11 billion rubles (USD 367 mln) or 1 percent of the Russian budget.
When speaking about overland components of transport corridors, one should keep in mind the growing importance of interrelations between Trassib main route and railway lines Moscow-Berlin and Moscow-St.Petersburg-Helsinki, listed among priority transport corridors in Europe, in transportation communications for developing trade between countries of the Asian-Pacific region (APR) and Europe. In short, there's sufficiently large number of quite realistic projects which, when implemented, will bring benefit to all countries which were willing to join them. But bear in mind that world competition is a changing thing. Now we are getting the impression that Russia will find profitable markets in APR in the nearest future. A number of Russian companies - Magnitka, Severstal - have acquired solid holdings in Russia's Far East ports. They would not keep these ports without cargo, would they? Therefore I would like to stress that it's not about unreasonable determination "not to take cargo to the Baltics" because of this or that consideration. A broader perspective should be adopted to see that it's about world conjuncture.
Does Russia allow for the possibility of cooperation with the Baltic states in transit matters?
It should be taken into consideration that Russian cargo will be to a significant extent re-directed to Russian ports. In view of this, the Baltic ports will have to do some serious work on the transit problem concerning not as much Russian cargo as shipments from other countries via Russian territory - goods from Kazakhstan and China, Uzbekistan and Iran. But this is work not only for the Russian party, but also for business entities of countries interested in transit.
Thus, for example, Russian and Lithuanian partners are making efforts to cooperate within the framework of a new transit transport corridor, the so-called Amber Corridor (Project 2K Kaliningrad-Klaipeda). Experts believe the difference between railway rates in Kaliningrad and Klaipeda directions will give economy of USD 10-15 per ton of cargo even when adjusted for further shipment by sea. A similar arrangement had been suggested for transportation of cargo between Arkhangelsk and Norwegian ports. Poland also got interested in the idea and Polish forwarders are said to be willing to discuss a possible feeder service via Gdansk and Gdynia ports.
Are there any alternatives to the traditional world practice in transit?
In recent years Scandinavian countries, Turkey, Poland, Iran, Romania, Hungary, Slovakia and Germany displayed growing interest in transit shipments through Russia. Volgo-Balt, Belomor-Baltic and Volgo-Don channels represent the shortest direct waterway route between many European and Asian countries. Expert estimates show that transit shipments along the said water routes offer almost double reduction of costs if compared with other arteries - the Mediterranean, the Aegean Sea, the Gibraltar, the Suez Canal. This factor is very vital also because Turkey, Denmark and Norway possessing what is called transit straits in expert language try to get more profit out of less transit. It is being done by means of raising transit rates and pilot dues, restricting navigation in the relevant straits on different excuses.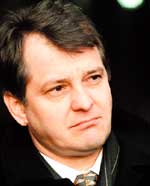 O.Stepanov: "With no panic, simply turn to face Russia and take joint steps."

Also, experts have noticed, for example, that Russia in the western region could actually have a direct water outlet to the Atlantic Ocean and Europe through the Dnieper-Pripyat-Bug-Vistula-Narew-Oder channel (The Velikopolsky Channel). As this water artery is linked with many Trans-European waterways (Rhein-Main-Danube, Rhein-Maas-North Sea, Kiel, Mittelland), it is quite possible to bypass Baltic-Atlantic straits by the shortest route. Such outlet to the Western Europe and the Atlantic Ocean is nearly 2.5 times shorter as compared with the route through the Baltics and straits from there to the Atlantic Ocean.

Baltic region carriers fear the loss of cargo. How real is such fear?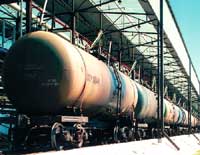 Rail trestile for oil products in Ventspils

Baltic states do not have to fear that cargo flow will dry up because "there will be cargo for everyone," to quote Aivars Lembergs, mayor of western Latvian port of Ventspils, who said this at the conference Transbaltica 2001. Experts forecast constant growth of cargo flow to the Baltics. Indeed, total cargo turnover of Baltic region ports in 2001 increased by 16.2 million tons over 2000 and reached 148.1 million tons. Moreover, all major Baltic ports posted handling growth year-on-year. I think emotions should be put aside and everything given a good thought, weighing the situation from the economic perspective. We hope for dynamic economic growth in Russia and it means new cargo, new opportunities.

Oleg Stepanov in his report "Baltic Ports Competitive Ability Analysis" identified the reasons for reduced transit flow through Latvian ports.

Transport system of the Baltics, in particular Latvia, must be regarded as one of the key links in the structure of global Eurasian transport system which plays huge role in development of cargo transporation between Europe and Asia.

One of the Baltic Sea characteristics is the large number of transport operating in it. Being small by size, it is a part of the global ocean with an especially high density of transport operations. Table 1 shows the Baltic share of global sea transportation, currently at 7 percent.

Table 1 Baltic Share of Global Sea Transportation
Year
Global Sea
Transportation
mln.tons
Baltic Sea
Transportation
Baltic Share%
1929
470
59
12.6
1937
490
78
16.0
1960
1080
110
9.8
1989
3891
300
7.7
1996
4750
340
7.1
2000
5043
353
7.0
Source: National transportation ministries of the Baltic region countries.
According to forecasts of Baltic region sea trade development, significant growth is expected: specifically, by 2010 sea transportation in the Baltics may reach 400 million tons which means annual growth by more than 4 million tons. Thus, it can be concluded that the Baltic cargo transportation market is developing dynamically and in equal conditions practically all Baltic ports have goods prospects for cargo turnover growth.
The study of cargo flow at Baltic ports reveals obvious difference between countries of the region with developed market economy and transition economies. In Western Europe exports and imports tend to be balanced while there's no such balance in ports of the Baltic states (incoming shipments by sea - imports - make up some 10 percent) which definitely makes Latvia, Lithuania and Estonia dependent on one or two export cargo flows and precludes minimization of risks.
The general trend for Latvian ports is not very bright, especially considering that with commissioning new Russian ports in the Baltics the competition in respect of "Latvian" cargo (oil and coal) will grow tougher and large part of cargos still handled by Latvia are highly likely to be re-oriented towards competing ports as Latvia lacks specific government program for development and support to strategic branches of economy which definitely include transit and transport sector.
In the first half of the 1990s transit contributed about one-fourth of the Latvian GDP. Today, the Economics Ministry figures give transit share as 10 percent and regretfully, rapid growth in other sectors cannot be cited as the reason for this.
There are two key reasons for such a turn of events unfavorable to Latvian transit businesses. First: the Russian Federation's purposeful protectionist policy in respect to its own ports, abolishment of downward coefficients applied to shipments transported through Russian territory to/from and via Latvia which resulted in a significant artificial increase of prices in the Latvian transit corridor and a diversion of cargo flows to other directions. This is unpleasant but the move was understandable from Russia's viewpoint, being occasioned by the Russian government concern over state of things within the transportation sector. We, Latvian transit businesses devoid of any attention on part of our own government, should have due respect for the Russian government position and feel happy for our colleagues at Russian ports, who receive real support under a long-term government program.
It's a pity but Latvia does not have any more or less viable support program for branches of strategic importance to the national economy - first of all, transit, and this is the second and possibly the most important reason for existing threatening trends in Latvian transit business. It has to be admitted that today the Latvian government, regretfully, has no clear concept for development of national transit and logistics potential. The situation is paradoxical: on the one hand, there's the National Program for Development of Latvian Ports till 2010; on the other hand, multimillion investments in port and transport infrastructure made in recent years bring no return to date for lack of support through appropriate foreign policy course of the government. At the moment Latvia is not in a position to build far-sighted and well-considered business relations with its eastern neighbors: Russia, Belarus and Ukraine, its partners in transit business.
Russian exporters and Latvian transit companies have always had common interests in setting up and developing another optimum, competitive route for cargo transportation. Interest of Latvian and Russian businesses in transit cooperation will hold out regardless of the direction of political winds. It is important that this interest should be supported on the political level, creating the basis for Latvia's new foreign policy course -- the course that Latvia will take in the new millennium as a full member of the European Union and active trade partner of the Russian Federation.