New oil export routes
By Olga Pavuk
Making entry to the Asian market is always related with lenghty and delicate negotiations on two levels - with government agencies and business people. Ventspils Nafta oil terminal first deputy board chairman, Janis Blazevics, told the BC about steps being taken to set up business contacts in Kazakhstan ahead of the trip to the 4th international conference TransEurasia 2002.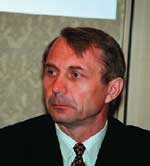 Janis Blazevics

In recent years Latvian representatives many times made working and official visits to Kazakhstan. Every time they not only enjoyed the traditional Oriental hospitality but also looked for constructive solutions to not so simple problems related to economic cooperation, including in transit business.

The railway is an artery that can carry Kazakh goods to Latvian ports. What is being done to make this route profitable?

For successful delivery of shipments to Latvia, tariff policy must be revised because existing railway rate is USD 0.01 per t.km in Latvia, USD 0.02 per t.km in Kazakhstan and USD 0.022 per t.km in Russia. If it could be possible to lower these rates by at least 15 percent along the entire route, cargo transportation to Ventspils will become profitable. Mutual understanding in this matter should be sought through trilateral negotiations between the three countries.

What cooperation partners has Ventspils among Kazakh oil companies?

Our serious intentions are confirmed by Ventspils Nafta representation office opened in Astana in 2001. Its task is to set up contacts with Kazakh oil companies and government agencies responsible for transit. First of all we established good relations leading to dialogue with KazMunaiGaz. It is a concern comprising of KazakhOil and KazTransOil companies with whom Ventspils Nafta has long-standing and constructive cooperation. KazMunaiGaz concern is fully owned by the state.

What other issues were discussed during the preliminary trip to Kazakhstan in May?

We talked about preparation of a multilateral agreement between Latvia, Lithuania, Belarus, Kazakhstan and Russia about oil transit by pipeline. Considering that work on the transit protocol under the Energy Charter is nearly complete, Latvia and Kazakhstan could become initiators in the matter. We are working on the relevant standard agreement. This will be to the benefit of all countries. As to oil companies in Kazakhstan, they will get the opportunity of free access to export capacities.

Latvian imports to Kazakhstan are said to have increased while exports of Kazakh goods to Latvia have reduced considerably. Latvian businessmen have been offered to make investments in Kazakhstan. Oil and oil product transportation by sea from the Baltic ports was also discussed.