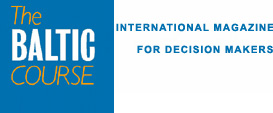 ---
Playing Tag
By Ritums Rozenbergs (Neatkariga Rita Avize)
Cargo turnover in ports on the Baltic Sea's east coast saw significant growth last year. Experts believe this growth will continue up to 2010 following economic upsurge in Russia and the Baltics, as well as the planned enlargement of the European Union.
The change in cargo turnover for the largest ports on the east coast of the Baltic Sea between 1996 and 2000 show stable growth without any sudden surge or fall in comparison to ports situated on the Baltic Sea's west coast. This indicates well-balanced policies in the port business and a stable range of clients.
According to figures provided by the Latvian Transportation Ministry, the year 2000 saw record-speed growth year-on-year reported by Lithuania's port Klaipeda (up 29.6 percent) and Latvia's port Liepaja (up 27.6 percent), followed by St. Petersburg in Russia (up 15.2 percent) and Riga in Latvia (up 11.1 percent). Latvia's port Ventspils maintained the leading position in terms of total cargo turnover, reloading 34.76 million tons last year. St. Petersburg came closer to Ventspils, posting an annual cargo turnover of 32.46 million tons, followed by Tallinn in Estonia with 29.34 million tons. These three ports continue to be the steady leaders on the eastern coast of the Baltic Sea.
Ulris Gross, a member of the Board of Directors at Hamburger Hafen und Lagerhaus, believes that results of the above mentioned ports can be explained by economic growth in Russia and the Baltics, as well as the demand for natural resources in Russia's north-western region - oil, gas and minerals required for industrial development in the European Union. In his opinion, these factors will remain decisive for another 50 or 60 years. Thus, "the development of the transportation sector in the Baltic Sea region is likely to become a model for stable economic growth in Europe," said Gross, speaking at the Future of Baltic Ports international conference.
Experts believe that the future of ports on the Baltic Sea east coast lies with growing amounts in the reloading of container and ro-ro type cargo. The port authorities at St. Petersburg, Ventspils and Tallinn arrived to this conclusion timely enough and the ports recently opened new container terminals.
The key problem that needs to be solved soon for these ports is the development of facilities required to serve ocean-faring ships. As noted by Gross, few ocean ships currently enter eastern Baltic ports. For the most part, they use the ports of Hamburg, Bremerhaven, Rotterdam and Antwerp. Ventspils port authorities took this notable factor into account in due time and deepened the port's depth so that it could serve ocean ships sailing into the Baltic Sea through the Danish straits.
Growing Competition
Statistics show that Tallinn and St.Peterburg are catching up with Ventspils in terms of cargo turnover. The official explanation for St.Petersburg's achievements is the return on investments put into renovation and upgrading, as well as economic and political support by the Russian government and St.Petersburg administration. In meetings involving representatives of the largest port in Russia's 'northern capital' one may also hear an informal version: unwritten orders exist issued by the Russian government. The orders are straightforward: all exports from Russia must be handled by Russian ports as much as possible with the exception of cargo that would not be profitable for the Russian ports to reload. This means that exporters unwilling to challenge this seemingly patriotic initiative must use national ports for the transit of containers, metal, crude oil, oil products and liquid chemicals while other cargo, in particular bulk cargo, goes through the ports of neighboring countries.
This move is confirmed by the latest instructions issued by Russia's deputy Prime Minister, Viktor Khristenko, introducing, new rates for railway transportation in Russia as of August 1, 2001. These rates are supposed to create the incentives for local exporters to use domestic ports. Rates for transporting cargo by the Russian railway through Estonian, Latvian and Lithuanian ports have been multiplied by between 2 and 4. For example, the rate for transportation of diesel fuel from Russia's Bryansk oil refinery to the Latvian border is 18.85 US dollars per ton, as of August this year, while it will cost only 8.98 US dollars per ton to take it to St.Petersburg. As a result, Russian exporters must give thought to building their own terminals in domestic ports, which today fall short in capacity to meet today's demand. If the Russian government manages to pull off its plan, and it seems to be doing a good job at it so far, the entire market of Russian transit through the Baltic states will be under threat.
Containers bypassing Latvia
Last year port Klaipeda did best in handling container cargo, reporting a growth of 47.7 percent year-on-year. St.Petersburg followed with a 29.4 percent increase, Tallinn posted growth of 17.1 percent and Kaliningrad boosted the reloading of container cargo by 8 percent while neither of the Latvian ports can boast any similar success. Riga saw a slight drop of 0.7 percent, port Liepaja container turnover made up 84.1 percent of the previous year's amount and Ventspils reached 63.6 percent of the previous year. Latvian transit businesses believe that cargo bypassed their terminals due to the government's indifference to the transit policy. St.Petersburg continued to lead in container cargo last year, reloading 3.66 million tons. For comparison, this figure was just 0.05 million tons in Liepaja for 2000.
As for handling crude oil and oil products, Liepaja led with a 61.8 percent increase, followed by Klaipeda (up 31.3 percent) and Riga (up 30.1 percent). It should be noted, however, that such a trend is present in all Baltic ports. The reason for this is the high world market prices for oil products and Russia's intention to step up its export of the commodity it calls black gold. By tradition, Ventspils leads in terms of total cargo turnover for this category as it reloaded 26.38 million tons of oil products in 2000. For comparison: Tallinn handled 17.81 million tons, St.Petersburg 7.78 million tons, Liepaja 0.48 million tons.
The major upsurge in metal handling in Russia's port Kaliningrad by, up 174 percent year-on-year deserves special mentioning. Klaipeda and St.Petersburg come next with growth of 44 percent and 17 percent respectively. St.Petersburg is the leader in this category with 7.13 million tons of metal reloaded in 2000. For comparison: Klaipeda reloaded 4.73 million tons and Kaliningrad 0.1 million tons.
The Latvian Transit Business Association leader and Mayor of Ventspils, Aivars Lembergs, admits that Latvia lags 3 to 5 years behind Estonia in regards to information availability, customs procedures and state support for transit policies. "Latvia's backwardness is due to an inadequate system of customs and taxation and especially the indifferent attitude of the government towards problems of the transit business," he said.
Ventspils: expecting records
Handling crude oil and oil products makes up a lion's share of the total cargo turnover in port Ventspils. The total reloading of liquid cargo has reduced slightly from 28.98 million tons in 1996 to 27.27 million tons in 2000, however, but oil product reloading has been flowing steadily: 12.84 million tons in 1996, 12.74 million tons in 2000.
The first six months of 2001 allow for hope that this year Ventspils will be able to hit a new record in handling liquid cargo. In the first half of this year the port reloaded 15.43 million tons, the highest six-month figure in last five years.
Another important type of cargo reloaded at the port is bulk cargo. Handling has increased from 3.90 million tons in 1996 to 5.91 million tons in 2000. Six-month results in 2001 show a 31.3 percent growth year-on-year to 3.82 million tons.
At the same time, figures indicate a not so stable performance displayed by Ventspils in handling a new type of cargo - containers. In 1998 the port reloaded 863 TEU containers and only 207 TEU's in 2000. Regardless of the comparatively small results, the Ventspils port management is not really concealing its ambitions concerning the reloading of containers and ro-ro cargo types. Oleg Stepanov, chairman of the board at the Ventspils Trade Port, said that Baltic ports have favorable prospects for handling containers. Last year Nord Natie Ventspils Terminals N.V. completed its first stage of construction at the port of Ventspils, and the next stage will be in operation by 2003. The expected handling capacity of the terminal is 150,000 TEU's per year with a possible extension up to 250,000 TEU's.
Riga: bad policy?
The Riga port performance over the last five years shows increasing amounts of timber, bulk cargo and liquid chemicals, as well as oil products. If in 1996 the total handling amount was 1.42 million tons for bulk cargo and 1.01 million tons for liquid cargo, last year these figures were at 3.02 million tons and 3.00 million tons respectively.
Meanwhile, container handling has fallen from 141,408 TEU's in 1996 to 84,928 TEU's in 2000, and reloading of ro-ro cargo reduced from 0.18 million tons to 0.11 million tons. The decline in container handling is due to growing competition between Riga, Tallinn and Klaipeda, as well as a number of wrong choices in policies concerning port fees, and marketing strategies with attempts at hooking new customers.
Timber holds the leading position by growth of cargo turnover in port Riga. Timber reloading at the port has nearly trebled over the last five years, reaching 4.15 million tons.
Riga Freeport manager, Leonids Loginovs, said recently that the port's future performance depends on cooperation with Latvijas Dzelcels, the national railway company, and the construction of a new oil terminal planned by the Dinaz fuel retailer and Mantess stevedore. In order to put the capacity of its terminals to full use, it is necessary that the railway be renovated, said Loginovs, but this will take large investments.
Liepaja: little wonder
In the past five years, port Liepaja, just like the ports in St.Petersburg and Tallinn, has made great progress, increasing its handling amounts for almost all types of cargo. The port's total turnover grew from 1.6 million tons in 1996 to 2.96 million tons in 2000.
Liepaja reloads mainly containers, ro-ro cargo, metals and timber. In 2000 this cargo accounted for 2.06 million tons of the total handling amount at port Liepaja.
The first six months of 2001 were characterized by considerable increase in handling, 17 percent up year-on-year. By semi-annual figures, Liepaja leads among other Latvian ports in terms of growth. For example, the handling of bulk cargo in Liepaja was up by 36.2 percent and the handling of ro-ro cargo rose 20.2 percent over the first half of 2001.
Experts relate Liepaja's success to the favorable tax climate in the Liepaja Special Economic Zone, which attracts foreign capital like a magnet. New terminals were built in recent years and previously unused areas of the port are being developed thanks to foreign investments. Experts predict continued growth, as Liepaja's resources are not yet exhausted.
Tallinn: Estonian mathematics
Port Tallinn can boast special success in handling liquid and container cargo during the last five years. Liquid cargo handling has just about tripled from 5.69 million tons in 1996 to 17.81 million tons in 2000 and cargo container amounts nearly doubled from 45,578 TEU's to 76,716 TEU's.
Total turnover figures last year saw Tallinn come very close to the best results of the largest port on the Baltic Sea's eastern coast, Ventspils.
When asked about Tallinn's accomplishments, experts mention liberal pricing policies and marketing pursued by the port's management. Port duties levied on liners for ro-ro cargo (DW 6,000 tons) at the Estonian port are 33.2 percent lower than in Riga. For container ships (GT 17-26 thou. tons) the duty is 42.8 percent lower than in Riga and 38.9 percent lower than in St.Petersburg. As a result, transportation costs for taking ferrous metals, for example, from Cherepovets in Russia to Rotterdam via Tallinn are actually the same as in transporting them via St.Petersburg.
Achievements reached by Estonian ports have resulted in flexible policies as regards to services and port duties. The attitude of the Estonian government also plays a role here. In particular, the government didn't spare state investments allocated for construction of a new terminals on the Tallinn port premises.
Klaipeda: halfway to success
Statistics from over the last four years show that cargo handling in port Klaipeda grew most of all in 2000,up to 19.40 million tons. In 1998-99 a comparatively small decline was observed in the aftermath of the Russian economic crisis. Last year oil products made up about one-fourth of the total cargo turnover of 5.20 million tons, metals and scrap metal accounted for 4.74 million tons and mineral fertilizers for 2.90 million tons.
Container handling was moderate when compared to other Baltic ports - 39,955 TEU's in 2000.
The Lithuanian government regards port Klaipeda as a facility of national importance and recognizes its strategic value. Klaipeda is still working on its port development project to be completed by 2015. According to plans, the port will soon be able to take on ships with holding capacity of up to 90,000 tons.
St.Petersburg: big politics
Statistical figures from the last five years indicate gradual growth in the handling of practically all types of cargo at the port of St.Petersburg. Total cargo turnover increased from 16.04 million tons in 1996 to 32.46 million tons in 2000. Last year oil products took the leading position with 7.78 million tons, followed by metals on 7.13 million tons, chemicals at 4.27 million tons and containers on 3.67 million tons. The handling of oil products, chemicals, metals, containers, coal, ore and timber has doubled in the last five years.
There are certain reasons for the port's growing operations, economic and political support by the Russian government being the most important of these. The upgrading of pier 1 at St.Petersburg port is due to be completed by 2003,and is actively supported by both the Russian Economics Ministry and the city's administration. Investments in the initial port renovation program are planned at 19.5 million US dollars.
Handling containers and ro-ro cargo is seen as a strategically important operation. Plans have been set to increase container handling to 550,000 TEU's a year until 2010. Growing cargo turnover figures indicate that in the next few years, St.Petersburg will become a serious rival for Ventspils and Tallinn.
Kaliningrad: bulk cargo stronghold
The port of Kaliningrad port is still recovering from the Russian economic meltdown, with its cargo turnover in 2000 (4.38 million tons) failing to reach 1997 levels of 6.16 million tons. Although the handling of bulk cargo has receded in recent years, it still prevails in the total cargo turnover with 1.98 million tons reloaded in 2000.
Liquid cargo has increased a little from 0.91 million tons in 1997 to 1.13 million tons in 2000. As for handling general cargo, the transit of metal makes up a large part, although the amount of metal handled in 2000 was still below the 1997 figure.
Considering the continuous economic and political support exerted by Russia's President Vladimir Putin, Kaliningrad's performance is likely to improve soon. Especially if Russia makes a deal with Lithuania on organizing a transit corridor from Russia to Kaliningrad.
There are three main positive preconditions for the port's future growth. First, it is the only Russian port on the Baltic Sea that does not freeze in winter. Second, Kaliningrad is a free economic zone exempt from customs duties and a series of value-added taxes. And third, the port is politically supported by the government. Nevertheless, port Kaliningrad needs serious reconstruction to make use of the above advantages, said Daniel Giblin, international shipments and logistics manager with Gibb Ltd. The canal depth at the port's piers should be deepened, and the port's management needs to upgrade its qualifications.
In short
A summary of cargo turnover figures shows that competition between ports on the Baltic Sea's eastern coast is growing with every year. Five years ago even the total handling amounts in St.Petersburg and Tallinn did not come close to the cargo turnover in Ventspils, undoubtedly still the absolute leader back then. This situation was due to quite a few factors, first of all, the high technical and service level existing at Ventspils, while Klaipeda, Tallinn and St.Petersburg had only just started to lay foundations for upgrading their own facilities.
Today, however, it is obvious that there is no longer any absolute leader in terms of cargo turnover - St.Petersburg and Tallinn are hot on the heels of their Latvian competitor. This threesome of leaders will hold poll position on the Baltic Sea eastern cost in the coming years.
Kaliningrad probably remains the darkest horse amongst Baltics ports. The port's geographical position and technical potential is likely to catch the eye of the pragmatic Russian president in the nearest future. Moreover, one should not forget about the future enlargement of the European Union after which the Russian enclave will find itself surrounded by the Greater Europe, a circumstance bound to have effect on the region's economic growth. 
Referring to the latest surveys, Oleg Stepanov of the Ventspils Trade Port, said that up until the year 2010, trade in the Baltic Sea region will grow by an average of 3 percent annually (optimistic estimates top 4 percent, pessimistic ones are at 2 percent). This will further tighten the competition between Baltic ports and as a result, active lobbying on national levels will be required to secure additional cargo.
On the other hand, Klaipeda University Professor, Vytautas Paulauskas, basing his opinion on other surveys, said that metal, crude oil and oil products, bulk cargo and refrigerator cargo, as well as citrus fruits and containers are all currently the key cargo types in the Baltics. Special attention is being paid to the still underdeveloped container cargo market. Transcontinental container shipments are expected to increase in the next few years. Considering the above mentioned, it can be presumed that long-term handling growth will be met by ports able to take on ocean ships for reloading liquid, bulk and container cargo. At present only Ventspils is able to do so without much hassle.
---