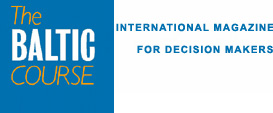 ---
Jobs for Everyone
By Olga Pavuk
September 30, 1961, was the birthday of the Ventspils Oil Reloading Base that upon completion of all three construction stages became the largest export oil terminal in the Soviet Union. In 1991 the company was named Ventspils Nafta, after the Latvian western port city in which it is based and its main line of business - nafta - the Latvian word for crude oil. Since then, the company has retained its previous status as a key oil artery in the entire Baltic region. On the eve of the company's 40th anniversary, Igors Skoks, president of Ventspils Nafta, agreed to answer a few questions given by the BC.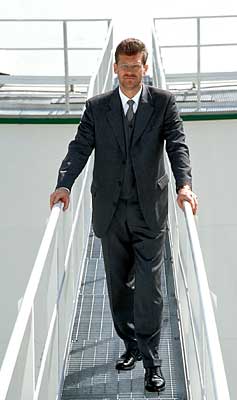 Mr. Skoks, what would be your evaluation of Ventspils Nafta's role in the Latvian economy today and in the future?
Ventspils Nafta definitely plays a significant role in the Latvian economy. This is proven by the fact that our company is one of the main components of the Latvian oil transit corridor, which also comprises of our subsidiary LatRosTrans, the owner of crude oil and oil product pipelines crossing the territory of Latvia. Of course, other companies likewise related to the oil transit corridor add to the situation. Revenues that our companies bring to both the national budget and that of municipalities in the form of taxes and duties are obvious to everyone. It's difficult to give an accurate figure of Ventspils Nafta's contribution to the national economy - let us leave that to the statisticians. I would only want to point out that it is by no means equal to a billion-and-a-half US dollars as is occasionally alleged by a number of top Russian officials. I am confused as to the origin of such completely ungrounded allegations. Why should it be a billion-and-a-half, and not, say five billion? I think that Russia does not loose a thing by using Ventspils for reloading its crude oil and oil products. On the contrary, it only benefits from it as this way it is able to deliver its products - in this particular case, crude oil and oil products - to its clients in a proper manner. Thus, Ventspils' current role is quite important and will remain so in future. The state, of course, has to think about developing other sectors too - both to reduce our part in the whole and to increase the country's overall revenues.

Which sectors do you think should be made priorities in the Latvian economy?
I think all things are interrelated. Latvia used to have many large industrial companies. Those which survived were salvaged by enterprising people. But to think of reanimating VEF or Radiotehnika [two major radio and electric appliances plants operating in Latvia in Soviet times and beyond] I don't think such giants would be able to function here. We do have agriculture that is gradually coming back to life. We have food processing traditions? Forestry is another priority. Forestry could also have an important role in future but in this case we should not be developing only its primitive from but rather think about creating maximum added value. In other words, we should give thought to the production of expensive, highly marketable goods right here in Latvia, where quality timber resources are available.

How long do you think Ventspils Nafta will be able to keep the leading position on the Baltic market? What steps are being taken for this cause?
All is in the hands of God. Or in the hands of the customer. And it depends on how we hold out. In the last 7 or 8 years we have made a huge leap in technologies - building new things and reconstructing old ones. At the moment Ventspils Nafta is seen as the leading crude oil and oil product terminal in the Baltic Sea region by advanced technologies and capacity. This gives us an advantage over other Baltic Sea ports outside Russia. As you know, Russia has declared strategic interests in the transit sector, interests it will undoubtedly try to claim, first of all by using the services of its own ports. When the construction of a terminal in Primorsk is completed, and the project is definitely given the green light, we hope that Ventspils Nafta's high-level of technologies and services will nevertheless allow the company to compete successfully, even with Primorsk. Currently we are competing with Butinge in Lithuania, and also with Poland and Estonia (as regards to oil products). For now we are doing well. Ventspils Nafta also has an additional advantage in that we do not have any loan liabilities to either the state or private entities. This fact gives us the right to state that Ventspils Nafta has its own economic reserves that our competitors may not, and this we may possibly have to use in future competition.

Ventspils Nafta'sdevelopment program provides for investments of USD 160 million in five years. Would you tell us about some of the most important projects?
The first investment program for the period up to 2000 was drafted in 1995, and it was later extended to 2005. It comprises of not only investments in Ventspils Nafta, but also 35-40 million US dollars for deepening the port canal and other indirect investments. The said USD 160 million can also be adjusted to a lesser amount as it is not our aim to necessarily spend it all. Ventspils Nafta's investment program aims at strengthening the company's competitive ability. Under this program we built new storage reservoirs and reconstructed existing ones. Towards the end of the year our total storage capacity will reach 1.2 million cubic meters. No other terminal handling crude oil and oil products in the Baltic Sea region has facilities of equal capacity. In addition, we are also renovating and upgrading piers at the port. A new railway trestle with the largest capacity in Europe has been built for handling of oil products. A number of projects for upgrading other technological capacities and equipment are also being carried out.
Analysis of the situation with oil exports from Russia and other CIS states made it clear by the early Nineties that competition in this industry will continue growing. Building on this expert conclusion and in view of the fact that the Ventspils Nafta terminal has been in operation since 1961, the company started taking active steps towards renovating and upgrading its facilities. I think it was due to this realistic evaluation of the situation and lack of excessive optimism as regards to Ventspils' vital role with Russian oil exports that the company has managed to maintain its position among other terminals reloading crude oil and oil products in the Baltic Sea region.

Whom do you see as the most likely rival to create serious competition for Ventspils Nafta today?


There is no such single competitor. But there is the general situation of all terminals on the Baltic Sea and not only them. Russia can ship its oil in many directions. For example, LUKoil is good at making use of all these routes. Considering the huge amount of oil this company extracts every year, it has to look for all profitable ways. We in turn have to constantly prove that our route is the best. I think we represent very serious competition for Butinge and Tallinn as well as the Polish ports.

What alternative sources may create competition for Russian oil transit?
We hope very much that we will get Kazakh oil sooner or later. We are working on this very seriously. In 2000 Ventspils representatives had a number of meetings with high-ranking Kazakh officials representing both government authorities and private companies. This year Kazakhstan opened an honorary consulate in Riga, and Ventspils Nafta also plans to open a representation office in Kazakhstan. I think that the visit by Latvian Prime Minister Andris Berzins to Kazakhstan will also help develop economic relations as well as contacts within oil transit.

What steps are being taken to improve competitive ability? Would you tell us about the Ventspils Nafta policy for lowering rates?
I can say very specifically that two main aspects are important in strengthening competitive ability, namely, the technological potential of the terminal determining the company's ability to operate efficiently and to the client's advantage and the tariff policy. By actively implementing its investment program, Ventspils Nafta is seen as one of the most advanced companies in the region. As to rates, I can say that Ventspils Nafta chose a very determined approach in selecting its tariff policy: as of 1993, handling rates were lowered constantly. I think it was the right choice confirmed by the fact that reloading amounts have remained stable even in recent years regardless of fierce competition.

How could the reduction of world oil prices effect oil transit through Ventspils?
Fluctuations of world oil prices have the same effect on all terminals handling crude oil in the region. If prices go down in Rotterdam, it will also happen in the Baltics. World prices have far greater impact on oil developers. I have heard that sometimes, when the prices crunch down, they even have to sell oil for below the base production cost at a loss to themselves.
High prices in recent years helped liven up the Russian economy, and to invest large money in the development of oil extraction. Russians plan to increase oil extraction by 12-14 million tons annually. For us it is good news as there will thus be work for everyone.

What is the greatest problem affecting Ventspils Nafta's performance?
To have enough oil. The amount of oil may be insufficient for a number of global reasons. Disastrous declines in world prices. Losing the battle with competitors. The political issue - relations between Latvia and Russia - goes not without significance.

What moves by the Latvian government could promote increased oil exports through Ventspils?
I believe that to some extent the process in this direction has already started. For example, the Latvian-Russian intergovernmental commission, chaired from the Latvian side by the Transportation Minister, Anatolijs Gorbunovs, has again started work. I could call the recent visit by Latvian Economy Minister Aigars Kalvitis to Moscow a big success, where he had several meetings with top officials dealing with oil transit. In general, action is called for. After all, any fruitful relations, whether political or economic, between the two countries will help to strengthen the position of the Latvian oil transit corridor.

What is the weakest spot in your operations from the environmental aspect? Do the greens visit you often?
There are no weak spots. We are committed to planned environmental protection measures. International experts have inspected the environmental safety level of Ventspils Nafta and their evaluation was positive. Dames & Moore auditors said that in their opinion the terminal has an environmental risk control of the highest level as compared to other oil industry companies operating in the former Soviet Union. According to Dames & Moore, environmental risk prevention measures at Ventspils Nafta terminal meet Western European and US standards in almost all aspects for companies of the same category. A similar opinion was expressed also by representatives from the famous oil company BP-Amoco, who noted the particularly high professional qualities of the terminal's staff and technical level. As for the greens, they go to Butinge [Lithuania] where there are much more problems.

Whom would you like to see among new shareholders after the sale of the state-held 43.6 percent stake in Ventspils Nafta?
I would like to see persons interested in the viability of our terminal. Persons, who want to make money with our terminal, big money. The contribution could either be financial or with oil, yet this matter falls into the competence of the Latvian Privatization Agency. The only thing that I as the leader of the company can wish for is that the privatization process, which has taken more than four years due to reasons unknown to me, would be completed soon.

How many small shareholders (holding up to 5 percent) are there in Ventspils Nafta? How large are your own personal stakes in the company?
Ventspils Nafta has about 19,000 small shareholders, and I am one of them.

How many people does Ventspils Nafta employ? What is their average monthly wage?
Ventspils Nafta has a staff of some 800 people. The average monthly salary is 500-550 lats (USD 790-870).

Do you have a labor union?
Naturally. It comprises of nearly 700 people. We have a collective employment agreement. We also support our retired staff.

Which part of the Ventspils city population is in this or that way related to Ventspils Nafta?
Indirectly, probably the entire Ventspils population is related to Ventspils Nafta as it is the largest  company not only in port Ventspils but also in the city and among the largest in Latvia. The city, like I said before, receives a considerable amount of money from Ventspils Nafta in form of tax payments and also through the Ventspils Nafta sponsporship of various events promoting sports, culture etc. Ventspils has a well-developed sports infrastructure, for example, the Olympic Center sports complex was built, comprising of a basketball field, an ice-rink and a stadium for track-and-field athletics, all meeting international standards. Even these facilities were for the Latvian Olympic movement, built with the support of Ventspils Nafta

In what projects not related to the oil business is Ventspils Nafta investing money? Which of them are the most profitable?
We have Preses Nams - a publishing house and printing complex, one of the largest multi-profile production facilities in the Baltics. We have real-estate. We have shares in the Latvijas Gaze gas utility. We are also considering participation in other projects. As for profits, all investments are long-term.

What would you wish yourself and your competitors?
I want everybody to have a job, including our competitors. I wish the Russian economy was flourishing. If such a large country maintains its position on the oil market, if they do fine, there will be work for everyone.
---
Russian Dollars on the Baltic Threshold
By Tatyana Merkulova  (Delovoye Vedomosti),
Alexander Ushakov,
Vaidotas Vysniauskas (Lietuvos Rytas)
The presence of Russian capital in the Baltic oil transit sector is a guarantee to the industry's viability as a whole. Today this theory is generally accepted in Lithuania, Latvia and Estonia. Nevertheless, things actually look a bit different. Russia seems more interested in control than generating profit. Local businessmen and politicians often find this unacceptable, and in some countries, a few are even starting to give up the struggle.
The love of control
For over eleven years since Latvian independence, Russian capital has failed to take a serious stronghold in the Latvian oil transit sector. At the same time, it would be wrong to deny its presence all together. The main and probably only place to find Russian capital would be LatRosTrans. This company owns basically the only oil pipeline in the Baltics, inherited by Latvia after breaking off from the Soviet Union. Moreover, it is the largest Latvian-Russian joint venture in the Baltic states established on the basis of an agreement made between the Russian and Latvian governments in June 1993.
The company's registered capital is at 107.502 million lats (USD 1.7 mln). Under the governmental agreement, 34 percent of LatRosTrans is held by the Russian State Assets Fund represented by the Transnefteprodukt corporation. The Latvian share is controlled by the Ventspils Nafta oil terminal. The annual profit of LatRosTrans tops 44 million US dollars. The company handles the transportation of crude oil and oil products from Polotsk in Russia to Latvia's port Ventspils, and from Polotsk to Mazeikiai in Lithuania.
It has never been kept as much of a secret in Latvia that Russia's participation LatRosTrans serves to a large extent as a guarantee for the viability of the pipeline. "The presence of Russian companies in the oil transit sector is sort of a guarantee for the supply of Russian crude oil and oil products," said Janis Blazevics, president of a project proposing construction of a new oil pipeline, called the Western Pipeline System.
There are no other examples of Russian concerns being openly represented in the Latvian oil transit business, although close business contacts have, do and will exist in this industry. Ever since the mid Nineties, The management of Ventspils Nafta has tried to find a common language with major Russian oil exporters. In result, LUKoil for example, was suggested to make an entry on the Latvian oil transit sector in several ways. The Russian oil giant headed by Vagit Alekperov, who has personally visited Riga and Ventspils more than once, was even offered a stake in Ventspils Nafta. Such a turn of events would have kept the Ventspils terminals busy handling Russian oil for many years to come. This was absolutely clear to everybody both in Latvia and Russia. Ventspils made no attempt at concealing the fact that upon privatizing a stake in the Latvian oil terminal, LUKoil would have to guarantee a certain amount of annual oil exports.

BPS about to turn the tap
The decision to build the Baltic Pipeline System (BPS) was made by the Russian government on October 16, 1997. The main purpose of the BPS is to export oil to Northern Europe from Russia's northwestern Timan-Pechora region, rich in oil and gas deposits, and also from West Siberia and the Ural-Volga region via a new terminal in the Gulf of Finland, thus lessening the use of Baltic state oil terminals. In future the deceivingly named Baltic Pipeline System may also be used for oil exports from other CIS states, and first of all from Kazakhstan.
The BPS project provides for construction of two new oil pipelines from northern Siberia through Kirishi to the city of Primorsk and the Primorsk oil terminal 150 kilometers north of St.Petersburg on the north-eastern coast of the Gulf of Finland. Extensive renovations on several sections of existing pipelines running from Usinski to Ukhta, Ukhta to Yaroslavl and Ysroslavl to Kirishi are also planned. Entire project costs are estimated at 800 million US dollars, sights set on a capacity of 40 million tons per year.
The project is to be carried out in two stages. The first stage will see a new export route with an annual capacity of 12 million tons developed based on existing oil pipelines between Kharyaga-Usinsk-Ukhta-Yaroslavl-Kirishi plus a new pipeline also built between Kirishi and Primorsk. The objective of the second stage is to increase the throughput of the 2,700 km-long route to approximately 30 million tons annually by adding additional pipe, and to expand the Primorsk terminal loading capacities. The first stage is to costs an estimate 500 million US dollars. The capacity planned for the new port now almost completed at Primorsk is expected to total an annual 45 million tons. The port is expected to include terminals for the annual handling of up to 30 million tons of crude oil (19 million tons in the initial stage), 9 million tons of oil products (4.5 million tons initially), 2.5 million tons of general cargo as well as liquefied petroleum gas.
In the opinion of Russian experts, implementing the BPS project will deliver quite a strong blow to Russian oil transit headed in the Baltic state direction. Of course, the tap for transit goods via the Baltics will not be turned off completely, as currently only around 2 million tons of the total amount exported through Baltic ports comes from the Timan-Pechora region. With these amounts and possible changes in the direction of LUKoil exports through the Baltic transit corridor, the amount of oil presently exported via the Baltic states could fall by around 4 million tons. It must be kept in mind that other companies in Russia may also change their exporting habits as soon as the new transit corridor is opened, deliveries through the Baltic states suffering even further reductions. This means another 1.5 to 2 million tons less by the rough estimates. Thus, crude oil and oil product handling through Latvian, Lithuanian and Estonian ports could shrink by some 6 million tons.
The controlling stake (51 percent) of the BPS is expected to be held by the Russian state, represented by the Transneft oil transportation company. The remaining shares will be distributed among major Russian oil companies - LUKoil, YUKOS, Tyumen Oil Company, Sibneft and others.
LUKoil, however, was only willing to make the investment upon implementation of another project, the Western Pipeline System. The acquisition of a stake in Ventspils Nafta and a share in the new Latvian oil pipeline was regarded as a single package, an option most preferred by the Russians. As it turned out, these hopes were never even meant to come true. There was a number of reasons for this, first of all, political decisions made by the Kremlin to build its own Baltic Pipeline System. After the implementing Moscow's foreign economic doctrine, the prospects of investing money in the Latvian oil transit sector no longer seemed so attractive, and LUKoil scrapped the plans including Latvia.
"On the one hand, without the presence of Russian capital in the Latvian oil transit sector one cannot speak of Russian oil transit. On the other hand, Russian capital is not flowing into Latvia today, as there is no need for it, not with our own pipeline being built to Primorsk [in the Leningrad region]," said Haim Kogan, president of LUKoil Baltija R. Kogan said that Russian oil companies were now hardly interested in Latvian oil transit. "For now LUKoil has no plans to enter this market," said Mr. Kogan. The only possible option could be the acquisition of a controlling stake in Ventspils Nafta, expected to be fully privatized within a year. It has to be a controlling stake because Russians are not much really interested in only dividends. It is true that interest shown by major oil companies lies solely in realistic opportunities to influence the operations of the company.
Janis Blazevics also shares this opinion, while pointing out a number of important factors: "Russian capital tried and is still trying to enter the local oil transit market. It cannot be said that Russian oil companies are exactly dying to get into Latvia, but they do show some interest, this I can say for sure. But the problem lies elsewhere. Oil transit is not at all that profitable a business and it's tied up with politics as well. Russian oil capital is little interested in partnerships. Large companies dislike sharing. They want to get a controlling stake at once. They want to know how much we will be earning. A hundred thousand, two hundred thousand is not of interest to them. A million, and they might think about it. For example, YUKOS is making inquiries over the Man-tess oil terminal in Riga only because it can be bought-up lock, stock and barrel."
Indeed, there have in recent months been unofficial reports of YUKOS representatives visiting Riga. Allegedly, they were interested in oil terminals owned by Man-tess, one of the largest stevedore companies operating in port Riga. The same unofficial sources claimed that the deal would be worth 27 million US dollars. "If a large Russian oil company invests its capital in an oil terminal, both the port and the country in general will benefit from it," Man-tess owner, Julijs Krumins, was brief in his comments.
For now it is not exactly clear as to whether the deal will be struck. The local media reported that LUKoil was also interested in the Man-tess terminal but Haim Kogan denied the report. He also expressed his doubts over YUKOS showing any real interest in the deal: "There is no pipeline to Riga, and you cannot carry all too much oil products by railway."
Secrecy is the key to success
In Estonia the attitude towards Russian capital is cautious. Active participation of Russians in a sector as important for the Estonian economy as transit is viewed as undesirable because of the risk of falling under control of Russian state interests. Therefore, it is not accustomed in Estonia to publicize any partnership with Russian businessmen. "The presence of Russian capital in Estonian transit is obvious, but it is not so easy to identify the scope of participation by shareholders," said an Estonian transit expert and academic, Mikhail Bronstein. An Estonian Investment Agency expert, Anu Varvik, holds the same opinion: "Russian capital does exist in the local oil transit business, but it prefers to keep in shadows and it is difficult to estimate the real amount."
According to official information, Russians don't have a controlling stake in any major local companies handling crude oil. The largest of these operators, Pakterminal in Tallinn, is labeled as Estonian-Dutch owned, and the second largest company, E.O.S, is US-Dutch. Small-time operators in general prefer to lay low  and keep silent about the origin of their capital.
Meanwhile, the local mass media publishes reports now and again tracing alleged links between kings of Estonian transit and Russian oil slick businessmen. In particular, it has repeatedly been reported that Russian oil magnates make up a considerable part of the Pakterminal shareholders.
There are plenty of reasons why such allegations can be made. Russian transit, especially oil products shipped through Estonia would not be growing as fast as they are now without the mutual interest of all parties, including Russian oil suppliers.
For example, Pakterminal board chairman, Raivo Vare, says the underlying reason for successful development is the organization of oil product transportation by shuttle trains. St.Petersburg company LinkOil, engaged in this transit, was founded with the participation of Russia's October Railway and Pakterminal. A couple of years ago the forwarding company conceived a plan to handle half of the total cargo turnover handled by the Estonian railway. These ideas were not, however, implemented in real life.
The only company openly declaring its involvement with the Russian oil business is Onako Eesti. Its is a subsidiary of the Russian Onako concern owned by the Tyumen Oil Company. Onako Eesti started operations in 1998. In 2000 the company handled over 1 million tons of crude oil. Semi-annual results this year show a growth of 36 percent. The company's plans include an annual growth of 25 percent. Onako Eesti does not have its own storage facilities and is using the services of another local operator, Eurodek, a company with Russia's LUKoil as its main partner.
Links to Russian businessmen can also be found in the Estonian Transiidikeskus concern, which comprises several operators specializing in the handling of various cargo types, including Pakterminal. For example, the list of DBT (bulk cargo terminal) owners includes Rustam Aksenenko, the nephew of Russia's transportation minister. According to press reports, Russian partners hold half of the company's shares.
Russian capital is also present in another of the Transiidikeskus companies, Transglobe. Russian partners in this company include Vladimir Lemeshev, a Russian citizen with ties in a major Russian car-producing plant in Tolyatti. The close ties between Transiidikeskus owners and Russia made the Estonian government tread with care when selling the Estonian railway to RER, a concern established specifically for the purpose and comprising of all major influential Estonian businessmen, including one of the Transiidikeskus owners, Aadu Luukas.
When the BRS eventually won the railway privatization tender and was later turned down by banks which would not grant loans for buying the Eesti Raudtee railway, the possibility of involving Russian capital in future was discussed openly. The Estonian Institute of future forecasts and its head, Erik Terk believes that to form a consortium of western, local and Russian capital would be quite an appropriate option. In the opinion of Estonia's Transportation Minister, Toivo Jurgenson, Russian capital must not prevail and acquisition of a controlling stake is out of the question.
Refinery bout
The Lithuanian oil refinery complex is considered as one of the facilities most attractive for Russian capital in the Baltics. The Mazeikiu Nafta concern consisting of an oil refinery based in Mazeikiai and a recently built open-sea oil terminal at Butinge on the northern most Lithuanian coast, has for several years been the focus of attention as regards to foreign investments, and mainly first of all by Russian oil giants, as it is understood that only with their oil deliveries would the viability of the oil refinery and terminal be ensured, both not experiencing the best of times at the moment.
It may seem that things should have settled down in Lithuania after a deal between the Lithuanian government and U.S. company Williams International on selling the latter a 33 percent stake in Mazeikiu Nafta. Time showed that the most interesting parts are yet to come. The role previously played by LUKoil, having failed to convince Lithuania about the need for cooperation and lost the race to the Americans, has been taken up by YUKOS, a rival Russian oil giant.
This summer Williams unexpectedly announced a mutually profitable agreement with the YUKOS company headed by Mikhail Khodorkovsky, promising to make annual deliveries of Russian oil to the Mazeikiai refinery (4.8 million tons) and Butinge terminal (4 million tons). In return, YUKOS would get the right to acquire a 26.8 percent stake with veto in Mazeikiu Nafta for USD 75 million.
As soon as the news about this agreement was released, everybody suddenly became interested in cooperating with the Lithuanian oil company again. LUKoil, so far having remained silent, became willing almost at once, but eventually made no definite steps. Yet another Russian concern, the Tyumen Oil Company, also made the same offer to Mazeikiu Nafta, only on more favorable terms: 82.5 million US dollars for the shares plus 9.6 million tons annually for a period of 15 years, lowering the price per barrel by USD 0.05. This initiative, however, was ignored and even stated to be provocative by some, and YUKOS got the green light.
Surprisingly, this green light did not so much as turn red or even orange after a change in government when power was taken over by the Social Democrats, believed to be buddies with LUKoil. As if in confirmation of this assumption, the new Prime Minister, Algirdas Brazauskas, held talks with the head of LUKoil Baltija, Ivan Paleichik, only two days after he was sworn in as the Prime Minister. This caused great scandal, which went in favor of the WilIiams and YUKOS deal. The government was cornered and after a brief debate it was resolved to uphold the deal with YUKOS, later approved by parliament.
It is still difficult to say why the Tyumen Oil Company offer was turned down. Unofficial sources say that the Tyumen Oil Company has teamed up with LUKoil against YUKOS. This is all probably due to the prevailing opinion in Lithuania, which claims that LUKoil is seen as a pro-Kremlin company willing to become a weapon in the hands of Russia's government when promised a profit, while YUKOS is perceived as an almost western company having close ties with businessmen in the United States.
There are more unconfirmed reports providing indirect proof about the alleged friendship between the Tyumen Oil Company and LUKoil. It is also said that the companies headed by Alekperov and Khodorkovsky have made a gentlemanly agreement in Moscow under which YUKOS got Lithuania but LUKoil was given Slovakia in return.
According to a recent statement by a Lithuanian MP and economist Julius Veselka, "Russians are smarter than Lithuanian witch-doctor-politicians. They began looking for a way through with the help of the U.S. and found it. This is proved by the agreement between Williams and YUKOS. If the Russians had struck/made a direct bargain, we would have got more. After all, Mazeikiu Nafta will eventually pass from Williams into the hands of Russian companies anyway."
Whatever actually took place, YUKOS did become the first Russian company to invest its capital in the Lithuanian oil sector and the second (after Transnefteprodukt in Latvia) not disguising its presence in the Baltics.
Meanwhile, attempts were made this summer in Vilnius to raise the issue of privatizing another tasty chunk of the Lithuanian oil transit sector - the Klaipedos Nafta oil terminal. No definite moves have been made yet, but if they are ever made, it's quite possible that the Klaipeda oil terminals will find themselves targeted by Russian manned periscopes.
---
Bypassing Russian difficulties
By Olga Pavuk
At your own risk
The discussion about developing the Baltic-Black Sea transportation system as a way to bypass Russia has often been dismissed by the Ukrainian press as empty talk. Nevertheless, late July was marked by two new turning points concerning construction of the Odessa-Brody oil pipeline, which once again brought the project out into the limelight. These developments were reported by rusenergy.com.
The first point was the British branch of U.S. company Brown&Root completing a feasibility study for extending the pipeline northwards to the Polish city of Plotsk. The second, the Ukrainians announced they have received the first orders for transporting 2.8 million tons of oil through the would-be pipeline. The author of the article suggests that Russian exporters should give some thought as to the ways in which the Ukrainian pipeline will affect their strategic plans in Europe.
Loubomir Bunyak, the board chairman of the Druzhba Main Oil-pipelines, which commissioned construction of the Odessa-Brody pipeline, assures that the first stage in construction of the 667 kilometer long pipeline will be completed by the 10th anniversary of Ukraine's independence to be celebrated on August 24. The completion deadline for the first stage in construction of an oil terminal in port Yuzhniy, 30 kilometers from Odessa, has been set for December, and by the first quarter of 2002 the terminal is to receive its first tanker with Caspian oil to be delivered to oil refineries in Eastern Europe.
The Ukrainian administration expects the Odessa-Brody pipeline to take over a substantial part of the Russian oil market in Eastern Europe. In Brody this pipeline will connect to the southern branch of the Druzhba pipeline leading to oil refineries in Hungary and Slovakia. The next construction stage will see the pipeline linked to the northern branch of Druzhba for have an outlet to Baltic terminals in Gdansk (Poland) and Rostock (Germany). The terminal in Yuzhniy will become an inlet for Caspian oil to Europe, bypassing both Russia and the overcrowded Bosphorus Channel.
In early July Buniak, with reference to the Polish Economics Minister, Janusz Steinhoff, said that the Polish government was already discussing fund-raising options for construction of the oil-line to Plotsk.
At the same time, there is a number of uncertainties in regards to the practical implementation of this project. Here are some of them: implementation of the Baku-Tseyhan pipeline will take over a considerable part of Caspian oil exports; double reloading at ports and transportation through two pipelines will make Caspian oil too expensive for Eastern European oil refineries; the state-held status may become a hindrance in construction of the oil-line, and an international consortium is required. In addition, there is also an economic problem. Caspian oil is of better quality than Russian oil and easily meets European Union requirements. When Caspian oil starts flowing through the Druzhba pipeline, it will get mixed with urals oil and will then no longer be much different from common Russian oil when it reaches the end of the pipeline.
Problems of economic cooperation between countries from the Baltic and Black Sea regions have been discussed at special meetings in Ukraine for more than a few years. Out came the idea of a Baltic-Black Sea transportation route to assume a geopolitical role counterbalancing the influence of Russian foreign policies imposed upon Ukraine. It seems that empty talk has started to take on the shape of real steps, not to be disregarded by Russian oil exporters.
The initiative for these meetings came from the Ukraine's Institute of Social Transformation. The BC joined one of the round-table sessions held in Kiev in December last year. Records of another seminar held in July were also kindly supplied to us by the organizers. The winter meeting focused on strategic aspects of economic cooperation between countries from the Baltic-Black Sea region, and the summer theme was the place and role of Ukraine in the formation of a contemporary model for the Baltic-Black Sea oil market.
The Ukrainian vision of this transportation system is a one-way module of shipments, including the formation of an Belarus-Poland-Ukraine axis with access to Asia across the Black Sea; the transformation of the Black Sea into a system of ferry crossings; the establishment of an international oil consortium with Turkish participation; the arrangement for gas transportation to Poland through Ukraine; and the organization of joint banking centers in Ukraine. In the Baltic states, Lithuania's port Klaipeda is the party most interested in this project, said Donatas Tamulenis, second secretary at the Lithuanian Embassy in Ukraine.
Director at the Institute of Social Transformation director, Oleg Soskin, who is also the leader of the Ukrainian National Conservative Party, supports the single-vector policy and views Ukraine as a geopolitical center for Europe while insisting on his country's great importance for Asia:
"In Eurasia, Russia sees itself as the heart-land, regarding other countries as river-lands surrounding it in a ring-like fashion, like a necklace embracing the core. This is a very dangerous concept but Russia has already moved from ideology and methodology to practical implementation. For example, economically taking over the most potential and capacious industrial companies not only in Ukraine, but also in Kazakhstan, Uzbekistan, Tajikistan and also, in a more disguised manner, in the Baltics. This move is quite obvious in Ukraine in particular, for example, the arrogant and open actions by semi-criminal Russian continental groups such as Alekperov's LUKoil, which has found its way into both the Odessa Oil Refinery and the Odessa Oil Port. As a result, Odessa can no longer take on Shell tankers with Caspian oil - 5 tankers holding 70,000 tons each monthly. Now it has to take Russian urals oil, which by quality is much poorer to Caspian oil. The same LUKoil has already acquired 49 percent of our most capacious Ariana oil refinery in the Ivano-Frankovsk region and is still fighting to buy the Dragobychsky oil plant in Western Ukraine and the Berdyansky plant also in the Ivano-Frankovsk region. This threesome of production facilities alone is able to satisfy the rapidly developing Polish market demand for oil and chemical products. Current estimates by Polish experts place the market at nearly 4.5 billion US dollars, but in future it will be dozens of billions. If it is taken by Russia, no Polish or any other capital will be welcome.
What could be the solution? Invite renowned Western partners - high-liquidity Canadian and US companies - for drawing up business plans, and developing a few promising projects. In order to do so, Ukraine must again make a geopolitical decision - to give up its multi-directional policies, and make a definite choice in favor of the West. This is the opinion currently shared by all center-right forces. From the total population of 38 million, these forces may be supported by up to 30 percent, mainly progressive-thinking people - youngsters, businessmen."
Jaczek Kluchkowski, an advisor to the Polish president, declared the Polish position as follows:
"The key problem is the relationship with the awaited EU and NATO enlargement and the formation of the Baltic-Black Sea cooperation. It is the shortest route linking the Middle East and Europe.
The problem is that the two parts: the Baltic Sea and the Black Sea have been drifting apart for eighty years, especially since 1945 transportation communications in the region kept shrinking. Now we have to build everything anew, to re-convince western partners that Europe needs this route, and not only Europe but also central Asia, the Caucasus, and the entire East. In Poland there is pretty much interest in the steps we are already making. But one must understand that countries on the Baltic Sea coast do not have the money needed to bring success in a realistic perspective. This is discouraging. It thus seems that even routes such as Baku-Tseyhan and Baku-Novorossiysk are more convenient, better for the West than those offered by Poland, Ukraine and other countries. But we still have to work as best as we can, persuading the West of the benefits Europe will get from this route...
Ukraine is the first and only CIS country working on its own program for cooperation with NATO. The postponement of NATO enlargement would somewhat be benefited by Ukraine. There is a better chance of would-be relations between Ukraine and NATO developing along positive lines, if NATO were to expand in a manner less antagonistic to Russia (and Belarus), and even more of a better chance if the process takes the south-eastern direction (Slovenia, Romania, Bulgaria), and not the north-eastern one (the Baltic states). At the same time, such a turn is not quite the Polish idea of the future NATO, as it is in our interests to see the alliance expand by admitting a whole group of candidates, and first of all our neighbors - Lithuania and Slovakia".
The attention of Mikhailo Gonchar, an advisor to the Strategy-1 international fund, has been focused on the factor of American influence on the development of the Baltic-Black Sea cooperation.
"The success of this geopolitical project on a Baltic-Black Sea alliance depends to a large extent on the implementation of several major projects: the multi-modal Odessa-Gdansk transportation corridor, the Euro-Asian oil transportation corridor Pivdenniy-Brody-Gdansk and the trans-Baltic gas pipeline Norway-Poland-Ukraine.
The United States needs a support group of countries, which could become the support structure for serving American interests in Europe. The Ukrainian-Polish tandem that in fact constitutes the core of the Baltic-Black Sea cooperation to date, could have an important part to play in such a structure. Alone neither Kiev, nor Warsaw will be able to defend their interests effectively on the Moscow-Brussels line..."
Board chairman of the Oil Transportation Institute, Alexander Todiychuk, believes that Turkey should be regarded as the most important reloading area in transportation the Middle East oil: 
"Today one cannot ignore the fact that the throughput capacity of the strategically important Bosphorus and Dardanelle straits has increased considerably in recent months. Every year tankers carrying a total of 100 million tons of oil can pass through these straits (as compared to 60-70 million tons previously). It may be Iranian or even Iraqi oil that can be exported in certain amounts in exchange for food. Odessa and Kremenchug oil refineries could also find good use for oil from another country also subject to sanctions, Libya. Such oil would be of benefit to these companies."
Valery Shuliko, an advisor to the National Institute of International Security Issues under the Ukrainian National Security and Defense Council, pointed out: if you want to be rich, you have to learn to share, and maybe then you will sight the sea of oil from the Ukrainian coast:
"...The potential transportation of Caspian oil to Brody will only be the first step. We have to enter to the world market through Gdansk. And then we will be able to join two oil markets: the emerging market of the Black Sea and the existing one on the Baltic Sea. Thus, three seas - the Black Sea, the Mediterranean Sea and the Baltic Sea - would be linked. Poland has already established a special company to form an international consortium. The controlling stake, however, remains one of the main issues. It should be held by Poland. I do not understand how the Ukrainian government can speak about potential partners such as Russia's Gazprom or Germany's Ruhrgas, one of them being a supplier and the other a buyer. Does Ukraine need this? I don't think so. As its partner in gas sales Ukraine could choose Norway's Statoil, Russia's competitor on the European market...»
---