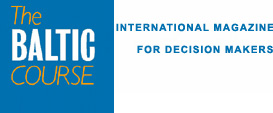 ---
A Golden Debut in Sight
By Olga Pavuk
An official office and show room for the Osmushkina Fashion House will be opened in Milan during the Pret-a-porter Week of fashion in September. The Balts should be proud of their compatriot being the first of all the post-Soviet fashion designers to enter the world's top class circle of fashion houses. The Baltic Course met Anna Osmushkina shortly before the opening event, and it seems that we are the first to tell the world about it.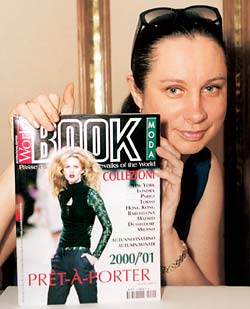 Anna with the "Pret-a-porter 2000/2001" catalogue.
Unbelievably, we recently found the name of this Latvian designer, who some five years ago was known only to her private clients, but whom the press at the time accused of being far too reserved, in the Pret-a-porter 2000/2001 catalogue - among the most famous designers of the world. Strange as it may seem, but except for the Osmushkina Fashion House we found no Russian designers, nor any from Eastern and Central Europe in the catalogue. Furthermore, the Anna Osmushkina Fashion House is opening not only an agency, but also its show room in Milan - a shop set to stage regular fashion shows. This is the first time that someone from our country is to bring a part of this business to Europe.
Anna is a professional designer with a more then 20 years of experience. In Riga she became popular by working in the leading Rigas Modes fashion house, uniting the majority of establishments for individual dressmaking and tailoring. For around the same length of time, she has also been together with her husband Vladimir, whom she married when she was 17. The demand for private tailoring during Soviet times was huge - people were stood in queues as of daybreak. In the mid Eighties, the Osmushkins - like many others at the time - decided to earn their living independently. And a decision was made - instead of being a regular officer in the City _ouncil of Jurmala, Vladimir became a tailor - and an outstanding and very expensive one at the time. In dollars, he could earn up to 800 for one suit. Anna, who initially worked both at an atelier and at home, later also decided in favor of a self-dependent job. This continued until the mid-Nineties. The clients couldn't be fought off. And then a time set in when they wanted to spread their wings beyond the walls of their own house.
So did you really want to make a career?
Well, I didn't start the business in order to have a good life. My partners - Liana Kochetkova and my husband - both supported me. Liana is responsible for money, Vladimir - for marketing, and I - I am responsible for the design. A designer alone without such support wouldn't be able to do business. One of our friends who was also a client, gave us a present of 7,000 lats [a little over USD 10,000), and we rented an office. The first 6 months were tough. I don't deny that I am a careerist. I searched for new clients myself - in the beginning - among company presidents, but then I understood that I should make get to know the real bosses - the bankers. Of course, I took a risk. I sewed my first evening dress (in black and yellow colors, decorated with roses) in 1995, and it cost 125 lats [around USD 200]. At present, an evening dress costs 6,000 lats [around USD 10,000]. But this is not the upper limit. By the way, for the most part many of our clients have been public officials.
In 1995 we made our first collection called Imperial, our first casting, first show at the Radisson, first order of materials from Paris. In two-and-a-half years a circle of wealthy clients had formed; many of the old clients couldn't counter with the new prices and left.
How did you get to the house with the veranda?
Liana suggested: "Let's do something remarkable". We ourselves didn't understand back then what we were getting ourselves into. We started to look for more appropriate premises, and once Anna had a dream: a house with a veranda and two fireplaces. We visited more that 70 houses in the center of Riga - we looked for a house which could get a veranda built onto it. And we found exactly what we wanted: a veranda and two fireplaces. I believe in dreams and destiny.
In September 1998 the Anna Osmushkina Fashion House was opened. At almost the same time, 25 Schengen countries were given patents for the name of our fashion house - to avoid imitations. We did everything ourselves, and we made many mistakes. Our old clients left, and there were not enough the new ones. The press, who was benevolent to us before this, started nagging us. But nobody was to see how hard it was for us - we had to move on, further to Europe.
To Europe? All alone?
Our partner -the Dormenil company, one of the oldest companies in Europe producing cloth for men's suits, put a word in for us. And we went to Europe, which of course was a real adventure. Our first collection - it now seems to us - was like it was meant for a collective farm. But for foreigners it was something exotic - like "let's see, what the Russians put on for show". At that time, we worked together with a designer from St. Petersburg Tatiana Parfenova, and nobody else. But in Europe nobody knew anything about the Baltic States or Latvia.
The next collection of leather swimsuits in September 1999 - The Islands - was better. But we were still designers from the post-Soviet area.
What was their attitude towards you like?
Indifferent. But they showed us on television; the audience applauded during the show. That was excellent.
Any other pleasures?
The show in Paris cost us 50,000 dollars. One of our clients gave us part of the amount - 20,000, the rest we earned ourselves. We saved on everything - we carried our own baggage, distributed our booklets.
So what was the effect?
Later Paris started showing interest in us. We received several small pret-a-porte orders from agents. We couldn't believe it when we signed a contract with the Arab Emirates for a hundred models from the linen collection; and we also got a small order from Germany. We were offered to show our collection on Fashion TV (a public channel) - three times a day for six months. Valentin Yudashkin and Slava Zaitsev also demonstrated their designs there. And then we were drenched with offers. The next thing was that we were included in the pret-a-porte catalogue: Anna Osmushkina Fashion-Couturier - Anna Osmushkina Fashion House.
Why do you need European interest?
First of all to get money. Pret-a-porte is a chance to earn. But that is only for now. The next step - clothing from couturier, I know how to do that already.
What do trips abroad mean to you?
The way I think has changed, I see people from different sides. I have understood that there is only 30 percent art in what I do, the rest is business.
What's next?
Next comes America. In February we were in Las-Vegas for the first time. Basically it was like research, and finding new acquaintances, new clients. We also sewed a wedding dress and suit for one couple, and now they're coming to us with new orders.
What is your clientele made up of?
One third of our clients are from the West, mostly from Switzerland. We have clients in Russia and other countries in the East, and of course in Latvia, those who are able to counter with our prices.
What are your plans for the nearest future?
We now have a three-year contract with one of the top agencies in Europe who will deal with advertising, sales, and presentations to develop our business further. In September in Milan during the Week of fashion a large presentation will be held - three shows of the new pret-a-porte collections, and the opening of our agency and showroom. We did this a while ago all by ourselves.
What else do you dream of?
We want to become a fashion house with a name known across the world, we want Europe to know us. This may seem impossible, but we have faith in it. We have understood how these things happen.
---